Must Read Book February 2019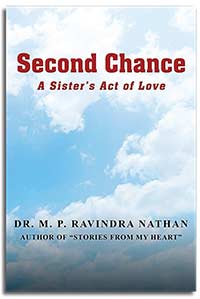 Second Chance: A Sister's Act of Love
By Dr M. P. Ravindra Nathan
At the age of 47, at the peak of his health and profession, Dr. M. P. Ravindra Nathan, a.k.a. Ravi Nathan developed a serious, incurable kidney disease called IgA Nephropathy that would inexorably progress to kidney failure necessitating a kidney transplant. His initial bewilderment and shock gave way to severe anxiety not knowing what the future held for him.Fortunately, with the help of his family, notably his sister who donated one of her kidneys, and his wife who attended to him every step of the way, plus a group of good doctors, and friends, he survived the many crises and achieved some stability in life. His eventual recovery from a serious illness after going through a complicated course is a true testament to the miracle of modern medicine. Twenty three years have passed since his kidney transplant and his kidney is maintaining normal function and he continues to be active, loving every moment of life.In Second Chance, Dr. Nathan shares his unique perspective regarding the role of kidneys in your body: what happens when they fail, the options for treatment, and what is involved in getting a kidney transplant. Because of multiple complications, it took almost a year for complete recovery, but he never gave up hope. The main reason he wrote this book is to educate readers – both lay public and medical personnel – that a kidney transplant is the best treatment for kidney failure and, even if you encounter complications during or after surgery, with proper management you can recover and live to enjoy your life for many years.This book takes you through the intricate details of how kidney failure could happen to anybody, even to someone who is apparently in good health. Yes, even to a physician familiar with the inner workings of the body and preventive care. But "disease" can happen to anyone–even doctors could become seriously ill, necessitating an organ transplant.
Ultimately, Dr. Nathan recommends that we need to trust our own body–the beauty, resiliency and ability for its recovery, no matter how ravaged it is with disease processes. He hopes the readers will enjoy this book and find inspiration from his story. It was indeed a fascinating journey for him albeit a long one, that began sometime in 1989, and finally ended successfully in 1995. As of this writing Dr. Nathan continues to enjoy his life with a functioning transplanted kidney.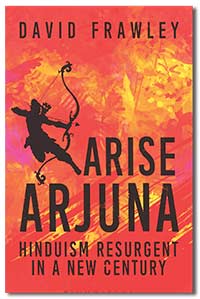 Arise Arjuna: Hinduism Resurgent in a New Century
by David Frawley
India faces a modern Kurukshetra as the forces of dharma and adharma clash again in a conflict that will determine the future of the nation. On one side are the forces of economic growth, cultural revival and a renewed vision of the country in harmony with its yogic values. On the other side are forces of religious prejudices, baseless propaganda, social division and materialistic political ideologies.Mere retreat, passivity or compromise cannot overcome past adversaries or the new dangers that are lurking in our conflicted media age, its invasive technology and the disruptive clash of cultures. India needs to benefit from the opportunities of the dawning knowledge era where its dharmic traditions can prosper once again. A new spiritual warrior, equipped with yogic power and Vedantic insights, is necessary like Arjuna was under the guidance of Sri Krishna.This book is a call for new Arjunas to emerge among us, learn the skills of the information age and uphold the cause of dharma with discernment and dedication on both intellectual and spiritual levels. Only through this can we awaken our spirit to uplift our world at this critical juncture of human history when the very foundations of life are threatened.
What is Hinduism?: A Guide for the Global Mind
by David Frawley
What Is Hinduism? provides one of the most provocative, engaging and detailed examinations of this oldest religious and spiritual tradition in the world. Followed by over a billion people, including a great majority in India, Hinduism is the third largest religion in the world. The teachings of Yoga and Vedanta are followed by millions in every continent. Enriched with a profound pluralistic view, Hinduism emphasizes that the Truth is One but has many paths. Yet, despite its universality, Hinduism remains the most misunderstood of the world's major religions, partly because of its antiquity and the vast extent of its teachings.Acknowledging the importance of the religion and its growing influence globally, David Frawley has addressed the prime teachings of Hinduism, its role in India, its place in the information age and has compiled an exhaustive set of questions and answers dwelling on all the significant issues. This essential learning helps us understand our spiritual heritage as a species and the place of India among the greatest civilizations of the world- ancient and modern. Further, the book charts out how Hindus can overcome the challenges confronting them today and communicate their diverse tradition more effectively, making it an ideal book for Hindu youth.
Second Chance
A Sister's Act Of Love
Dr M. P. Ravindra Nathan
Arise Arjuna
Hinduism Resurgent In A New Century
David Frawley
What Is Hinduism?
A Guide For The Global Mind
David Frawley
Kidney Transplant
Organ Transplant
IgA Nephropathy
Materialistic Political Ideologies
Spiritual Warrior
Sri Krishna
Kurukshetra
Spiritual Heritage
Hindu Youth
Posted on: 01-31-2019 by: Deshvidesh