Must Read Books February 2023
India, inheritor of a 5,000-year civilizational heritage that is co-terminus with the idea of Bharat, faces extreme challenges in the twenty-first century

Despite being home to more than a billion Hindus, India faces threats both from outside and inside from those who want to dismantle this civilization even as their own is falling apart from the excesses of wokeism, secularism, and Islamism

For India to rise, a rediscovery of Bharata's dharmic nature is vital

Dharma must defeat adharma

Revolutionaries : The Other Story of How India Won Its Freedom

The official narrative of India's freedom struggle has almost entirely been about the non-violent political movement led by Mahatma Gandhi and the Indian National Congress

However, there was a continuous parallel armed struggle against British colonial rulers that can be traced to the very beginning of colonial occupation

DHARMIC NATION: Freeing Bharat, Remaking India
By R. Jagannathan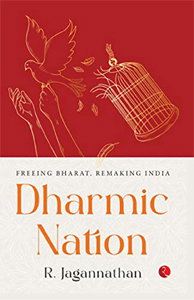 We are amidst a battle between dharma and adharma.
Bharat's uniqueness is its dharmic character, held up by mainstream Hinduism and three other major religions—Sikhism, Buddhism and Jainism—which were birthed here, not to speak of the myriad other smaller vanvasi and other traditions that argued with one another and yet co-evolved to create this unity in diversity. Despite being home to more than a billion Hindus, India faces threats both from outside and inside from those who want to dismantle this civilization even as their own is falling apart from the excesses of wokeism, secularism and Islamism.
India, inheritor of a 5,000-year civilizational heritage that is co-terminus with the idea of Bharat, faces extreme challenges in the twenty-first century, where forces inimical to its dharmic heritage would want to eviscerate it eventually. Western academia and India's liberals, including some sections of the judiciary and the bureaucracy, are using internal fault lines to push woke Hinduphobic ideas.They are also creating imaginary divisions between Hinduism and Hindutva and trying to promote fissures among Hindus in India and those who have made their homes abroad.
This book is a call to all Hindus to rediscover the essential dharmic heritage of Bharat and close ranks to defend dharma. For this, Hinduism must become a partly missionary religion once more, and encourage Indians who follow Islam and Christianity to become more dharmic in character. For India to rise, a rediscovery of Bharat's dharmic nature is vital.

Dharma must defeat adharma.
---
Revolutionaries : The Other Story of How India Won Its Freedom
By Sanjeev Sanyal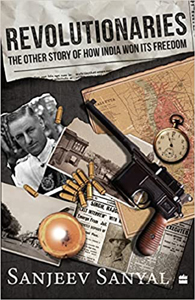 "The official narrative of India's freedom struggle has almost entirely been about the non-violent political movement led by Mahatma Gandhi and the Indian National Congress. However, it is Sanjeev Sanyal's contention that there was a continuous parallel armed struggle against British colonial rulers that can be traced to the very beginning of colonial occupation. It abated for a while after the First War of Indian Independence in 1857, but re-emerged from the beginning of the twentieth century. It is not that people are unaware of Rashbehari Bose, Chandrashekhar Azad, Bhagat Singh, Sachindra Nath Sanyal and Subhas Chandra Bose, but the impression one gets from reading historical accounts is that theirs were individual acts of courage that did not have an impact on the larger Independence movement.
However, this is not the entire picture, as the revolutionary struggle operated through a conscious network that sustained armed resistance against the British for over half a century. They had well-developed institutions, thinkers and wide popular support. Indeed, as Subhas Bose demonstrated, they were capable of defeating popular candidates in the Congress's internal elections. In Revolutionaries, Sanyal examines India's freedom struggle from the revolutionary perspective, how the baton was passed from one generation to the next, and, ultimately, why the British were forced to leave India. The book presents an exciting story that interweaves intrigue, high drama, assassination, global espionage and treachery with the courage and heroism of the revolutionaries. "
---
India And Faraway Lands: 5,000 Years Of Connected History
By Ashutosh Mehndiratta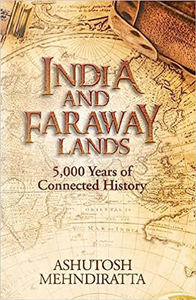 'India and Faraway Lands' is a compact yet panoramic exploration of the story of India from a global perspective. Meticulously researched and lucidly told, the book takes the readers on a journey around the world, in reverse chronological order, tracing pivotal events and unravelling intriguing connections with India—starting with the present that is more visible and relatable to the readers and moving towards the past that is relatively lesser known.
Ashutosh Mehndiratta's retelling of the evolution of the United States, Britain, Ireland, Russia, Germany, Japan, France, Portugal, Central Asia, China, Rome, Persia, and Greece provides a context often missing in conventional histories of India.
Along the way are recounted fascinating tales of travellers, the earliest accounts of interaction between the East and the West, forgotten cities that were once glorious, and books that changed the course of history. While there are many excellent works on world history as well as Indian history, there are not many books where the stories of India and the world are juxtaposed. 'India and Faraway Lands' aims to fill that gap and will at once inform and entertain the readers.
---
The Great Escape: A True Story of Forced Labor and Immigrant Dreams in America
By Saket Soni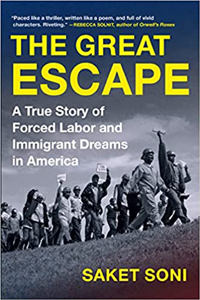 The astonishing story of immigrants lured to the United States from India and trapped in forced labor—told by the visionary labor leader who engineered their escape and set them on a path to citizenship.
In late 2006, Saket Soni, a twenty-eight-year-old Indian-born community organizer, received an anonymous phone call from an Indian migrant worker in Mississippi. He was one of five hundred men trapped in squalid Gulf Coast "man camps," surrounded by barbed wire, watched by guards, crammed into cold trailers with putrid toilets, forced to eat moldy bread and frozen rice. Recruiters had promised them good jobs and green cards. The men had scraped up $20,000 each for this "opportunity" to rebuild hurricane-wrecked oil rigs, leaving their families in impossible debt. During a series of clandestine meetings, Soni and the workers devised a bold plan. In The Great Escape, Soni traces the workers' extraordinary escape, their march on foot to Washington, DC, and their twenty-three-day hunger strike to bring attention to their cause. Along the way, ICE agents try to deport the men, company officials work to discredit them, and politicians avert their eyes. But none of this shakes the workers' determination to win their dignity and keep their promises to their families.
Weaving a deeply personal journey with a riveting tale of twenty-first-century forced labor, Soni takes us into the lives of the immigrant workers the United States increasingly relies on to rebuild after climate disasters. The Great Escape is the gripping story of one of the largest human trafficking cases in modern American history—and the workers' heroic journey for justice.
---
Brown Girl Chromatography: Poems
By Anuradha Bhowmik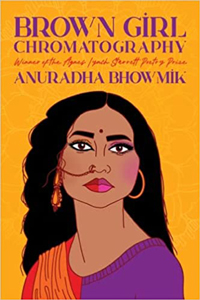 Anuradha Bhowmik's life as a Bangladeshi-born American girl growing up as a first-generation immigrant in the United States gives shape to this debut collection. Brown Girl Chromatography interrogates issues of race, class, gender, and sexuality in a post-9/11 America while navigating the poet's millennial childhood, adolescence, and adulthood.
The poems follow Bhowmik as she learns about the cruelties in both American and Bangladeshi worlds without any guidance or instruction on how to survive these conflicting spheres.
Any visible traces of her Bangladeshi life result in racial ridicule from her peers, while participating and assimilating into American culture is met with violence and abuse at home. As language and memory intersect, Bhowmik draws on pop culture and free association to examine her displacement from many angles and make meaning out of hurt.