Must Read Books Nov 2022
Inspired By India: How India Transformed Global Design
By Phyllida Jay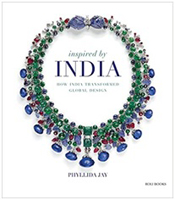 Inspired by India is an exploration of more than six centuries of trade, cultural exchange, and inspiration between India and the West. Through the lens of various material categories, including textiles, fashion, jewelry, and perfume, marvelous stories unfold surrounding the histories of objects and the complex networks of cultural exchange they represent. The book explores how some of the most legendary design houses have looked to Indian culture, decorative arts and artisanal crafts for inspiration. Indian-inspired objects from luxury houses including Hermès, Chanel, Cartier, and Dior are featured, revealing creative and fascinating stories of inspiration and creativity. The stunning Inspired by India also includes rich visual imagery from leading museum and gallery archives, as well as the archives of the world's greatest luxury houses and renowned fashion designers, including Dries Van Noten, Alexander McQueen, and John Galliano.
Varanasi: City Immersed in Prayer 
By David Scheinbaum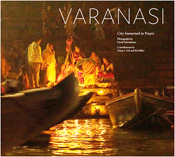 Varanasi, also known as Kashi and Banaras, is a city in the northern Indian state of Uttar Pradesh dating to the 11th century B.C.E. Regarded as the spiritual capital of India, the city draws Hindu pilgrims who bathe in the Ganges River's sacred waters for prayer and ritual. In Varanasi, one is in a time warp where one is living in history as if time has never stopped, for the people, both residents and pilgrims, continue their daily practices and worship in ways relatively unchanged for millennia, a continuum of thousands of years. Being in Varanasi is like being on a thread pulled from a cloth that dates back to the beginning of time. Here, one doesn't "see" a ruin, as one does in other ancient civilizations, but a living city where history hasn't stopped.
Musical Resilience: Performing Patronage in the Indian Thar Desert
By Shalini R. Ayyagari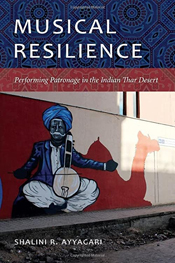 In Musical Resilience, Shalini Ayyagari shows how professional low-caste musicians from the Thar Desert borderland of Rajasthan, India have skillfully reinvented their cultural and economic value in postcolonial India. Before India's independence in 1947, the Manganiyar community of hereditary musicians were tied to traditional atrons over centuries and through hereditary ties.
In postcolonial India, traditional patronage relations faded due to new political conditions, technological shifts, and cultural change. Ayyagari uses resilience, one of the most poignant keywords of our times, to understand how Manganiyar musicians sustain and enliven their cultural significance after the fading of traditional patronage.
Gandhi's Global Legacy: Moral Methods and Modern Challenges 
By Veena R. Howard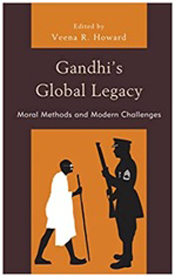 While there has been sustained interest in Gandhi's methods and continued academic inquiry, Gandhi's Global Legacy: Moral Methods and Modern Challenges is unique in bringing together an interdisciplinary group of scholars who analyze Gandhi's tactics, moral methods, and philosophical principles, not just in the fields of social and political activism, but in the areas of philosophy, religion, literature, economics, health, international relations, and interpersonal communication. Bringing this wide range of disciplinary backgrounds, the contributors provide fresh perspectives on Gandhi's thought and practice as well as critical analyses of his work and its contemporary relevance.
Edited by Veena R. Howard, this book reveals the need for reconstructing Gandhi's ideas and moral methods in today's context through a broad spectrum of crucial issues, including pacifism, health, communal living, gender dynamics, the role of anger, and peacebuilding. Gandhi's methods have been refined and reimagined to fit different situations, but there remains a need to consider his concept of Sarvodaya (uplift of all), the importance of economic, gender, and racial equity, as well as the value of dialogue and dissenting voices in building a just society. The book points to new directions for the study of Gandhi in the globalized world.

Highway to Swades: Rediscovering India's Superpowers
By Bhairavi Jani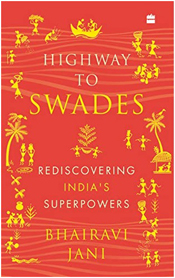 IN THE TWENTY-FIRST CENTURY, WHAT DOES IT MEAN TO BE AN INDIAN?
In 2014, when Bhairavi Jani got into a car with three friends and drove 18,181 km across India, from the remote districts of Nagaland to the villages of Rann of Kutch and from the Kashmir Valley to the  interiors of India's Deccan she was searching for the threads that
weave the people of the world's largest democracy together. What she discovered from the many highways she took to swades form the beating heart of this book.
Highway to Swades is a quest to explore and rediscover the inherent civilizational powers shared by all Indians. Jani identifies twelve such superpowers and maps out how these can be called to action for the future of the republic and its citizens. In 'Power of Enterprise', for instance, she explores the values that connect India's street vendors and tech entrepreneurs of Bengaluru. In 'Power of Nature', she shares the unlikely bonds that bind the Changpa people of the cold desert wildlife sanctuary in Ladakh, the Khasis of Meghalaya and an Oxford-returned young woman in Kumaon. And, in 'Power of Creativity' she throws light on how our inherent superpower of creativity can help us build a thriving creative economy using new-age tech and AI.
Through an amalgamation of data, travel anecdotes and stories of people from different corners of India, Jani intertwines the country's past, present and future seamlessly.
Beyond Bollywood: 2000 Years of Dance
by Dr. Forrest McGill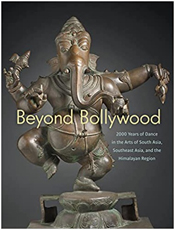 Dance is everywhere in the art and culture of the Indian cultural sphere, whether it is the sacred dance of a god bringing the world into being or the sensual performance of a courtly lady before a maharaja. More often than the divine beings of other cultures, the gods of Hinduism and Buddhism dance. They express their creative and destructive energies through fluid rhythmic movements, setting the pulse of the universe. In benign moods, they dance gracefully in sublime play. In stern moods, they dance with a force that, if fully unleashed, could destroy worlds.
In daily life people have long danced for worship, for festivals, for the entertainment of kings and princes, and for their own enjoyment. All these sorts of dance, both sacred and secular,have been represented-or embodied-by artists over many centuries in superb sculptures and paintings, and in recent decades in film and new media. Lavishly illustrated with over 250 color illustrations and essays from renowned experts, this book tells the story of dance in the arts of South Asia, Southeast Asia, and the Himalayan Region.