My Survival Story by Megha Sood
First Prize Winner – NAMI NJ 2020 Mental Health Poetry Contest
Theme: battling our challenges with superpowers
The slow cleaving in my backbone
the seamless transformation:
branching into my thousand selves
Like a sapling breaking
from the blind seed
I'm sprouting, I am thriving.
Growing like a Medusa
this fecundity of myself,
breaking out into
thousand versions of me
morphing into shapes
perfecting the art of topiary.
Like a reflection of the summer sun
shining into a million versions of me,
on shards of broken mirror
blessing them with its apricity
I'm the war cry, the mortal fear
residing behind the enemy lines
The lava, the primordial gel
creating life so sublime,
I'm the knowledge in the verse
in the smattering cacophony of your mind
With inked breaths and walnut skin
boisterous, unfettered and uncontrolled,
Walking barefoot on this graveled path
unspooling life's fears in its intimate corridors.
My pain impaled on the stars in the nightly sky
I shine through my pulverized skin,
The broken pieces I foraged together
to make a whole of me
an untrammeled beauty within.
This fecundity is my survival extinct
to handle the plethora of emotions
life throws at me,
Undulating between the proximity and prosody of pain:
I'm learning.
Yes, I'm growing.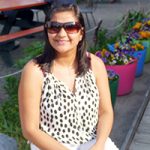 About Megha Sood
Megha Sood is a two time State-level winner of the NJ Poetry Contest 2018/2019, a national level poetry finalist in Poetry Matters Prize 2019, Honorable mention in Pangolin Poetry Prize 2019, and Finalist in Adelaide Literary Award 2019. She is a contributing member at Free Verse Revolution, Whisper and the Roar and Poetry editor at Ariel Chart and Mookychick. Sood has over 350 works in journals and featured in 35 print anthologies by the US, UK, Australian, and Canadian Press.
My Survival Story
Megha Sood
Medusa
art of topiary
summer sun
mortal fear