Namaste 2023: A Celebration of Indian Culture in South Florida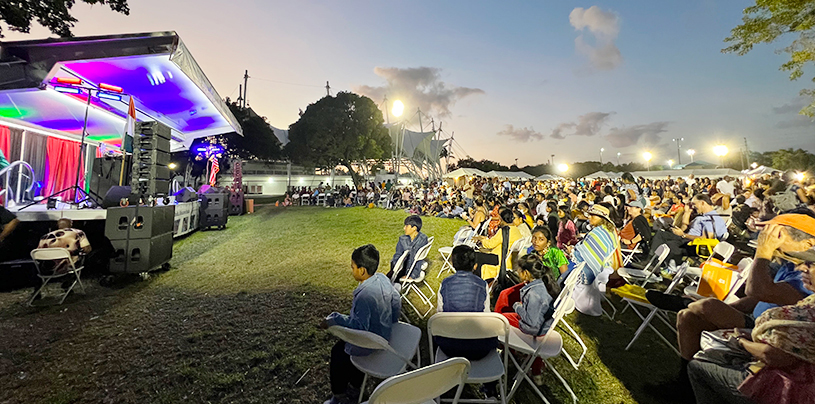 Namaste 2023: A Celebration of Indian Culture in South Florida
Akshaya Patra is thrilled to announce the return of Namaste! 2023 to South Florida, and it promises to be bigger and more entertaining than ever before. Building on the success of Namaste! 2022, our inaugural event that attracted 10,000 visitors, this year's celebration is set to surpass all expectations.
Namaste! 2022 was an incredible journey into the heart of Indian culture, with non-stop music and dance performances that captivated attendees. It was a vibrant exploration of India's diversity, showcasing the rich tapestry of the nation's cultural heritage and the four major religions originating from India. Alongside these captivating performances, visitors were treated to an array of delectable Indian cuisine and had the opportunity to shop for treasures from every corner of India. Once again, Akshaya Patra is partnering with Sanjay Chandran of Florida Fine Arts to produce both the Namaste Festival and the Fundraiser Gala.
The founders of the South Florida Chapters of Akshaya Patra, Venkat Maddineni, Meena and Raj Rajgopal, had a conversation with Raj Shah and Dr. Narendra Maheshwari, Board Advisor to the chapter, along with Sanjay Chandran, to discuss the incredible success of Namaste! 2022 and the vision for this year's event.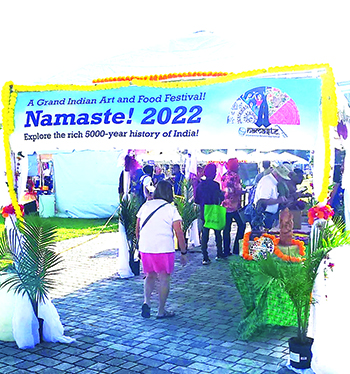 Expanding Cultural Horizons
Namaste! aims to bridge cultures by exposing the rich heritage of India to both Indians and local residents. In 2022, 38% of attendees were locals from diverse backgrounds, including white, Hispanic, Asian, and African American communities. Moreover, attendees flocked not only from South Florida but from across the United States, with 15% traveling from outside Florida. The event demonstrated the seamless blending of Indian culture with other cultural facets, enriching the broader community.
A key objective of Namaste was to showcase India's vast diversity. Visitors, including children and locals, had the opportunity to appreciate the unique cultural identities of various Indian states, such as Gujarat, Maharashtra, Andhra, Telangana, Punjab, Assam, Tamil Nadu, and Kashmir. This exploration was made possible through arts, crafts, clothing, food, historical landmarks, and interactions with natives eager to share their heritage.
One of the artists performing at Namaste expressed, "It's a moment of great joy and pride to showcase Indian Classical Dance on such a grand platform. We had a myriad of Bollywood, folk, and classical dances, not to mention the rich diversity of Indian music. It's beautiful."
Community leaders from various religious institutions, including the South Florida Hindu Temple, BAPS Mandir, Jain Temple, Buddhist Temple, and the Gurudwara, played a pivotal role in supporting and promoting the event, showcasing the teachings of their respective faiths and encouraging their communities to participate.
 Reaching Beyond Borders
While engaging the Indian community is relatively straightforward given the multitude of cultural events in South Florida, reaching local residents presented its own set of challenges. To overcome this, Akshaya Patra collaborated with the City of Pompano Beach and the Visit Lauderdale Bureau, both of which enthusiastically provided marketing support through their extensive channels. To further remove barriers, the event was made free for all, with complimentary parking.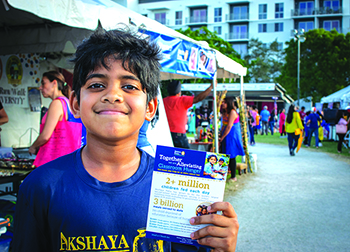 An Event That Transformed Lives
The success of Namaste was palpable not only to the attendees but also to the vendors who came from across the United States. Mehendi artists secured wedding bookings, boutiques saw unprecedented demand from Indians and non-Indians alike, and food vendors were deeply grateful for the opportunity to be present.
 Akshaya Patra's Mission
Another primary objective of the Namaste event was to raise awareness of Akshaya Patra's mission. This organization, which originated in Bangalore, India in 2000, began by delivering meals to 1,500 students in local government schools. This initiative was launched with the goal of addressing child hunger and promoting education, and it immediately yielded positive results. School attendance increased, and students exhibited improved health and academic performance.
Over the years, Akshaya Patra has expanded its reach, operating 67 kitchens in 15 states and 2 union territories in India. The organization's mission is clear: "No child should be deprived of education because of hunger." By providing hot, nutritious meals to over 2 million children across India for a full school year at an astonishingly low cost of about $20 per child, Akshaya Patra helps children focus on their education and pursue brighter futures.
The Namaste Festival of 2022 inspired over 300 donors to attend a unique fusion music and dance concert and fundraiser for Akshaya Patra. Led by Sanjay Chandran and Radha Kotamraju, the event raised enough funds to feed over 20,000 children. Today, the name Akshaya Patra resonates more widely in South Florida, thanks to the 10,000 attendees and the half a million Floridians touched by Namaste.
Namaste 2023: An Experience Not to Miss
The Namaste! Festival on December 2, 2023, promises to be an immersive experience, featuring over 400 performers and 100 booths and exhibits showcasing Indian arts, crafts, and foods. Admission is free for a limited time, with registration available at www.namastefl.com. The festival will be followed by the Namaste! Concert on December 3rd at the indoor Pompano Beach Cultural Center. This lively event will blend Indian and world music genres, featuring popular and original compositions, and serve as a fundraiser for Akshaya Patra.
Namaste! 2023 is the result of a true team effort, with hundreds of dancers, musicians, and Namaste champions putting in hours of practice for a noble cause. You can also contribute to this meaningful endeavor by sponsoring a table at the Namaste Concert on December 3rd. Contact us at namasteflevent@gmail.com to find out how you can get involved.