Editorial November 2023
Dear Readers,
First and foremost, let me wish all our Hindu readers a happy Diwali! May this festival of lights guide you and your loved ones on a journey of peace, prosperity, and happiness. I hope the Diwali light leads you and your loved ones on a path filled with harmony, wealth, and joy. Joyous Diwali! I would also like to wish my Gujarati readers a happy new year. May this new year bring you hope, prosperity, and, most importantly, a healthy life!
One of the most significant and happy holidays in the world is Diwali, also known as the Festival of Lights. Diwali, a holiday observed by Buddhists, Jains, Sikhs, and Hindus, represents the triumph of knowledge over ignorance, light over darkness, and good over evil.
Diwali has particular meaning this year since it marks our recovery from the difficulties of the previous few years. The celebration serves as a reminder that there is always hope, even in the worst of circumstances. Diwali's blazing light serves as a constant reminder of our resilience and inner strength.
Speaking about the triumph of good over evil, light over darkness, and knowledge over ignorance, let's discuss the recent Israel-Hamas fight that occurred in October 2023. It was one of the worst in recent memory, resulting in millions of displaced people as well as thousands of fatalities. Humanitarian help is desperately needed for the people of Gaza in the aftermath of the fighting. Securing the release of the hostages that Hamas is still holding, however, is equally crucial.
Since the start of the battle, Hamas has freed four captives in total, while more than 200 are still held captive. Hamas is using these hostages as negotiating chips. Although Hamas' demands have not yet been met by the Israeli authorities, the situation for the captives is rapidly getting worse. Many of the hostages are sick or elderly, and their chances of dying in captivity are increased.
To force Hamas to free the captives, the international community needs to exert stronger pressure. This can entail putting Hamas under sanctions or holding direct negotiations with the organization. Supporting the hostage families is particularly crucial because they are now in a precarious situation.
In order to provide closure to the conflict's victims and to advance peace and stability in the area, the hostages must be freed. To ensure their release, the international community ought to exert all of its might.
Let me now talk about an article regarding Indian American kids achieving success in their studies and academic competition that was authored by Professor Rohini Pandit.
To add my two cents, I'd like to discuss with the parents the risks associated with pushing children to their limits.
I am aware that nothing can compare to the love you have for your kids. Your desire is for them to succeed and to have the best life possible. However, you could occasionally push them too hard in your effort to provide them with a happy life.
I am referring to pressuring kids to study for extended periods of time, despite fatigue. forcing people to pursue occupations that they have no interest in just because they are thought to be well-known or lucrative. forcing others to fulfill your demands, even if it means putting their own happiness at risk.
I am aware that you only act out of love. However, I'm here to advise you to stop this unnecessary pressure.
This is the reason why:
Burnout might result from pressuring your children to study too much. Their grades will deteriorate, and they will begin to detest learning.
You risk making your children unhappy and dissatisfied if you force them to pursue jobs in which they have no interest. They will be more likely to suffer from mental health issues and have a lower chance of being successful in their careers.
Insisting that your children meet your standards might cause tension and anger. They will always worry about disappointing you and feel as though they can never please you.
What ought you to do in its place?
Here are some pointers:
Permit your children to learn at their own speed. Don't make them spend endless hours at their desks. Urge them to take pauses and engage in other enjoyable activities.
Encourage your children to pursue their hobbies. Give them a variety of experiences and activities to help them discover their passions.
Encourage your children's decisions, even if you disagree with them. No matter what, let them know you still love and believe in them.
Your children are individuals with their own rights. They have goals and dreams of their own. Try not to live your life in their shadow. Allow them to follow their own happiness and be authentic.
Here are a few more items to think about:
Your children are unique people with their own ideas, emotions, and aspirations. Though you can't control them, it is your duty to love and support them. They don't have to spend their lives in accordance with your expectations just because you raised them. They are entitled to make their own decisions, even if those decisions conflict with your desires for them.
Success is not as essential as your children's happiness. It makes no difference what kind of job they have or how much money they make. Their happiness and fulfillment are the most important things.
Thus, Indian parents, please don't push your children too hard. Allow them to be authentic and follow their own goals. The finest thing you can do to support their success is that.
Here, I am not suggesting that if your children have picked up bad habits like drugs, smoking, and hanging out with friends who are involved in these activities, you do not do anything. By all means, you need to stop them. I am strictly talking about their education, career, and hobbies.
Next, let me discuss a subject that is very important to both Aruna and me: the nonprofit Akshya Patra. a company that feeds lunch to more than 80 million kids in India each day. More significantly, the fact that a $20 donation may feed a child for a whole year is a figure that really strikes me. You read correctly—it provides lunch for the full year.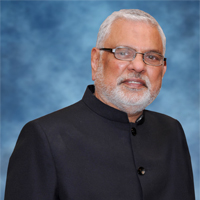 On December 2, 2023, in Pompano Beach, an event in support of Akshya Patra was held by Namaste of Florida. Please check out the detailed article and their advertisement in this issue.
Please mark this date and make sure you come with your friends and family.
See you at Pompano Beach on Saturday, December 2, 2023!
Raj Shah
Managing Editor
Desh-Videsh Media Group