Netagirl in America
~ By Lovejeet Alexander ~
So goes a popular saying. In the Indo-American community, which is blessed with political gyan and rational aptitude, political ambitions are bound to sprout. After successfully capturing crucial administrative seats in the White House, Indo-Americans now set their targets higher. Keep reading for an insight on the increasing number of Indians jumping into the American political arena.
A couple of years ago, former British Conservative Party deputy chairman Lord Archer, while on tour promoting his novel A Prisoner Of Birth, made some very unusual comments. He said, "Britain is going to be taken over by Indians. And I don't joke. Indians are taking over the local councils. There are mayors all over England who are Indian." Pointing to a young journalist he said, "You are young enough, I suspect, to live to see an Indian prime minister in England."
Although his prediction may look more like a satire, the prophecy rightly catches the trend on track. Migrant Indians, after taking over boardroom seats, are now aiming for political thrones. Which other nation could offer a better land to set that example, if not America? The United States has always been a fertile land for Indian talent to breed. The ambitious Indian community in the US has started trying its luck in the government with full vigor.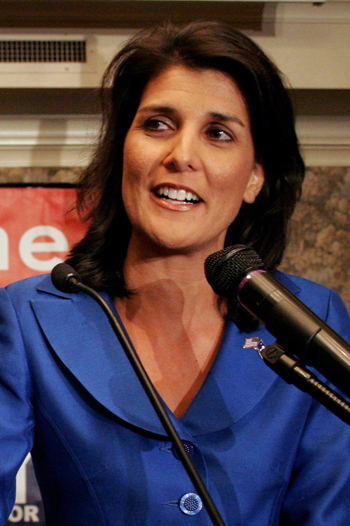 This year's recipient of the prestigious Ellis Island Medal of Honor, Indian American business leader Rao S. Anumolu rightly asks, "Indian community is already doing an 'A+ job' professionally and economically, so why not politics?"
With about three million Indians already settled in the US and growing at an average annual rate of 10.5 percent, Indo-American is the fastest growing ethnic group in America. Moreover, Indians are thought to be one of the wealthiest and best-educated communities in the US. According to the US Census Bureau, the median income of Indian-American families ($69,470) is nearly double the median income of American families ($38,885). All things are in place for a prosperous political undertaking.
Indians in US politics is not that new. Dalip Singh Saund, became the first Indian-American elected to Congress in 1957. The trend caught on fast only recently with the election of Bobby Jindal who entered Congress in 2004 and became governor of Louisiana midway through his second term.
Nikki Haley
At this time, there are a record number of Indo-Americans not just offering their name to the list, but also are major contestants in the fight. Leading the pack is Nikki Haley, born as Namrata Nikki Randhawa. One of the strongest fiscal conservatives in state government, Nikki was first elected to represent the 87th District in Lexington County (South Carolina) in 2004. Little known Nikki succeeded in beating the longest serving state legislator in a Republican primary. After having won the Republican Party nomination for governor of South Carolina in June, Nikki is favored to win at the polls later this year.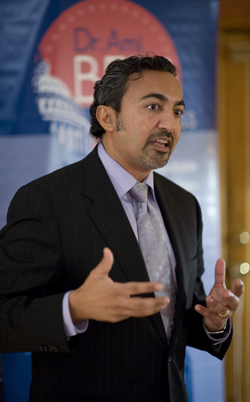 Born in Bamberg, S.C., the daughter of Indian immigrants, Nikki's first job at the age of 13 was that of maintaining books for her family's clothing store. Then only did she develop a knack for numbers, which led her to attaining great success in her professional life. For her efforts to cut taxes and slow the growth of government spending, Nikki was named 'Friend of the Taxpayer' (2009) by the S.C. Association of Taxpayers and a 'Taxpayer Hero' (2005) by Gov. Mark Sanford.
Ami Bera
Another first generation American, born to an Indian migrant family and raised in California, Ami Bera is running to represent his district in the United States Congress. Like Obama, he too wants 'change' and thinks that too many career politicians in Washington are bailing out Wall Street instead of serving the masses.
A physician and educator, Ami signed a pledge promising not to privatize the Social Security program on the 75th anniversary of Social Security.
Raj Goyle
The first Indian-American elected to the Kansas Legislature was Rajeev Kumar Goyle. In 2006, he was the first Democrat to hold his statehouse district. As a two-term state representative, he has earned a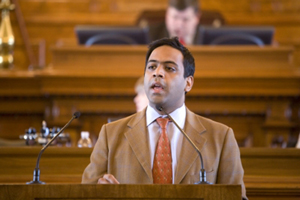 reputation for working across party lines to craft practical, commonsense solutions for the community. He now goes by his nickname, Raj Goyle, and he is battling for the Democratic congressional nomination in his hometown of Wichita, Kansas.
Raj's parents have run a clinic for over 30 years in Kansas. He says that his mom has delivered over 5,000 Kansans.
Raj's campaign includes a unique weekly jogging trip with his supporters and says that he is not at all worried about the elections. According to Raj, voters choose the best candidate based on merits and do not base choice on appearance or ethnicity.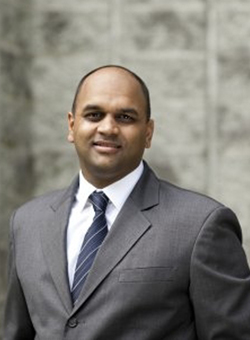 Manan Trivedi
Manan Trivedi, a doctor and Iraq war veteran, recently won a Democratic primary for Congress in eastern Pennsylvania. According to Manan, his ethnicity is not a handicap. He says, "The American electorate is smarter than that."
Trivedi currently works as a primary care physician and a health reform advocate in Reading. After medical school, Manan chose to do his residency at Harvor-UCLA, a safety net hospital where he treated mostly uninsured and working poor patients. Manan's battalion was deployed to Kuwait in early 2003 and was one of the first US ground forces to enter Iraq. Manan served as Commander of the medical team.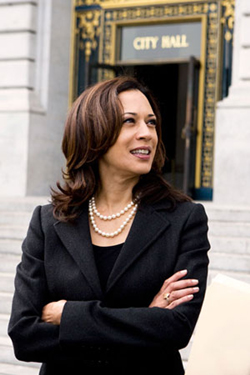 Kamala Harris
From California, Kamala Harris won the Democratic nomination for state attorney general and is favored to win the election this fall. Kamala says that she never felt insecure because of her background. With Indo-Americans taking on more prominent positions, she thinks that voters will gain a new understanding of the diversity of the people.
In December 2003, Kamala Harris was elected as the first woman District Attorney in San Francisco's history, and she was the first African American woman and South Asian American woman in California to hold the office. She was re-elected to a second term in November 2007.
Kamala is daughter of Dr Shyamala Gopalan, a Tamilian doctor.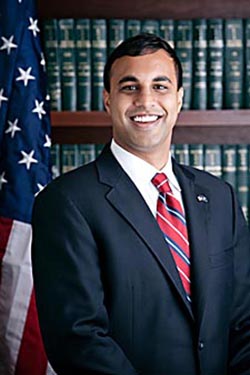 Ravi Sangisetty
Driven to solve the problems of South Louisiana is Ravi Sangisetty. He asserts that he is committed to fighting for the coast, growth of the coastal industries, and improving education and health care in the region.
Ravi, while pursuing his degree in political science, developed a strong devotion to public policy, especially in the area of coastal restoration. Ravi and his wife Sarah live in Houma, where his parents, both immigrants from India, still reside and maintain thriving medical practices.
Reshma Saujani
Reshma Saujani is a dedicated Democrat, community activist, Yale University legal scholar, and an attorney in New York City. Her parents, originally of Indian origin, escaped the Uganda turmoil and settled in the US. They were one of the first Indian families to settle in suburban Chicago.
As a freshman at the local public high school, Reshma started PRISM, the Prejudice Reduction Interested Students Movement, and organized rallys to educate community about the importance of diversity.
Saujani recently made headlines at the time of this year's India Day Parade. She supported the South Asian Lesbian & Gay Association of New York City (SALGA) and succeeded in including the community to march in the parade.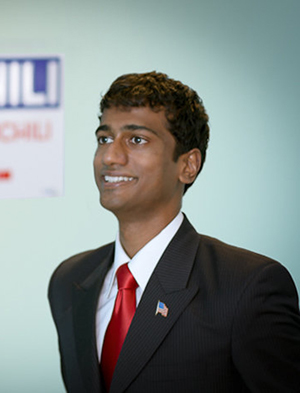 Surya Yalamanchili
Surya Yalamanchili, son of blue-collar Indian immigrants, is running in the Ohio 2nd District against Congresswoman Jean Schmidt. Born in Norristown, Pennsylvania, Surya shoveled driveways to earn money while in middle school, started his first business (an Internet company) in high school and worked full-time as an executive while graduating with honors from Rutgers University.
Surya also appeared in The Apprentice 2007 season. He has held high-level positions at various Internet companies, including LinkedIn in Silicon Valley.
Jody Venkatesan
Jody Venkatesan is a Republican candidate for District 13 in the Maryland State Senate. He is U.S. Army veteran and has served with the Military Intelligence Group as well.
Jody is yet another proven elected leader of Indian origin. In 2008, Jody was elected to his Homeowners Board on a platform of reducing assessments. He succeeded in reducing assessment rates by 30 percent ($700 – $800 annually per homeowner) in one year without reducing services.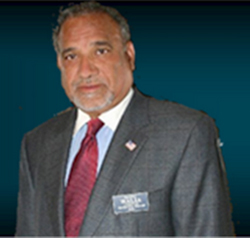 Harry Walia
Harry Walia, a real-estate developer and former restaurateur, is a candidate for Mayor of Venice, Florida. Originally from India, Walia has been living in Venice for more than 20 years now and believes that the small-town government should operate with smart management. Expert at starting small and making it big, Walia hopes to relive his success story on political platform too.