Never ever say never!
Ten years ago, when I first started Bharatanatyam dance lessons with Guru Smt. Harija Sivakumar I would have probably burst into tears at the thought of having an Arangetram. I genuinely abhorred dancing! What eight-year-old would get excited about waking up early on a Sunday morning, missing out on cartoons, driving 45 minutes, and then spending an hour dancing? None! But over the years, mainly due to my parents' persistence, my relationship with dance improved. We went from hatred to tolerance, tolerance to like, and eventually, from like to love. And then about a year and a half ago the date of the Arangetram was set. We were ready to start the long, arduous journey towards performing our Arangetram, our final dance graduation.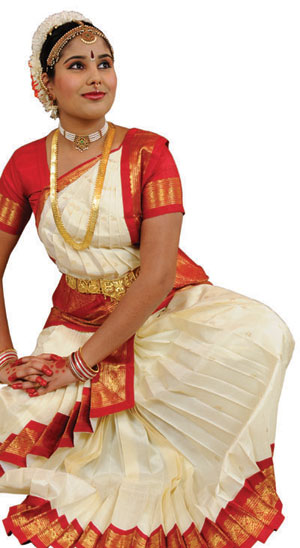 We started with coming in early for our routine Sunday dance class. Vasanti and I would spend an extra hour practicing with Harija Aunty before our regular class started. We revised all our Adavus, basic steps, over the first few weeks because without knowing these effortlessly we wouldn't be able to learn any of our dances properly. Also, our teacher explained to us that the most important thing we needed to improve was our stamina; obviously she didn't want us getting winded before even half our Arangetram was over. The first dance we learned was our Pushpanjali, the ceremonial opening dance in which the dancers offer flowers to the Gods and seek their blessings for a successful show. This six-minute dance was torture the first few times we practiced it. We literally could not get through even half of the dance without running out of breath. By now we knew that the only way to improve was to study the dance over and over again. So that's exactly what we did. After that first dance everything became easier bit by bit. We learned our Allaripu and Jathiswaram dances and started practicing those along with our Pushpanjali on Sunday mornings.
Even after this it was apparent that we needed more practice time. So during school breaks, my sister and I packed our bags and spent our days off at Harija Aunty's house in Miami. We spent part of Thanksgiving break, part of Christmas break, and almost all of Spring break dancing. In the mornings at her house, she would revise and clean up the dances we had already learned from her. Then we would break for a few hours and have class again in the afternoon. During our second session of the day, Harija Aunty would choreograph our new dances and start teaching them to us. In this way we learned six more dances.
By mid-January it became obvious that we needed to spend more time practicing with our guru along with practicing on our own everyday. So every weekend was spent doing exactly that. On Friday night or Saturday morning the two of us would make the one and a half hour journey to Harija Aunty's house, where we would spend all of Saturday dancing. Then on Sunday mornings we would drive to Coral Springs for our weekly class. At about five o'clock in the afternoon we would pack up and drive back to Boca and finish all our homework for school the next day. Dance was literally our life for those four months from January until May.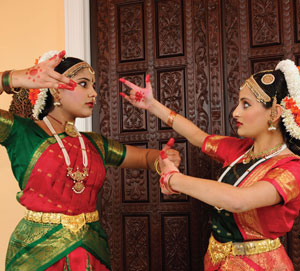 In the first week of April, the final stretch began. We started meeting two times a week and on the weekends as well. For two hours every Tuesday, Vasanti, Harija Aunty, and I would work, work, and work. We spent hours upon hours cleaning up and finalizing our Arangetram dances. By the time that class would end each week we would be absolutely exhausted! We would get home late night and then do our homework. I don't think we have ever worked harder for anything else in our lives.
The last week before our Arangetram we started rehearsing with Sri Madhu Chandrashekharan, Madhu Uncle, who was going to be singing throughout our recital. From 9 A.M. until 1 P.M. we ran through each and every one of our dances. Then we took a lunch break and redid the whole performance again from 3 P.M. 'till 7 P.M. It was exhilarating to know that after so many months of practice we could go through two full rehearsals in a day without complete exhaustion.
May 30th arrived. The stage was set, the audience waiting. But I can truthfully tell you that the whole day was basically a blur for both us dancers. When we got on stage it was magical. We did not think about the audience, the steps, or even the music. The performance just happened. Everybody's hard work finally paid off and in front of all our family and friends Vasanti and I celebrated the biggest achievement of our lives.