Hari's flute, Krishna's tune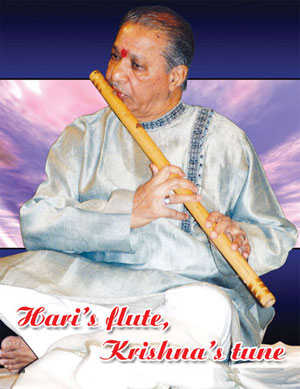 Music was not a genetic bequest for Pandit Hariprasad Chaurasia. His father, a wrestler of international repute, wanted him to enter the world of muscle combat. But his interest lay in the much softer and mellower notes of life. At the age of 15, Chaurasia embraced music for life. When asked how difficult it was to switch from the game of muscle to the play of chords, he says, "It was difficult, but at the same time, fascinating too."
Panditji began learning classical vocal from Pandit Raja Ram of Benares. The journey had just begun. His destination still looked hazy and distant. It was after attending a flute recital by Pandit Bholanath that the foundation for a flute legend was laid. Call it love at first sight or at first sound, the flute became his soul, his essence of life. His flute knows the delightful art of conveying delicate levels of feelings through subtle manipulation of tones and intervals. Avoiding all pinpoints he says, "I treat my each concert like first and last, so each one of them is memorable to me." For audiences, this is definitely the case. "Music is my prayer and each auditorium a temple," he adds. Pandit Chaurasia is a musician who is credited for developing a style that is respectful of tradition, yet full of novelty. Touching the chords of every heart, even his critics remain in awe of his style.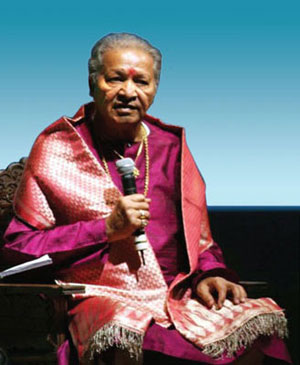 At the age of 19, Chaurasia joined the All India Radio in Cuttack, Orissa. It was in this very city that he found his soul mate. Anuradha, then an established classical singer and trained Odissi dancer, used to sing to the tunes of Hariprasad and later decided to croon his tunes for the rest of her life as his life partner. Within five years of service, the All India Radio transferred him to its headquarters in Mumbai where he got the chance to play with Indian music maestros of the period.
These accomplishments were yet not sufficient to quench Chaurasia's thirst for excellence. He intended to gain that magical touch he still felt he was missing in his music. It was Annapurna Devi, worthy daughter and disciple of the great Acharya Allauddin Khan of Maihar School of Music, who added needed glitter to his music. Convincing her to become his 'guru' was not an easy task either. For years he had to return to the doors of one of India's most reclusive classical purists before being allowed her guidance. To convince her of his sincerity, Chaurasia even had to change to playing left-handed (originally he was a right-handed flute player). Such was the devotion of this devout sadhak of music. Asserting his dedication to music he says, "My Practice is my pooja. My Sargam and scales are my mantra. Power of God is what I try to convey through my music."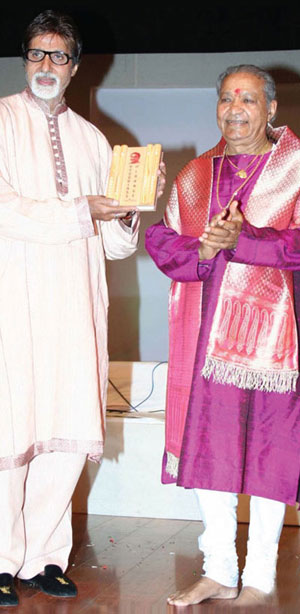 It would be true to say that Pandit Hariprasad Chaurasia picked up the thread where Pandit Pannalal Ghosh, the great pioneer of flute music, left it. Under the able guidance of Annapurna Devi, he has successfully carried forward Panna Babu's mission towards widening the horizons of his instrument beyond the boundaries of strict traditional classical forms. Chaurasia has acquired a perfect command over a variety of light classical tunes from thumri to lighter music and folk variety. When asked about his favorite, he says, "All the ragas and raginis which I play are my favorite, but I like Bhairavi."
Chaurasia further enhanced the bansuri playing style with innovative blowing and finger placing techniques, which took bansuri music to a higher level. The flute maestro attributes his early day's wrestling training as a blessing in disguise as that gave him immense stamina and lungpower. His undying hunger for perfection and desire to set high benchmarks make him one of the busiest and most sought-after contemporary musicians in the world today. This jet-setting flautist spends much of the year in Holland where he heads the World Music Department at the Rotterdam Music Conservatory and has a much talked about Vrindaban dream to follow. Realizing the need of his music students world-wide, the dedicated teacher in Chaurasia came up with the idea of Vrindaban Gurukul. Chaurasia's Vrindaban is his dream school dedicated to teaching and promoting performing arts of the world (particularly music and dance), and yoga and meditation adhering to the principles of ancient Indian Gurukul methodology.
Talking about his music schools he says, "In my dreams I dream of recreating a huge college of flautists, a veritable Vrindaban in which students will arrive to learn and study with satchels full of flutes, live in mud huts, eat a common langar." To make this long cherished dream a reality, Panditji started a gurukul in Mumbai. Another one is slated to come up in Bhubaneswar. Apart from classical music, the musician has made a mark as a successful music director in the Hindi film industry too. With Pt. Shivkumar Sharma he formed a group called Shiv-Hari to compose music for several Bollywood blockbusters including Lamhe, Faasle, Chandni, Silsila, and Darr. He has collaborated with various western musicians including John McLaughlin and Jan Gabarek in experimental cross-cultural performances. About his experience playing the iconic tune of Bollywood blockbuster Hero for Laximakant Pyarelal, he says, "It was a nice experience as later to the movie's and it's music's success, the lead star Jackie Shroff became a great fan and admirer of my music."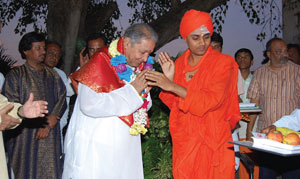 The famous Silsila, on which he collaborated with Pt. Shiv Kumar, was a Platinum Disc in India, as was his experimental album Eternity, which incorporated many western elements alongside of North Indian classical ones. When asked, "Now that you have tasted success in non-film, film music and classical music, do you feel content with all you have achieved?" his instant reply was, "This is just the beginning. I have much more to achieve and accomplish."
Eluding his personal mission and mantra in life Chaurasia says, "When you leave nothing behind, you cry at the point of death, but I still dream, I dare to dream that through my playing and through my students my flute will be left behind as the memory of Krishna."
Over a lifetime of performances throughout the world, this player of the bansuri, is a classicist who has gone out of his way to promote Indian classical music. He is an awardee of the Padma Bhushan, the Konarak Samman and the Yash Bharati Samman, a music composer for many Indian films, the head of the World Music Department at the Rotterdam Music Conservatory, and a creator of a music style that epitomizes the traditional while flirting with the contemporary, this renowned virtuoso is truly multi-talented.