New Musical Series Bandish Bandits Releases on Amazon Prime
Amazon Prime announced a new romantic musical series, Bandish Bandits. The series features a fresh soundtrack composed by Shankar Ehsaan Loy and is produced by Amritpal Bindra Singh. Bandish Bandits is directed by Anand Tiwari who directed the flash hit, Love per Square Foot. This series marks the digital debut of trio Shankar Ehsaan Loy and is about the unlikely love connection of two upcoming musical stars from different backgrounds.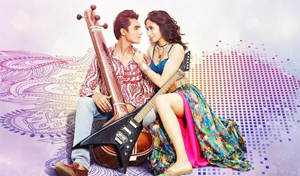 Radhe (Ritwick Bhowmick of Dhusar) is an Indian classical singer while Tamanna (played by Shreya Chaudhury of Dear Maya) is a pop star. The 10 episode series features a strong cast: Naseruddin Shah, Rajesh Tailang, Atul Kulkarni, Kunal Roy Kapur, and Sheeba Chaddha.
Bandish Bandits has been described by Amritpal Singh Bindra as a work of love, and he added that he was glad that Amazon Prime's popular streaming platform picked it up. Amazon Prime is known for sourcing quality content from all across the globe. While Bandish Bandits is a quintessential Indian traditional series, there are elements of a modern global romance that will appeal to a universal audience.
Director Anand Tiwari describes the series as a meeting of two different people from very different backgrounds and their cultural juxtaposition. Each character's story has been explored in depth giving the audience a warm connect to them. The coming together of these two different worlds in a cloud of romance and music is what will make this series special. Besides, there is the excitement of hearing Shankar Ehsan Loy's music.
Shankar Ehsan Loy's music
popular streaming platform
Amritpal Singh Bindra
Sheeba Chaddha
Atul Kulkarni
Kunal Roy Kapur
Rajesh Tailang
Amazon Prime
Shankar Ehsaan Loy
Amritpal Bindra Singh
Anand Tiwari
Love per Square Foot
Indian classical singer
Shreya Chaudhury
Ritwick Bhowmick