Next US President may be an Indian-American? By Raj Shah & Arkamita Sengupta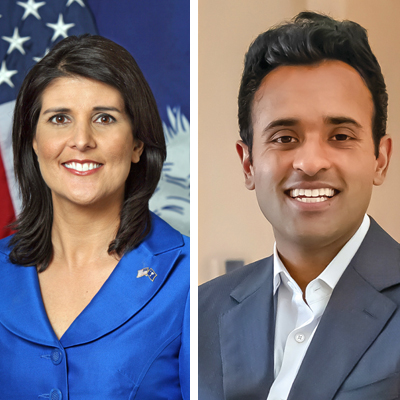 Like Britain, the United States of America may also have an Indian-origin president after the 2024 presidential election. The fresh faces of Indian descent for the US presidential election are Nikki Haley and Vivek Ramaswamy. This news has created a buzz across the globe as it reflects the popularity of Indians worldwide. According to the report, in a community that makes up 1.3% of the US population, two out of three candidates currently vying for the GOP presidential nomination are Indian-Americans.
The Indian diasporic politics of today are on the way to rewriting history with the two prominent American candidates of Indian origin running for the Republican presidential primaries in the 2024 election. Nikki Haley and Vivek Ramaswamy are the two well-accomplished Republicans who have made the community proud by announcing their bid for the presidency in 2024.
This era marks significant growth for the Indian-American community as they emerge as a powerful political influence in US politics. Even though Indian Americans are in the minority, they are swiftly climbing up the ranks in the US political arena, getting involved in political activism in a very striking manner.
Illinois Congressman Raja Krishnamoorthi, of Indian heritage, classified his "fellow colleagues" as the "Samosa Caucus" at an event, claiming that "we may be small, but we're spicy." 
If we assess the history of US politics, in 2013, the House of Representatives had just one Indian American member, and less than 10 Indian Americans served in state legislatures. Until then, no Indian American had had the honor of being elected to the Senate, let alone running for president.
Fast forward to 2023, and there has been a massive leap in the inclusion of Indian Americans in US politics, starting from the swearing in of five Indian Americans in Congress in January 2023 to the announcement of Nikki Haley's and Vivek Ramaswamy's bid for the presidency. 
Neil Makhija, the executive director of Impact, an Indian American advocacy group, says, "We've gone literally from having no one to getting close to parity." And he could not be further from the truth when even the vice president of the US is of Indian heritage, marking a watershed year for Indian Americans. This new generation of Indian Americans is taking US politics by storm by entering and beginning their foray into the political mainstream of their new homeland.
A study of Indian-American voters conducted prior to the 2018 midterm elections found that 70% of the registered voters among them identified as Democrats, while 18% identified as Republicans, and the remaining 12% were independent. A recent YouGov poll found that Indian-Americans' support for democratic presidents is declining. In 2012, 84 percent of Indian-Americans voted for President Obama. This number declined in 2016, when 77 percent voted for Hillary Clinton, and in 2020, it further declined. 72 percent of registered Indian American voters supported Vice President Biden. On the contrary, Indian-American voters' support for the Republican Party has increased. The poll found that the number of Trump-supporting Indian Americans had grown to 22 percent from the 16 percent who supported him in 2016.
"Thus, while a majority of Indian Americans continue to support the Democratic ticket, it seems that the Republican Party is having some success growing support among Indian American voters."
The first-generation Indian immigrants were notably absent from the political scene in the US. A decade later, Nikki Haley proudly emphasizes her identity as an Indian in her campaign, contributing to the wealth and high-level education of the second and third generations of Indian American descendants.
"Nikki Haley was heard proclaiming in her campaign videos, I was the proud daughter of Indian immigrants. Not black, not white, but different."
Nikki Haley, a proud Indian American, was born Nimarata Nikki Randhawa to Sikh immigrants who immigrated from Punjab, India. Although Haley converted to Christianity after marrying Michael Haley, she still holds onto her original roots even as she runs for the 2024 Republican presidential primaries.
With a similar heritage and background, Indian-descent Vivek Ramaswamy also announced his bid for the presidency on February 21. His parents, who immigrated to the US, are from Kerala, a south Indian state. An Indian-American entrepreneur, Ramaswamy majored in biology at Harvard, graduated from Yale Law School, and founded Roivant Sciences, a pharmaceutical company. Although Indian-descent Bobby Jindal, who served as the 55th governor of Louisiana, ran for the presidential primaries in 2016, this is the first time more than one Indian American is running for the US presidential primaries.
Ramaswamy made a name for himself with his strong stand against "anti-wokeism" "covidism" (an attack on former Chief Advisor to the US President Antony Fauci), "climatism" (a callback to climate activist Greta Thunberg), and "genderism". He also stated, "We've celebrated our diversity so much that we forgot all the ways we're really the same as Americans". Ramaswamy claims this is "a national identity crisis" and makes a call to GOP talking points in "faith, patriotism, and family".
Ramaswamy's intense focus lies in "getting rid of 'affirmative action" and allowing more highly skilled immigrants into the US." Haley herself stated in her speech that "America is not a racist country" and that her purpose lies in saving "our country from the downward spiral of socialism and defeatism." A bold statement from Haley indeed; she seems to be targeting the desire of the immigrant communities for upward mobility, an approach Democrats have taken for quite some time.
However, the question lies in whether identification with someone's race and ethnicity will be enough to represent a bigger goal to achieve. Vikram Mansharamani, a New Hampshire Republican who ran for Senate last year and recently hosted an event for Haley, said that Haley's story reminded him of his own life story and surely moved him. 
On the other hand, a 2020 study reveals that "nearly 60 percent of Indian Americans are open to voting for an Indian American candidate regardless of their party affiliation", which could contribute to the success of candidates of similar ethnicity and background. Regardless of political affiliation and motive, the truth cannot be denied: people want to see their own people win, and the Indian American community certainly wants to see more representation of their race in the office.
Professor Sadhwani, one of the 2020 study's authors, said, "My sense is that there will be a lot of excitement amongst Indian Americans to see Nikki Haley stepping into this role."
Experts and politicians claim that "support for an easier immigration process and opposition to nativism and xenophobia were major factors in Indian Americans' political preferences."
Moreover, Ramaswamy's messages of US exceptionalism and disengagement from China will surely win him more voters. He was also heard quoting Martin Luther King Jr.: "We need to judge not on the color of your skin but on the content of your character" and citing the Great Seal: 'e pluribus unum', which means 'from many, one".
 "I do think that the more we have diversity, the more the actual ideological views will be paramount," Ms. Jayapal stated. "Once we're not sort of wowed by the fact that there's an Indian American woman running for whatever office it is, I think we'll be able to focus more on the actual ideas. And that should be the way it is."
The Indian American community is happy about the increase in the number of members of their society participating in politics over the last few years. They are proud to see the increase in candidacies in diasporic politics in the host country of America, where another one of their own is rising. "A beautiful thing is happening: Indian-Americans are coming to the forefront," hotelier Danny Gaekwad said, adding that "the latest bid could encourage more Indian-Americans to run for elections even at the local level."
Despite having a fair amount of support in their home states and communities, Vivek Ramaswamy or Nikey Haley are not as well-known as other potential contenders like Florida Governor Ron DeSantis or former President Donald Trump. Vivek Ramaswamy's or Nikey Haley's chances of winning are still uncertain. Especially when you see the election from a completely different angle: discrimination.
"Remember that the nation that preaches equality for men, women, races, and religions throughout the world has never chosen a woman or a non-Christian to lead it as president."
The Constitution famously forbids any religious test or prerequisite for holding public office. Nevertheless, nearly all of the presidents of the country have been Christians, many of whom have been Episcopalians or Presbyterians. The majority of the remaining presidents are members of other well-known Protestant denominations. Joe Biden, the current president, is the second Catholic to hold the office of president after John F. Kennedy.