NGOs in the South Florida Indian Community jan 2016
NGOs in the South Florida Indian Community
There are over 1.5 million non-governmental organizations (NGOs) in America, and as members of one of the most affluent ethnic communities in the country, Indian Americans are well poised to dedicate their wealth and time to a variety of charitable causes. From organizations that benefit people in North America to those that assist the less fortunate abroad, there are many groups in South Florida fulfilling the needs of the Indian community.
A NGO is a group that is neither a part of a government nor a traditional for-profit business. These groups may be charitable in nature, or focused on political, religious, or social causes, and are usually established by ordinary citizens and supported by businesses, foundations, and private donors.
In this issue, we offer a glimpse of the organizations in our own community.
Akshaya Patra Foundation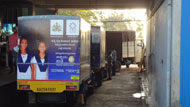 Headquartered in Bengaluru, India, this organization strives to fight the important issues of hunger and malnutrition in India. Since 2000, Akshaya Patra has worked towards reaching children with wholesome food by implementing the Mid-Day Meal Scheme in government and government-aided schools. This not only brings sustenance to Indian children who would otherwise go hungry during the school day, but also fosters a healthy relationship between nutrition and education.
In partnership with the government of India and inestimable support from many businesses, and philanthropic donors, Akshaya Patra is currently the world's largest not-for-profit mid-day meal program, serving over 1.4 million children in 10,845 schools across 10 states in India. The organization's goal is to feed five million children by the year 2020.
Tel: (781) 438-3090
Asha for Education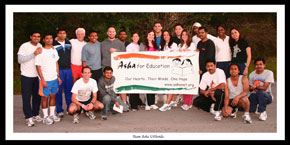 As a secular organization dedicated to change in India, Asha for Education focuses on the belief that education is a critical requisite for socio-economic change. Beginning in 1991, a few students including V.J.P. Srivatsavoy, D. Gupta, and S. Pandey formed the group at the University of California in Berkeley, naming it "Asha", or "hope" that they aimed to bring into the lives of children in India. Today, there are more than 50 Asha chapters worldwide, spread across the US, India, Europe and Canada. Volunteers in each of these chapters take personal interest in identifying education-related projects in India, and supporting them through funds and other means.
As part of the Asha charter, all chapters have a high degree of freedom in their activities including the identification, research, support and ownership of projects. However, there is also a good deal of cooperation among chapters and volunteers across chapters. This cooperation is evident in the joint ownership of projects across chapters, formation of focus groups across chapters, cross-chapter discussion on issues of interest, worldwide events like the Asha-Wide Conference, Work-An-Hour, and the Asha India Conference.
Tel: (419) 855-2742
Website: http://new.ashanet.org/
Child Rights and You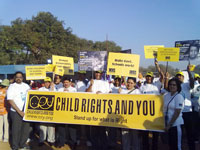 Child Rights and You (CRY) is dedicated to improving the lives of children in India, who have little access to food or education, and are often exploited or forced into labor. Since 1979, CRY projects focus on increasing opportunity for education, healthcare, and safe places from abuse. This includes influencing 8child-friendly policies, rehabilitation efforts in disaster and natural calamities, and creating awareness on the situation of impoverished children in India. They work closely with other project partners and the Indian government to provide the necessary infrastructure to protect children, and are part of many state level alliances and national issue based alliances, such as the Campaign Against Child Labour, ECPAT, Donor Agency Network and the National Alliance for the Fundamental Right to Education (NAFRE).
Tel: 011-29533451/52/53
Ekal Vidyalaya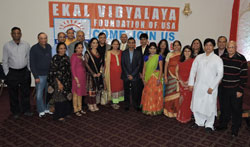 This charitable trust is on a mission to bring basic education to every child across rural India, through a system of one-teacher schools, known as Ekal Vidyalayas. The organization has become the largest grassroots NGO education movement operating in the remote villages of India, with over 57,000 schools serving over 1.5 million children. To run a single Ekal school for one year, it costs around Rs. 20,000, the equivalent of $365 per year, or $1 per day.
Ekal Vidyalaya's goal is to nearly double the current number of schools to 100,000 by the end of 2015, providing education to over three million children. The dedication of the donors, supporters, and workers of Ekal Vidyalaya is the key to this organization's remarkable success. Apart from its goal of achieving the national standards of Minimum Level of Learning, Ekal Vidyalaya seeks to empower the village community for its own self-development through four additional aspects: functional literacy, health care education, development education, and empowerment education.
Tel: (281) 668-5982
http://www.ekal.org/
Hindu American Foundation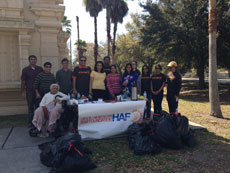 The Hindu American Foundation (HAF) is an advocacy organization based in Washington, DC, for the Hindu American community. HAF's main mission in pluralism in their endeavors to educate the public about Hinduism, speak out about issues affecting Hindus worldwide, and build bridges with other religious institutions. HAF focuses on human and civil rights, public policy, media, academia, and interfaith relations, and through its advocacy efforts, HAF seeks to cultivate leaders and empower future generations of Hindu Americans.
HAF is not affiliated with any religious or political organizations or entities, and relies on memberships and donations to operate. HAF seeks to serve Hindu Americans across all backgrounds and generations, specifically involving the youth in their annual Congressional Internship program and NextGen essay contest. HAF also covers issues affecting Hindus abroad in their annual Human Rights Report and Hate Watch Report. The organization's ultimate vision is to sustain a leading institution of Hindu American advocacy for the promotion of human dignity, mutual respect, and pluralism.
Tel: (202) 223-8222
http://www.hafsite.org/
Pratham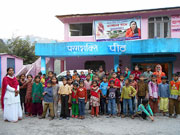 Pratham is an innovative learning organization based in India, created to improve the quality of children's education. As one of the largest non-governmental organizations in the country, Pratham focuses on high-quality, low-cost, and replicable interventions to address gaps in the education system. Established in 1995 to provide education to children in the slums of Mumbai, Pratham has grown both in scope and geographical coverage.
Pratham means 'first' in Sanskrit. True to its name, it is the first major organization to achieve lasting, wide-scale success in India's educational landscape. Pratham works to ensure that all children not only attend but also thrive in school, while also supplementing governmental efforts to keep children in school. Volunteers are provided with teaching-learning material and books developed by Pratham, and over the years, Pratham's advocacy in the education sector has become well recognized and regarded.
Tel: (91) (11) 26716083 / 41651638
http://www.pratham.org/
Sankara Eye Foundation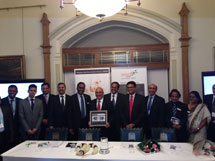 The motto of Sankara Eye Foundation is "Thamasoma Jyothir Gamaya", or "Lead us from darkness to Light". For the last 35 years, this movement has been focused on providing the highest quality eye care services and surgeries all over India. The foundation was initiated by Dr. Ramani and Dr. Radha, and has performed over one million vision-restoring surgeries to date.
Sankara Eye Foundation's goal is to eliminate needless blindness in India, following the 80:20 Model – 20% of the surgeries are offered at an affordable price to those who can pay, and 80% of the surgeries are performed on those in impoverished societies, free of cost. The revenue generated from the 20% surgeries subsidizes the cost of surgeries for the free 80%, in addition to the benevolent support of those who contribute financially. The foundation also facilitates a Sight Ambassador program, which allows donors to pledge their eyes, posthumously, to a patient in need.
Tel: 02692280240
Vatsalya Gram
An alternative to women's shelters and orphanages in India, Vatsalya Gram is the only NGO in the world that allows underprivileged children and women of all ages to live together as families. This unique program allows them to form enduring relationships as parents and siblings; each family is comprised of seven children, a mother, an aunt, and a grandmother, all of whom are given academic and vocational educations along with life purpose. It fosters an emotional connection of love and trust among the less fortunate, without any distinction of caste, creed or race.
Established by the voluntary organization Param Shakti Peeth, Vatsalya Gram is the brainchild of Rev. Didi Ma and the group's many volunteers. For less than one dollar a day, donors are able to provide the five essential services outlined by Vatsalya Gram: Food and shelter, education, personality development, welfare, and medical facilities. As an organization, Param Shakti Peeth has a 10-member governing board who manages the affairs of Vatsalya Gram and its day-to-day activities.
Tel: (301) 673-0041
http://www.vatsalyagram.org/