Nihar Janga: 2019 National Geographic GeoBee Champion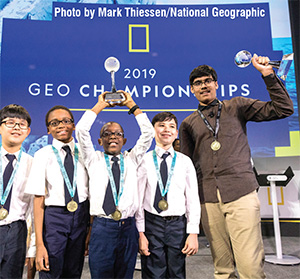 Nihar Janga, an 8th grader at Canyon Ridge Middle School in Austin, Texas, earned top honors at the 31st annual National Geographic GeoBee National Championship. The annual geography contest was held on May 22, 2019, at National Geographic headquarters in Washington, D.C. The competition saw the best of young talent answering intense questions based on world knowledge and ideas.
Nihar Janga placed first by surviving five tie-breaker question rounds. He gained an edge over Attreya Mallana, a 6th grader from William Diamond Middle School in Lexington, Massachusetts, by correctly answering "Finnmark Plateau" in response to the question "More than one-third of Norway's northernmost county is located on what plateau?"
Nihar has also received a $25,000 college scholarship, lifetime membership to National Geographic Society, and a Lindblad expedition to the Galapagos Islands aboard the National Geographic Endeavor II.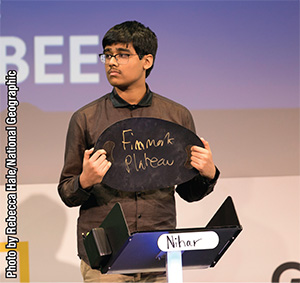 The National Geographic GeoBee conducts the competition on three levels: school, state and national. School champions qualify via an online test to proceed to the state level. The state champions then travel to National Geographic headquarters to compete on a national level.
The mental battle in Washington, D.C., was among 100 young brains with Janga finally winning the prestigious competition by answering to host Mo Rocca's final question. Janga fell to his knees after being declared the champion of this year's National Geographic GeoBee National Champion.
This wasn't Janga's first time participating in the competition. Last year, he made it to the finals round. Janga also won the 2016 Scripps National Spelling Bee championship.
For the last 30 years, National Geographic has held this annual competition, and Janga is a fresh entry on the list of winners. We congratulate Janga for the honors and wish him good luck for his studies and upcoming endeavors with National Geographic!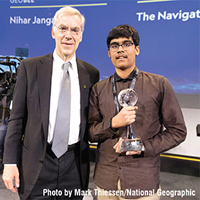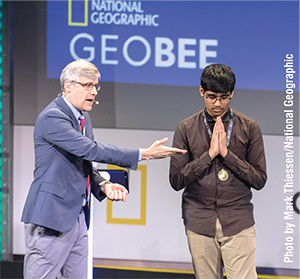 Nihar Janga
Canyon Ridge Middle School
Annual geography contest
National Geographic headquarters in Washington, D.C.
William Diamond Middle School in Lexington
Finnmark Plateau
College Scholarship
National Geographic Society
National Geographic Endeavor II
National Geographic GeoBee National Championship 2019