Nirav Modi moves New Bail Plea in UK, Cites Anxiety & Depression
Fugitive Indian diamond merchant Nirav Modi is wanted in connection with the nearly $2 billion Punjab National Bank (PNB) fraud and money laundering case. The businessman has moved a new bail application against his continued detention in a London prison cell and has asked for house arrest.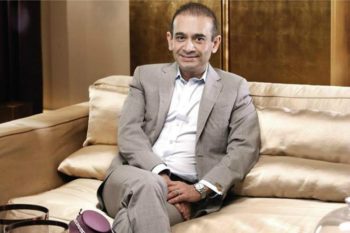 This is Nirav Modi's fifth attempt at bail since his arrest on an extradition warrant in March this year. Modi is fighting extradition to India by citing anxiety and depression in the latest application.
The new bail plea will be heard at Westminster Magistrates' Court in London on November 6, said a court official. It is said that the businessman is likely to appear via videolink from his jail. He may be produced in person if the court listings officials deem that necessary.
Modi's legal team had previously also cited the "severe" conditions in Wandsworth prison in London in their bail attempts. It is one of England's most overcrowded jails. The 48-year-old businessman has been lodged at Wandsworth prison since his arrest on March 19 on an extradition warrant executed by Scotland Yard on charges brought by the Indian government.
His barrister Clare Montgomery, during a hearing at the Royal Courts of Justice in London in June, said "The circumstances he has had to endure at Wandsworth have been personally difficult and the confidential exhibits reflect the experience that has marked him deeply."
"The reality is that he is not the cold-blooded hardened criminal as claimed by the government of India but a jewellery designer from a long line of diamond dealers, and regarded as being honest, careful and reliable," Montgomery added. There are no strict limits on the number of times Modi can apply for bail, and another application will now be heard next week.
Clare Montgomery
Wandsworth prison in London
Westminster Magistrates' Court
Fugitive Indian diamond merchant
Punjab National Bank
Nirav Modi