NRI FOCUS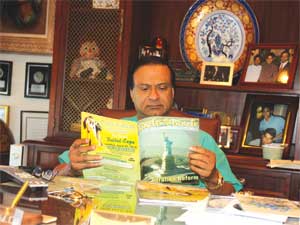 Born in Trivandrum, Kerala, Dr. Zachariah P. Zachariah has become a successful member of the South Asian community in South Florida. Upon moving to the United States in 1972, Dr. Zachariah entered into a residency program at St. Joseph's Hospital and Medical Center in Paterson, New Jersey.  Since then, Dr. Zachariah has gone on to become an award-winning cardiologist.  In addition to writing numerous papers and abstracts, Dr. Zachariah has also won many reputed awards and honors. In 2000, he was given the prestigious Ellis Island American Legends Award.  Dr. Zachariah credits hard work and strong determination as the secrets of his success.
Learn more about the life and success of Dr. Zachariah through his own words.
Please tell us about your family. Do you have any brothers or sisters?
My father was a missionary in India, and my mother was a university professor. I have two brothers – Chacko Zachariah, PhD and Mammen P. Zachariah, M.D. – and a sister, Mary George, all of whom now reside in Fort Lauderdale.
When did you arrive in the USA, and what was the special reason that brought you here?
I came to the United States in 1972, as I wanted to further my education. My father attended the General Theological Seminary in New York in the early 1950s. My mother visited the United States, and Chacko, my brother, earned a degree at Georgia Tech. This country is the mecca of the best medical education, care and treatment in the world.
Tell us a little bit about your career and how you came to be where you are today.
At the completion of my training at the Cleveland Clinic under the mentorship of Dr. Mason F. Sones, who invented heart catheteriza tion, I came to Holy Cross Hospital in Fort Lauderdale to open a cardiac cath lab. The Holy Cross Hospital had a national search committee and I was selected.
What has been the toughest challenge you have faced during your career in the United States?
Having to face professional challenges and overcome prejudice. You just have work tirelessly and persevere to do whatever you have to do.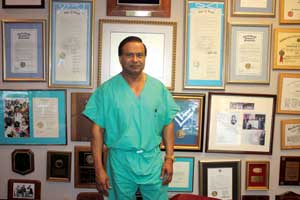 What drives you? What really pushes you to succeed and reach greater heights?
I truly love and enjoy what I do. You have to give your best effort to everything you do. Success means different things to different people? What does it mean to you and how would you define it?
Happiness is the key. You have to make a living by doing what you love most, while also trying to make a difference.
How would you compare life in the US today to when you first arrived? How does it compare in terms of opportunities, culture, or any other aspects?
For me, life is the same as it was in the 60s. Opportunities are still unlimited, and the cultural horizon is more diverse. This land known as the melting pot still elicits the very best from every immigrant who calls the United States home.
New immigrants to the US often have great dreams of achieving their goals. What guidance would you give them?
Hard work is the key. Being persistent, determined, loyal, and honest will help you reach your dream goals.
An American colleague once asked me an interesting question – "Why are Indians in the US at the forefront of a variety of fields?" What do you think?
Indians have a strong base of knowledge, work extremely hard, and are loyal.
What financial advice would you like to give the readers?
Save your money. Invest wisely and conservatively.
How do you find time for things other than work? How do you create a balance between work, family and hobbies?
Community service is very important. You should give back to the community and learn how to manage your time efficiently.
Who has played a crucial role in influencing the events of your life? How so?
As a child, my father and mother were very influential in shaping my life. In my early 20s, Russell Brancato, M. D. played a key role. In my late 20s and early 30s, Mason F. Sones, M.D. was not only influential, but also a mentor.
Has religion played a role in your success or your life? If so, how?
Yes, religion has been very important. It is basis of my focus, empathy and dedication in life and to my profession.
How has education, if any, played a role in your success?
Absolutely. Education has been the key to my success. Without the benefits of education, I would not be enjoying the professional success I enjoy today.
Do you think you missed out on anything in life?
Life for me is not over yet; however, at this point, I don't believe so.
Is there anything you feel you would still like to accomplish?
I would like to live a long and healthy life in order to see my children succeed.
Favorite Book: The Bible and A Mid-Summer Night's Dream by William Shakespeare
Favorite Indian Movie: Sholaay
Favorite Non-Indian Movie: The Ten Commandments