Community Pride
 "Most Valuable Physician" Now Chief of Staff at Broward General Medical Center
Loving husband, caring father, most valuable physician and wonderful friend, Dr. Rajiv Chokshi, is now holding the leadership role, which has never been held by any Indian or by any Asian here in South Florida. Dr, Rajiv Chokshi was elected Chief of Staff for Broward General Medical Center (BGMC) and Chris Evert Children's Hospital.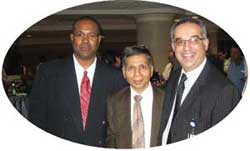 "Since his arrival here more than 25 years ago, Dr. Chokshi has focused on advancing the health and well-being of patients," said James Thaw, CEO of Broward General Medical Center. "We are fortunate to have him serve as Chief of Staff, and I look forward to working with him in his new role."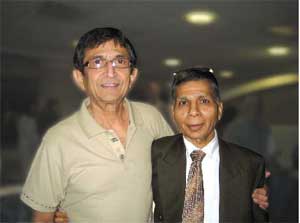 A graduate of B.J. Medical College in Ahmedabad, India, Dr. Chokshi completed his residency in Internal Medicine at Louis A. Weiss Memorial Hospital, affiliated with the University of Illinois in Chicago. He is certified by the American Board of Internal Medicine, and he obtained his Masters of Surgery in India. Dr. Chokshi joined the staff of Broward General in 1987, and has served in various leadership roles since 1996, including Vice Chairman and later Chairman of the Department of Medicine, Secretary/Treasurer of Staff, and Vice Chief of Staff. He currently serves as Co-Chair of the Faculty Senate of Broward Health.  Additionally, Dr. Chokshi served as Committee Chairman of both Medical Care Evaluation and Credentials and Qualifications Committees. He also served on Pharmacy and Therapeutics, Utilization Review and Medical Quality Management Committees at BGMC.   In 2001, BGMC named Dr. Chokshi "Most Valuable Physician."
In addition to his new responsibility at BGMC, Dr. Chokshi also maintains a private practice in internal medicine and serves as a clinical assistant professor at Nova Southeastern University's School of Osteopathic Medicine.
The soft-spoken Dr. Chokshi, who is well liked by everybody with whom he comes in contact – his patients, his colleagues or his staff members. Dr. Harish Thaker, a leading neurologist in South Florida and connected with Broward General Hospital since 1977 said, "Raju, who is like my younger brother, is a great physician, very good with patients, and all of his patients love him." Dr. Thaker, who has known Dr. Chokshi since 1982, added "Raju is a very knowledgeable physician. The combination of knowledge, very good bedside manner, and his caring personality is very rare in our field."
While talking to Dr. Zachariah, a leading cardiologist in South Florida, about Dr. Chokshi's promotion, he responded, "Rajiv is one of the best physicians I know. He definitely deserves this promotion. He makes all of us (Indians) very proud."
Dr. Chokshi moved to Ft. Lauderdale in 1986 with his wife Sreedevi. They married in 1981 and have two children, son Ruchir and daughter Shiralee. Ruchir has completed his medical study and is completing his residency in New York. Shiralee is studying law in Miami.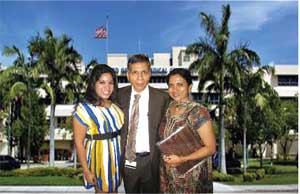 Despite his busy practice and heavy hospital caseload, Dr. Chokshi still manages to spend quality time with his kids. His daughter Shiralee, after posing for a picture at Dr. Chokshi's promotion event, said, "I can't think of anyone who deserves this more than him. He is truly the epitome of the notion that hard work and a humble and loving character can take you a long way."
Ruchir, Dr Chokshi's son who is in his final year of internal medicine residency at SUNY Downstate Medical Center and King's County Hospital in Brooklyn, NY, shares the following thoughts about his dad:
It's universally understood that a son's transition into adulthood can be singularly traced to his father. And it becomes human nature for a son to assume a rather narrow concept of his dad.  After all, the evolution of a man is so often anchored in his capacity as the provider for his family that the children rarely realize his contributions outside of the household. Last fall my hospital in New York began interviewing candidates for an internal medicine residency.  Like most programs, current residents participate on the interview day in meeting the applicants.  As I was chatting with some applicants during lunch, I met a young man whom my dad had trained as a third year medical student at Broward General.  He told me that he considered my dad his mentor and that he aspired to be like him.  In the midst of those kind words, I couldn't help to wonder at the extent of my dad's impact.  And I began to appreciate that the sacrifices he made throughout my life weren't in the name of a career, but in the pursuit of perfecting a ubiquitously imperfect world.  All of this in the face of providing his family with ultimate devotion and love. Parents always express pride towards their children, and we can never quite understand what all the fuss is about.  When dad became elected as Chief of Staff, I finally got it.  Watching his accomplishments has been the joy of my adult life and has provided me the background in which to navigate my own life.  And although reproducing his achievements will be impossible, he's taught me that we are all works in progress and that failure is simply an episodic setback necessarily for overall success.  But most of all, I take solace in knowing that while we all have fathers, I have a best friend."
On behalf of the entire South Florida Indian community and the Desh-Videsh team, we extend our hearty congratulations to Dr. Chokshi.