Obama visits India – Strenghtening Future Relations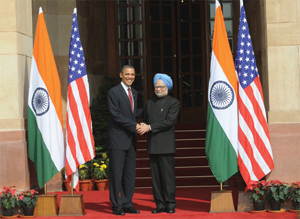 Kanchan Gupta, a well-known Indian journalist and writer, begins an article in his blog by writing "There was a time when Indian Prime Ministers used to visit the United States looking for food to feed hungry Indians. Now US Presidents visit India looking for jobs for Americans." President Barack Obama is a powerful orator and his impressive speech (using Hindi words like Bahut Dahanyawaad and Jai Hind) at New Delhi during his recent three-day visit to India did win hearts. In his speech, Obama supported India's cause to make the country a permanent member of the U.N. Security Council, admonished Pakistan for Mumbai terror attacks, announced new trade deals, and mitigated concerns about job outsourcing. He claimed that in the United States of America, "we believe in the promise of India." His speech included anecdotes from Swami Vivekanand's life and Panchtantra, and he made optimum use of his oratorical skills to win over emotional and sentimental Indians.
A Permanent Seat for India at the U.N.

The importance given to India can definitely be attributed to the fact that the world's largest democracy presents a lucrative market for American products. While Indians were ecstatic to hear President Obama's call for India to be a part of the United Nations Security Council, the move can can also be seen as a strategic move to control the growing might of China. With India in the league, it will be easier for the United States to keep China in check, if there is such a need.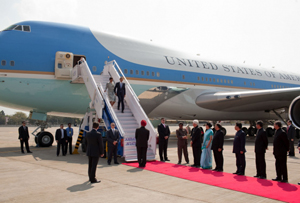 White House aides confessed that expansion in the council is a messy affair and could take years. Apart from China, in opposition of the move for quite some long, Pakistan officials also object to India ascension to the Council and claim it is a "blatant violation" of U.N. resolutions. President Obama too snubbed India for shying away from condemning gross human right violations in the international fora.
Isn't Pakistan a Terror State?
It was Afsheen Irani, a second-year management student at H.R. College of Commerce, St. Xavier's College, Mumbai who took the American president to task when she asked him the question that has been nagging young India ever since the 11/26 Mumbai terror attacks in 2008. Her question – "Why Pakistan is such an important ally of the United States and why has America never called it a terrorist state?" became the showstopper question for the day. President Obama's answer urged India to wish for a successful, stable, and secure Pakistan for its own success.
While he sought India's help to fight terrorism at the global level, he advised India and Pakistan to arrive at an understanding on their own. President Obama showed support for Pakistan stating that its government was sincere in its attempts to thwart extremist elements. However, he did say "we will continue to insist to Pakistan's leaders that terrorist safe havens within their borders are unacceptable and that the terrorists behind the Mumbai attacks be brought to justice."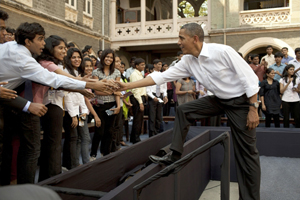 Outsourcing of Jobs to India and Trade Deals
In June 2009, the President Obama had said, "The world has gotten competitive. The Chinese and the Indians are coming at us hard and they are hungry." Now, the Wall Street Journal agrees that President Obama's India visit is to help American businesses make inroads into the Indian market and procure defense contracts. In the first quarter of 2010, the US had a positive trade with India by a few billion while China ripped off about $240 billion from the US during that period. The bulk buying of arms from the US has definitely led to creation of number of jobs for Americans in the defense industry.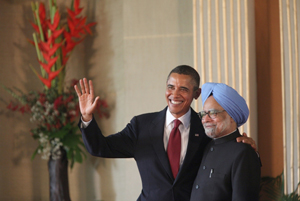 President Obama is now eyeing the market for technology for nuclear power plants in India, which is valued at $150 billion and defense deals, which comprise a large part of India's annual expenditure. He is looking forward to making some changes to the laws, get past trade restrictions and get a strong hold on this niche market. Besides, US construction and equipment companies are all set to gain money from infrastructural updates in India, the estimated investment for which is believed to be about a trillion dollars. American engineers and construction experts are also looking forward to getting handsome salaries and special treatment in India as they impart their expertise for such projects.
The extended entourage of President Obama during his visit included representatives from nearly 250 American companies. If President Obama thinks that his sugarcoated words will make Indians forget that outsourcing was banned in Ohio last summer, fees for H1-B visas were increased by more than $2,000, and that Infosys was compared to a chop shop, he is much mistaken. Despite all of his promises to strengthen Indo-US business ties, corporate India is still suspicious of stagnant economic growth in the US.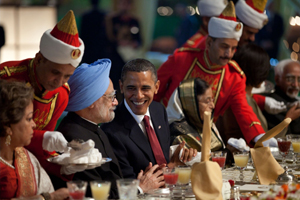 When Gentle Manmohan Speaks

President Obama has long been known for his stand against outsourcing jobs to other countries. In their final joint news conference, Prime Minister Manmohan Singh made clear that his nation "is not in the business of stealing jobs from America." Regarding President Obama's answer on Pakistan at St. Xavier's, Prime Minister Singh commented that while he did believe that a moderate and strong Pakistan is in India's interest, it is not possible for India to be in talks with Pakistan as long as terror machine there remains active.
Looking Towards the Future
After being crushed in the mid-term elections, President Obama's visit to India was seen by American politicians as a way to save face. Active participation in cultural programs, a move to win over young Indians, and the polite attitude President Obama exhibited in India seems to have been a result of the electoral shock he received back home. He would have Americans believe that visiting India means huge money and investments for the US, which might prove to be a turnaround for the economy of the nation.
Things are certainly changing now. As age-old wisdom states, India is the rising sun these days and is attracting allies and foes. The new wave of economic surge in India is changing equations. From times when Indian Prime Ministers used to go to the U.S. to seek aid, it is now the time when an American President looks to India for jobs for Americans to sustain his presidency.