One on One With Kiran Ahluwalia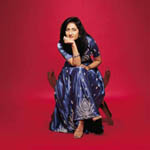 At an age when most children of her age were in their world of fun and games, nine-year-old Kiran Ahluwalia would accompany her parents for music concerts. Often the only child at these informal ghazal sessions in the basement of Toronto houses, Kiran could not understand the lyrics but loved the music. It was the beginning of an affair that would continue as she pursued academics and a corporate career, so that she would quit every job after she made enough money to finance her trip to India to pursue intense training in Indian classical music. When she finally decided to become a professional ghazal singer and debuted with her first CD Kashish, it was nominated in the World Music Album category for the Juno, Canada's highest music award. She did not make it, but her second CD titled Beyond Boundaries too got nominated this year and this time the Juno was hers. In this interview, she talks about her musical journey and her future plans.
How does it feel to get the award?
It feels great. The first CD was nominated for the award, the second got the Juno. So it is absolutely an amazing experience. It is nice to have that kind of recognition from the Canadian music industry and professionals in the industry.
Were you expecting it?
No, because the competition this year was very tough. There were some really good artists in the category. So I thought it is going to be tough. I went to Edmonton where the ceremony was held, just to partake in the party atmosphere. I was dreadfully ill that day and I was just waiting for them to announce my category and then I thought I could go to my hotel room and claim my real prize – my bed for that night. Then they announced my name and all three of us (my manager, guitar player and me) got up and I don't know what they were saying but I slowly made my way up to stage and made a speech.
Tell us about this CD
It is called Beyond Boundaries and what is different about this from my last CD is that I have sung ghazals written by south Asians living in Canada. I discovered to my pleasant surprise that there were south Asians here who were writing poetry, in ghazal tradition. So I thought if I find some nice ghazals and compose them, these are Canadian ghazals and we are taking part in evolution of ghazals. So that was very exciting for me. There is also an Afghani musician whom I met in Toronto. I invited him to come and participate in the CD. He played the rabbab.
Did you compose all the tunes yourself?
I have composed many of the tunes. Three of the tunes I composed were written by Canadian south Asians, there is a composition by Bulleshah that I composed. There is one traditional Punjabi folk song and one is my ghazal teacher Vithal Rao's composition.
You have been raised in Canada, how did you get interested in Indian classical music, ghazals and Punjabi film songs?
Through my parents. My parents love music and they were hobby ghazal singers. They would sing at parties. At that time because the community was small, ghazal concerts would happen in small locations in people's homes they would take me with them and I always loved it. At that time I did not understand the words of ghazals but loved every part of it. It was a nice experience. We also went to Bollywood shows where Lata Mangeshkar and Asha Bhonsle would sing and to Punjabi folk song programmes as well.
Where did you formally train in music?
It began in India even as a child, a masterji used to come to our place, I also learnt kathak and gave a few exams. I was nine when I left India, when we came here it continued. It was my teacher Narendra Datar, who suggested I go to India and learn fulltime. So I spent a lot of my adult life in India learning music.
When did you go to India to learn music?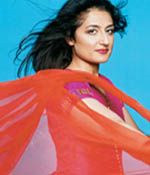 First I went in 1986, when I was 19. I went during summer to Delhi but it was still not formal. It was in 1990 that I started seriously doing riyaz (practice) eight hours a day, and that is when I went to Mumbai and found my guruji Padma Talwalkar. I was there for over 15 months, doing music day and night. It was a very intense and rigorous schedule. I kept returning to Mumbai many times to continue learning, but I was also looking for a ghazal ustad. I was learning classical to be a better ghazal singer. I studied ghazals with Shobha Gurtu for a while and then Vithal Raoji. I have been learning with Vithal Raoji since 1996 and I still go back every year. While at Hyderabad I also got a teacher from whom I learnt pronunciation of Urdu words and their meaning.
What was your parents reaction to your musical journey?
The initial shock was unpleasant for them and they tried heavily to convince me not to go to India and invite an Indian teacher instead to Toronto, but when they realised I was going to go no matter what, they were very supportive. Their support has been tremendous – administratively, financially, and emotionally – without them it just would not have been possible.
When did you decide to become a professional musician?
It was very late that I made that conscious decision. What kept happening was that I would take a year off and do music and then do something else. So after my MBA, I traded bonds. Hated it. I left that and did music for a year. Then just by chance I started singing for various dancers touring Canada for a year. Then it was in Japan, when doing some music that I realised that maybe I should look for jobs in music industry. Then I joined Toronto's CBC radio to work in their music department. Later I went to New York to work at World Music record label. I returned to Canada to record a CD. Before the year was over, I had an agent and a manager and concerts kept rolling in ever since.
Where did you learn Punjabi folk?
During one of my visits to India I took time off and travelled to villages in Punjab (in India and Pakistan) and met folk musicians. Punjabi folk music, is a little easier to grasp if you know classical music so it is more about seeing and observing how they do it.
You have been associated with some jazz bands. Do you sing jazz as well?
My repertoire is mainly ghazals and Punjabi folk but I have been approached by many people to do fusion and jazz. I was approached by Guelph jazz opera to sing in their jazz opera and bring in some Indian improvisation. So I had to first learn jazz songs and then bring in Indian influences. Then I have been touring with Rez Abbassi's jazz group and performing in Canada as well as abroad.
Do you plan to do more of fusion music?
It is not anything I planned really, it has just come by the way.
What are you working on next?
Right now I am composing something for the Rez Abbassi jazz group. After that I have some new books of ghazals that have been sent to me by other writers in Canada, so I am going to be reading those. Right now my main energy is focused on fixing tours, I am touring Canada and Finland this month. I will be going to US in September and touring Canada in November.
Which ghazal singers influenced you?
The person who influenced me most is Jagjit Singh, but I also really enjoy listening to Ghulam Ali, Mehdi Hassan, Madhu Rani and Begum Akhtar.