Peoples President – Dr. APJ Abdul Kalam 1931 – 2015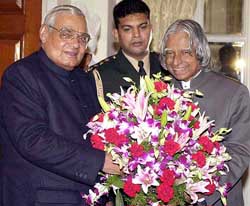 APJ Abdul Kalam, popularly known as India's Missile man, enveloped the entire nation in his "Wings of Fire." There are no adjectives to highlight his exemplary contributions to India's space and defense programs. His generosity and humility made him the people's president from 2002 to 2007. But, unfortunately cardiac arrest has taken him far away from us in just a stride. Here is a flashback to his early life and achievements that contributed to transform the face of modern India.
Early Life
Born on October 15, 1931, to Jainulabdeen and Ashiamma in Rameswaram, Tamil Nadu, Dr. APJ Abdul Kalam came from a poor background. He began doing odd jobs to supplement his family's income, but he did not give up on his education. He graduated from Saint Joseph's College, Tiruchirapalli in 1954, but was not satisfied with his degree so he enrolled at Madras Institute of Technology, where he studied Aerospace Engineering.
Career
After graduating from MIT, he served as a chief scientist at the Aeronautical Development Establishment of Defence Research and development Organisation (DRDO). However, dissatisfied by his job, he joined the Indian Space and Research Organisation (ISRO), where he rose to become the project director of India's first indigenous Satellite launch Vehicle. His projects Project Devil and Project Valiant were two of the most sought after ballistic missiles building upon SLV Technology. The launch of Rohini-1 using SLV rocket made India an active member of the Space club. Also he played a pivotal role in the development of missiles Agni and Prithvi. Raved by the success of Kalam, the government agreed to initiate an advanced missile program under his directorship.
Soon, he became the Chief Executive Officer of Integrated Guided Missile Development Program that performed research on development of missiles. From 1992 to 1999, Kalam served as the Chief Scientific adviser to Prime Minister and the Secretary of DRDO. It was during this time that he served as the Chief Project Coordinator for Pokhran II nuclear tests and earned the title of the missile man of India. Later he succeeded KR Narayan and served as the 11th president of India from 2002 to 2007 becoming the first ever scientist to occupy the Rashtrapati Bhawan.
In addition to the prestigious profiles held by Dr. Kalam, he authored numerous inspirational as well as inspirational books that aimed at enlightening the youth of the nation. His book "India 2020" forecast immaculately crafted strategies that would turn India into a knowledge superpower, while his book What Can I Give Movement aimed at wiping out corruption from the face of the nation.
Achievements and Awards
Dr. Kalam was a proud recipient of the Padma Bhushan, Padma Vibhushan and the Bharat Ratna Awards. The government of India honored him with the Indira Gandhi Award for National Integration in 1997, followed by the Veer Savarkar Award in 1998. Also, he has been honored with the King Charles II medal by the Royal Society in UK in the year 2007 and was alsobestowed upon by the International von Karman Wings Award in the year 2009.

Kalam's 79th birthday was recognised as World Student's Day by the UN to salute his unswerving spirit to learn and explore.
Sudden Demise
On July 27, 2015, Kalam collapsed while delivering a lecture on "liveable planet" at IIM Shillong, following which he was immediately wheeled into Bethany's Hospital ICU in critical condition. He was confirmed dead after two hours and major cardiac arrest was identified as the cause. Post his sudden death, the Government of India has ordered a seven day state mourning as a mark of respect to the former president.