PM Modi to meet US President at G7 Summit
PM Narendra Modi will be meeting US President Donald Trump at sidelines of G7 summit held in France on August 26. The US president has again offered to mediate between the encroaching relationships of Indian and Pakistan.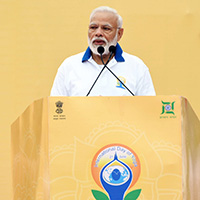 "PM Khan [Imran Khan] was here just recently and I am going to be with PM Modi over the weekend in France. So, I think we are helping the situation but, as you know, there are tremendous problems between those two countries. I will do the best I can to meditate," said Donald Trump.
Amidst tensions between Indian and Pakistan, PM Narendra Modi will be representing the nation in the G7 summit held on August 25 and 26. "In the context of the regional situation, the Prime Minister stated that extreme rhetoric and incitement to anti-India violence by certain leaders in the region [Pakistan] was not conducive to peace. He [Narendra Modi] highlighted the importance of creating an environment free from terror, violence and eschewing cross-border terrorism without exception", said the Ministry of External Affairs (MEA).
Pakistan is on backfoot after India ha converted Jammu and Kashmir, Ladakh into union territories. The neighboring nation is continuously giving provoking statements against Indian actions for Kashmir. India, on the other hand, is firm with its steps. 
PM Narendra Modi
Indian and Pakistan
Jammu and Kashmir
Ladakh
G7 summit held on August 25 and 26