Pravasi Bhartiya Samman Award Samman Award 2011 – Lovejeet Alexander
Honoring the Indian diaspora with the title –
Knowledge Diaspora of the world, President Pratibha Patil conferred fourteen individuals and an organization with India's highest award for overseas Indians.
India's annual convention aimed at connecting with its 27 million strong diaspora, spread in over 150 countries, concluded with President Pratibha Devisingh Patil honoring 14 individuals and an organization with the 'Pravasi Bhartiya Samman Award 2011' for their achievements and enhancing India's image globally.
Delivering the valedictory address of the 9th Pravasi Bhartiya Divas convention, the President called upon Indian diaspora to participate in building a better future of India for the disadvantaged sections of the society.
Sir Anand Satyanand, the first awardee of the year, was invited as the chief guest at the convention. Sir Anand (66) is New Zealand's first Governor-General of Indian and Pacific ancestry.
Others who were also awarded at the event included Two NRIs from USA, Ashook Kumar Ramsaran for his immense services to the Indian community, Dr Rajiv Shah for his contribution in enhancing the image of India through public service, one Canadian NRI Ms Lata Pada for her outstanding contribution in the field of arts, Professor Veena Harbhagwan Sahajwalla, from Australia for her contribution in the field of science, Harindrapal Singh Banga from Hong Kong for his entrepreneurial skills, Sheikh Mohammed Munir Hasan Ansari from Israel for his outstanding contribution in the field of community service, Upjit Singh Sachdev the honorary counsel general of India in Monrovia in Liberia and Tan Sri Dato Ajit Singh from Malaysia, Saleh Wahid for his contribution to the Indian community in the Netherlands., Dr Mohiaddin Syed Karimuddin for his contribution and services to the Indian community in Saudi Arabia., Mano Selvanathan for business achievements and social work with overseas Indians in Sri Lanka., Mohan Jashanmali an entrepreneur who has been issued a UAE residency visa that expires in 2999 and Baroness Sandip Verma from UK.
The Indian Community Benevolent Forum, an organization in the Middle East, received the award for its service to the poor and underprivileged people from the Indian community in Qatar.
Ashook Kumar Ramsaran
Ashook Kumar Ramsaran was honored at the event for his remarkable work towards the benefit of the Indian community in the US. Guyanese-born Ashook is the Executive Vice President of the Global Organization of People of Indian Origin (GOPIO), USA.
Ramsaran is also the President and CEO of Ramex Inc., an electronics manufacturing enterprise in College Point, New York. His company remained listed among the Top 100 Indian Owned Businesses in the USA for 10 consecutive years.
He is an ardent advocate of universal human rights. He was given special recognition by St. John's University and a scholarship has also been set up in his name for Caribbean and Latin America studies.
Ramsaran has worked hard and long to bring about recognition by the Government of India for those who left India from 1834 – 1920 as indentured laborers. He spearheaded the Kolkota Memorial project which was inaugurated soon after the Pravasi convention ended.
"It is because of the strength, resilience, perseverance and sacrifices of our ancestors that we all stand tall. I feel gratified that I have been able to bring about recognition and remembrance of our ancestors by making the Kolkata Memorial a reality," Ashook said at the event.
He is also chair of the GOPIO's Tracing Our Roots Committee which collaborates with others in seeking to trace the ancestral families and villages of those who left India generations ago.
Ramsaran regularly collaborates with the New York City Mayor's Office of Immigrant Affairs (MOIA) on annual events. He has been honored as an 'Outstanding Immigrant' by the New York City Council and serves as 'Annual Principal For The Day' in the New York Public School System.
Ashook lives with his family in Fresh Meadows, New York.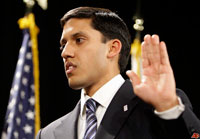 Dr Rajiv Shah
Dr Rajiv Shah was conferred with the Pravasi Bhartiya Samman award this year for his contribution in enhancing India's image through public service. The US President Barrack Obama has appointed Rajiv as administrator of the United States Agency for International Development (USAID). USAID is an independent federal agency which takes care of US non-military foreign aid and works on a massive $40 billion budget.
A Michigan University graduate Shah received his M.D. from the University of Pennsylvania Medical School and is the Master of Science in Health Economics from the Wharton School of Business.
Born to immigrant parents from India who settled in Ann Arbor, Michigan in the late 1960s, Dr. Shah is the highest-ranking Indian American in any presidential administration in U.S. history.
Before joining the Obama administration Shah served as the Director for Agricultural Development at the Bill and Melinda Gates Foundation. He had also worked with Al Gore for his presidential campaign.
Earlier, Shah has also served as Under Secretary for Research, Education and Economics and as Chief Scientist at the U.S. Department of Agriculture, where he was responsible for safe, sustainable, competitive U.S. food and fiber system. At USDA, he launched innovative initiatives in bio-energy, climate, global food security, child-hood obesity, and food safety.
Prior to joining the Gates Foundation in 2001, Shah was the health care policy advisor on the Gore 2000 presidential campaign and a member of Pennsylvania Gov. Ed Rendell's transition committee on health. He is the co-founder of Health Systems Analytics and Project IMPACT for South Asian Americans. In addition, he has served as a policy aide in the British Parliament and worked at the World Health Organization.
Dr Shah is now settled in Washington DC with his family.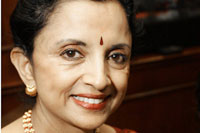 Lata Pada
Toronto, Canada based celebrated Bharatanatyam dancer of Indiandescent Lata Pada was honored for her contribution in the field of arts. Lata is the founder director of Sampradaya Dance Academy – the only South Asian dance school in North America which is affiliated with United Kingdom's Imperial Society for Teachers of Dancing.
Her contributions to the development of South Asian dance and commitment and support to Indo-Canadian community is commendable. Lata has also been appointed as a new member of the Order of Canada – first South Asian artist to receive this award.
Trained under distinguished gurus in India, she has had an extensive career as a Bharatanatyam soloist with over 1,000 performances in prestigious dance festivals worldwide. Pada has made Canada her home since 1964; she holds a MFA in Dance from Toronto's York University.
She has received numerous awards and honors for her contribution to the arts in Canada.
Losing her husband and two daughters in the terrorist bombing of Air India flight in June 1985, she courageously became an active spokesperson for the families of the victims. She has been a strong and active advocate for an inquiry into Canada's worst act of terrorism and has pushed for changes in legislation regarding aviation security, law enforcement and Canada's judicial system.
As the leading Canadian arts and human rights advocate, she is frequently invited to international dance conferences and symposia. As a motivational speaker, Pada regularly talks about her life, creativity and collaboration in the arts.