Bal Vikas
To view more additional Bal Vikas news or to
submit Bal Vikas news to be published in the next issue
of Desh-Videsh, visit deshvidesh.com/balvikas/
What a New Year means to me
– By Malika Jain

A New Year has a very special meaning for me and my family. My New Year resolution is to make sure that I have enough time to pray to God everyday to thank him for giving me so many wonderful things in life, such as good health, happiness, education, a good family and friends. A New Year also tells me to look back and learn from my mistakes and become a better person this year. It also means with each coming year I am growing older with an opportunity to enjoy the very many beautiful things in this world. Each New Year is making me grow older thus giving me a chance to learn more and do good deeds to others. I wish everyone a very happy 2011.
About the Author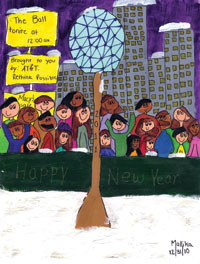 Mallika is a very happy and energetic 9 years old. She loves to go to school and enjoys being with children of her age. Mallika started learning painting from her Mother at a very young age of 2 ½ years and has made several paintings since then.
She is a fourth grade student who enjoys learning new things. She loves to read, write, paint, dance, and watch children's television shows. Some of her favorite books series include Harry Potter, Judy Moody, and Diary of a Wimpy Kid. Recently (Dec 10, 2010 to Jan 10, 2011), twelve of her artworks were displayed in the Pembroke Pines City Hall for the second time for about a month.
Mallika resides in Broward County with her Mother Preeti Jain and brother Rishi and plans to continue painting even when she grows up.