President Obama Visits India US-India Strengthen Relations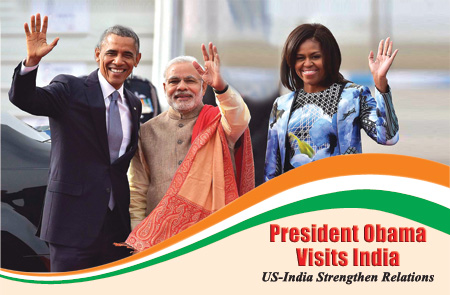 Ever since Prime Minister Narendra Modi took his current leadership role in India, the country has become very visible one the world stage, and she has become a global player. When Prime Minister Modi invited US President Obama to be a chief guest at India's Republic Day parade, the US President went out of his way, rearranged his state of the union speech, and accepted Mr. Modi's invitation.
Two major milestones happened to strengthen the India-US relationship. First, a US President attended India's Republic Day parade and became the first US President to visit India twice during his term. According to a White House spokesperson, the United States and India are true global partners when it comes to strengthening economies and maintaining strong democracies. And this is precisely why President Obama is the first to have visited India twice while in office.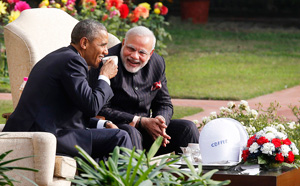 As Prime Minister Modi said, "This is a natural global partnership. It has become even more relevant in the digital age. It is needed even more in our world for far-reaching changes and widespread turmoil. The success of this partnership is important for our progress and for advancing peace, stability and prosperity around the world."
President Obama participated with Prime Minister Modi during a CEO roundtable and pledged $4 billion in investments and loans to focus on the "untapped potential" of India. "We are moving in the right direction," President Obama told business leaders.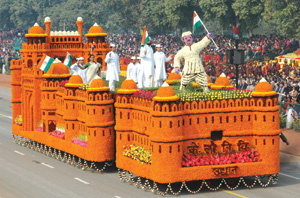 India accounts for two percent of U.S. imports and one percent of its exports. Annual trade between the countries is less than one-fifth of U.S. trade with China valued at $560 billion, added President Obama.
"It will make it easy to do business," he said. "You will find a tax regime that is predictable and competitive. We have removed some of the excesses of the past. We will now address the remaining uncertainties."
Under President Obama, trade between the two countries has increased by about 60 percent to nearly $100 billion a year a record high, though that still amounts to hundreds of billions less than the trade done with China. "We've got to do better," the President said, speaking at a U.S.-India Business Council Summit in New Delhi. In that spirit, President Obama announced a series of additional steps that will generate more than $4 billion in trade and investment with India while supporting thousands of jobs in both countries:
• The Export-Import Bank will commit up to $1 billion in financing to support "Made-in-America" exports to India.
• OPIC will support lending to small and medium businesses across India that will result in more than $1 billion in loans in underserved rural and urban markets.
• The U.S. Trade and Development Agency will aim to leverage nearly $2 billion in investments in renewable energy in India.
In his remarks at a reception with India's President Mukherjee, President Obama quoted a hymn that was dear to Mahatma Gandhi's heart:
Abide with me; fast falls the eventide;
The darkness deepens; Lord with me abide.
When other helpers fail and comforts flee,
Help of the helpless, O abide with me.
"Here in the eventide, Indians and Americans, let us know, in the darkness or day, in good times or bad, whenever one of us looks to the other, we will surely say, abide with me," he said.
The bonhomie between the two leaders is already reaping rich benefits as India appears to have achieved breakthroughs on several matters:
Civil Nuclear Deal
India signed the nuclear deal in 2005. However, in spite of repeated efforts, there was a clear difference of opinion on the liability issue in that the U.S. wanted to be kept informed about every bit of nuclear fuel being used in India. After several rounds of negotiation, the two countries finally arrived at a decision during this visit.
Economic Progress
As a gesture to uphold the newly formed friendship between the two nations, President Obama announced four billion dollars worth of new trade initiatives to be sponsored by the United States in India. Due to this cash flow, India is expected to see a guaranteed rise in the number of jobs thus helping to solve its unemployment problem. The American government will also be funding social development initiatives that will help to improve quality of life in the region.
Accountability
In a detailed speech, President Obama clearly hinted at the incompetency of the many levels of bureaucracy in India. However, he also said that Prime Minister Modi has taken several initiatives to help streamline the process and increase overall efficiency and that he was confident the results would be positive. Obama discussed the creation of a high level U.S.-India Strategic and Commercial Dialogue that would be responsible for monitoring the progress of U.S. initiatives in India. The committee will help keep track of various projects and ensure timely completion.
Strengthening India's Global Position
During his three-day tour, President Obama repeatedly emphasized on being India's best partner for progress. He also said that America would strongly advocate India's inclusion onto the United Nations Security Council, acknowledging India's economic ability.
Strengthening Modi's Position in India
Modi's meteoric rise to Prime Minister of India is nothing short of a Hollywood movie with all elements of drama, conspiracy and more. However, Obama's visit to India, and the camaraderie he shares with Modi has surely sent out a strong signal to opposition parties in India.
Just how many of these deals and pacts are implemented and to what extent the visions of these two leaders is transformed into reality will be revealed only in the time to come.