Priyanka Chopra's Restaurant at NYC
Priyanka Chopra Jonas has added a new feather to her cap. The actress recently opened an Indian restaurant, Sona, in New York City, and welcomed foodies from all over. She collaborated with the famous restaurateur Maneesh Goyal for this project. Chopra recently shared some pictures of the Pooja ceremony her restaurant held in September 2019. The restaurant was supposed to open in 2020, but was postponed due to the Covid 19 pandemic. However, now it is ready and a gala opening ceremony is awaited.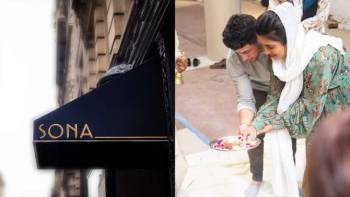 According to the actress, she poured her love for Indian food into the concept for her restaurant. It is very close to her heart. In her words, "SONA is the very embodiment of timeless India and the flavours I grew up with." The chef of the New York City restaurant is the famous Hari Nayek. The menu of the restaurant has Indian delicacies like Kofta Korma,Thalassery biryani, Appam and many others. Sona has a spacious décor with color themes of brown and gold. It has a bar with a private dining arrangement for 30 people. 
Priyanka Chopra's brother Siddharth Chopra also has a restaurant (lounge) in Pune named Mugshot. It was inaugurated by the doting sister Priyanka in 2014.
PriyankaChopra restaurant sona
Priyanka chopra Indian restaurant New York
Priyanka chopra restaurant menu
Priyanka chopra restaurant new York chef
Priyanka chopra brother restaurant Pune