PT. HARIPRASAD CHAURASIA
Pandit Hariprasad Chaurasia– recognized all over the world as the living master of Bansuri (the North Indian flute) – is among a few but growing classicists who have made a conscious effort to reach out and expand the audience for classical music.
Hariprasad Chaurasia's music compositions with Pandit Shiv Kumar Sharma in the 1980s and 90s, his tryst with Bollywood dates back to 1960s – when he was transferred to Bombay office of All India Radio.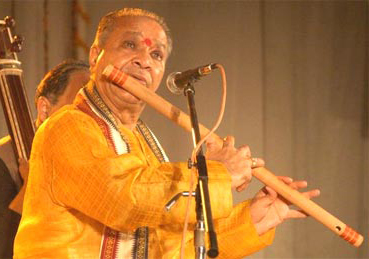 Pandit Hariprasad Chaurasia– recognized all over the world as the living master of Bansuri (the North Indian flute) – is among a few but growing classicists who have made a conscious effort to reach out and expand the audience for classical music. As a musician, Chaurasia is a rare combination of innovator and traditionalist and has significantly expanded the expressive possibilities of classical North Indian flute playing through his masterful blowing technique and his unique adaptation of alaap and jor to the flute. He is probably the most accessible Hindustani musician who has popularized Bansuri and classical music among the masses.
Hariprasad Chaurasia has of ten mesmerized his audience by his soulful rendition of the flute in solo and also in duet associations or jugalbandis – as it is called, with the contemporary vocalist and instrumental greats. At the same time, in the practical life, he has often been involved in many relational associations that immensely contribute towards his being what he is today! This article aims to bring to light some of Pandit Hariprasad Chaurasia's such personal involvement.
With Father – Different dreams
Chaurasia was not fortunate to enjoy the love and affection of his mother for long. It was before he reached five years of age, his mother passed away – and all that the young boy had about her was a blurred image. Chaurasia have admitted in known circles, that he still misses her mother, and as he does not remember her, he worships her in the form of a goddess.
All his upbringing was painstakingly shouldered by his wrestler father, who led a strict and disciplined life to ensure that his three children were not neglected in any matter. However, senior Chaurasia having antipathy to music of all forms, Hariprasad had a rather hide-and-seek relation with his father during his early days, especially after he entered into the world of music through vocal training from the neighbour Pandit Rajaram.
After knowing that his son has taken up music as a career, Chaurasia's father was quite disturbed, as he did not approve of his being a musician. But, by that time, Hariprasad was determined to leave the safety of his house at Allahabad and take up this job as Staff Artist in All India Radio at Orissa – his father's dream of making his son a grappler like him was shattered. Time has proved that his father's personal loss was Indian classical music's one of the biggest gain!
With Bollywood – playing for the Music Directors
Though the film-lovers may fondly recall Hariprasad Chaurasia's music compositions with Pandit Shiv Kumar Sharma in the 1980s and 90s, his tryst with Bollywood dates back to 1960s – when he was transferred to Bombay office of All India Radio. His musical renditions at the Radio were heard and appreciated by the contemporary Music Directors of Hindi films like Madan Mohan and Roshan. Soon he began to get various assignments of playing the flute for film music. It was the beginning of long-time association with Hindi films, and gradually Chaurasia found it pertinent to leave his job and work full time with the music directors in films, as the career was much more lucrative financially.
However, Chaurasia's one of the fondest associations in Bombay was with the great Sachin Dev Burman and his son Rahul Dev Burman. Being an accompanist of SD – as Sachin Dev Burman was known, the young Chaurasia had gained tremendous experience in terms of music, and also was enriched by the love and affection of this legendary composer. His relation with SD's son – the talented Rahul Dev Burman was also very personal and the two had many interesting and jovial moments to share, away from the stern and stoic glimpses of the illustrious SD.
During his stint as the flute performer to various music composers in Bombay, Chaurasia had the opportunity to work with stalwart playback singers like Mohd. Rafi, Kishore Kumar, Lata Mangeshkar, Manna Dey and Asha Bhonsle.
Chaurasia had indeed made money and affluence at Bollywood, but his food for the soul was not obtained. It was out of sheer lack of mental satisfaction that he decided to give a break to being accompanist with the music directors and went back for further training in Classical music. Much later, in the 1980s he teamed up with his old friend and partner Pandit Shiv Kumar Sharma to form the Shiv-Hari duo for composing music for the Hindi films.
With Pandit Shiv Kumar Sharma – the "Shiv Hari" team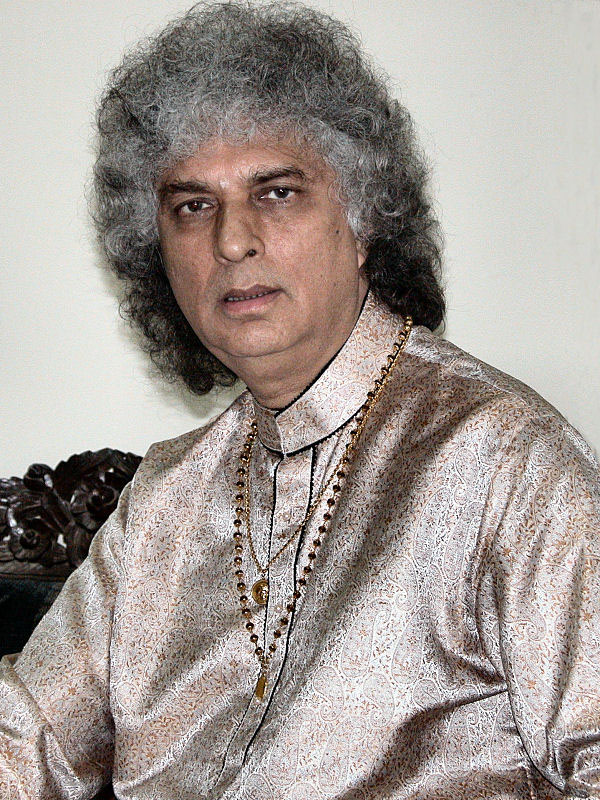 Hariprasad Chaurasia's association with the legendary Santoor exponent Shiv Kumar Sharma became intense in 1961 when they met at Bombay. Chaurasia regards Sharma not only as a personal friend but also as an elder brother who has stood with him in the thick and thin. Sharma was the person who motivated Chaurasia to back track of Bollywood and develop himself as a classical artist, esp. as Chaurasia's talent was not getting any justice at Bombay.
Later, when a transformed and highly versatile Chaurasia decided to start his second innings at Bollywood, it was Shiv Kumar Sharma who came forward and formed a music composing team with Chaurasia named "Shiv-Hari". This duo of Shiv-Hari has been instrumental in giving Hindi films a number of memorable hit songs in the few films that they have composed. Films like Silsila, Faasle, Vijay, Chandni, Lamhe, Darr, Parampara and Sahibaan bears testimony to the output of the combined talent of these two classical music maestros.
Chaurasia has always been vociferous in acknowledging the contribution of Pandit Sharma in shaping his life and musical career.
With Vrindavan – His very own "Gurukul"
Hariprasad Chaurasia has remained indebted to his teachers and gurus not only for their rich tutorials but also for the fact that they ever charged him anything in return. In a bid to continue the tradition, he always dreamt of starting his own school or "Gurukul" where a handful of selected students will be adopted and provided all round education, with special emphasis and thrust to Indian and Indo-western music as well as flute playing.
His dream got wings when he received the support of Ratan Tata Charitable Trust, the government of Maharashtra and his numerous followers, admirers and well wishers and in 2003, inaugurated his school of music – the Vrindavan Gurukul.
Chaurasia is actively engaged and involved in his dream project as he strives to inculcate the various nuances of music to his students through an intense teacher-student relationship that would aid the identification, recognition, encouragement and creation of a desire among the students to learn and excel in their own choice of music and musical instrument.
Presently, Chaurasia has more than 100 students who come in to learn music, while there is about 6-7 who are full time residents and are totally supported by him. Chaurasia hopes that through his students, he will make Vrindaban Gurukul an economically and emotionally self-supporting institution for the promotion of Indian classical performing arts, heritage and culture and his dream that through his playing and through his students, his flute will be left behind as a lasting legacy like the memory of Krishna, will be fulfilled.
With Annapoorna Devi – the "Guru Ma"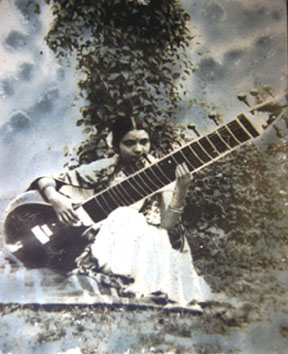 Hariprasad Chaurasia's efforts to persuade Annapoorna Devi, daughter of Baba Allauddin Khan and ex-wife of Pandit Ravi Shankar, to accept him as her disciple and train him in the nuances of classical music of Maihar Gharana was probably one of the most difficult task of Chaurasia's life.
The generally recluse Annapoorna Devi is known to have thrown out Chaurasia on the first occasion and then threatened to call police when he visited for the second time. But, after three years of relentless persuasion, the flautist was able to prove his genuine urge for learning and love for classical music; thus making his guru finally embrace him as her student.
Chaurasia's learning from Annapoorna Devi had been, in true sense, going through the grind. Being a strict teacher, she had ordered Chaurasia to forget everything that he had learnt till date and as a result, Chaurasia began to play the flute with his left hand instead his natural right, just to display his devotion and dedication. Herself being a 'Surbahar' player, Annapoorna used to teach Chaurasia by singing the 'ragas', as she did not played the flute.
There is no gainsaying that the richness in Chaurasia's music is definitely a fruit of his rigorous training under Annapoorna Devi. Chaurasia himself has confessed that she has brought a depth and meaning to his music that is incomparable and was missing before. According to him, his guru is an incarnation of Goddess Saraswati to him and it was her selfless attitude and unconditional love that has transformed Chaurasia into a truly international flautist that the world reveres.
With Lord Krishna – The "Divine Association"
Hariprasad Chaurasia doesn't consider himself to be religious to the extent he does not get time to visit temples, but deep in his heart and soul, he is totally devoted to Lord Krishna – the divine magician with the flute.
To him, his religion is his music, his rendition of the flute his prayer and the auditoriums are his temple. Every time he plays, it is an offering to the Supreme Power, who he feels is between the audience and him. His performances are all an effort to satisfy the Almighty and get His blessings.
Chaurasia has often lightheartedly said that he remains jealous of Lord Krishna, who despite not having any recordings of his music, is eulogized all over the world for His music with the flute. But, despite the years of toil, struggle and practice, Chaurasia is yet to get even one percent of the recognition that Krishna enjoys !
However, at the end of the day, when this devout follower of the Lord Krishna is playing his flute sitting in the temple at his Vrindavan Gurukul, he is just not practicing…… this is his aradhana or tribute to the God, his way of feeling oneness with the Lord Krishna!
The image of Hariprasad Chaurasia seated on the stage in a cream-white silk chudidar, deep red kurta, shawl over one shoulder, a big red bindi on the bridge of his nose and whispering into his magic wand – his flute to make the most musical tunes come out of the simple piece of bamboo is indeed a sight worth seeing, and performance worth witnessing. Life has been often cruel at times to Chaurasia and even he cannot deny that banking on his association with highly talented and generous personalities at different phases of his life, he has always been able to ward off all his difficulties and elevate himself to being the most accomplished player of flute in the world, and a leading propagator of instrument based Indian classical music. Truly, he is Hari Prasad – the fruit of Hari or the Lord !