Purva weds Amit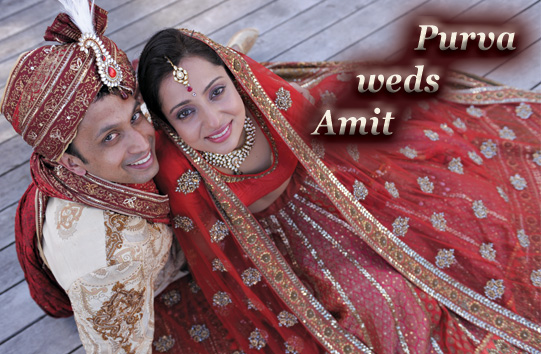 Amit and Purva met and fell in love while they were studying to be medical professionals. After spending much time staring into microscopes, Amit took Purva out to dinner at their favorite restaurant in Ann Arbor, Michigan. The next day morning, he left pink roses at her doorstep, and this was their first outing together! After three years of dating, the couple went back to visit Ann Harbor for Amit's niece's birthday. After the party, Amit took Purva to the same restaurant where they had their first date and amidst food and nice conversation, he proposed.
Planning began in May for the he wedding that took place on November 23, 2013. While both families did most of the planning, they hired Eventrics to help finalize the arrangements and coordinate details on the wedding day. Amit and Purva were wed in a lovely outdoor destination wedding at the Marriott Harbor Beach Resort in Fort Lauderdale, Florida. The venue's gorgeous oceanfront terrace offers beautiful views of the ocean, a plus of all of the wedding functions.
The theme for the sangeet ceremony was Latin and Punjabi. The décor, done by Occasions by Shangri-La, featured a lovely combination of Latin and Punjabi cultures. The Latin connection was brought in through centerpieces with peppers suspended in glass vases while Punjabi elements were infused through bright clothes on the tables with small tablas. Beautiful tropical flower arrangements, market lights, and signs pointing to important places in the couple's life added a personal touch to the venue.
Originally, the Latin portion of the sangeet was planned outdoors. However, weather conditions forced the couple to adopt a similar atmosphere indoors. A 9-piece Latin band played live music, and a dancing couple from Dance South Florida performed. The performers also gave fun salsa lessons to guests. Close friends and family performed at the sangeet. Punjabi celebrations soon took over with Punjabi music and beats by a traditional dhol player, Sunny Singh. A highlight included the special mojito bar served delicious varieties of the classic cocktail.
The groom's procession/baraat began in the morning on the beach. Amit rode a horse and was accompanied by his groomsmen, dhol player Sunny Singh and DJ Xio. The wedding, arranged on the oceanfront terrace, took place under a mandap designed with open clear acrylic and decorated with corals and white flowers along with crystal strands. The raised aisle displayed acrylic pedestals with large flower bouquets on both sides. Sitar player Prasanna provided background music, and the bride's entrance music was performed by flute-player Dr. Indar Jhamb, also a close family friend.
The reception hall was decorated in gold, silver and purple. Tables were arranged in two large "X" formations, each displaying a candle river. Crystal balls and large crystal centerpieces were placed in the center. Candles decorated with crystals and gold chairs with purple sashes created an elegant ambiance.
DJ Xio of Miami and a percussionist provided music. Dances began with an un-choreographed number by Amit and Purva to Stevie Wonder's "Sunshine of my Life." The couple then did a choreographed rumba to "Mirrors" by Justin Timberlake. The bride and her father danced to Frank Sinatra's "The Way You Look Tonight." The groom and his mother danced to "I Will" by the Beatles. Relatives and friends did an impromptu dance to "More than Words."
The couple advises hiring a wedding coordinator since the professional can take a lot of stress off your shoulders!
Photos Courtesy:
Asaad Images
407-221-3333
www.asaadimages.com
Vendors

BANQUET HALLS
Harbor Beach Marriott Resort & Spa
954-525-4000
www.marriottharborbeach.comBEAUTICIANS/COSMETICIAN
Ibrow Studio
954-304-4958
www.sumaiyas.com

CAKE
Edda-s Cake Design
305-668-1828 x203
www.eddascakedesigns.com

DECOR
Occasions By Shangri-La
407-394-4244
www.occasionsbyshangrila.com

HORSE – CARRIAGE
Downtown Horse & Carriage Inc
561-723-4704
www.downtownhorseandcarriage.com

LIGHTING
Get Lit Lighting Productions
407-924-4246
www.glp-fl.comPHOTOGRAPHER/
VIDEOGRAPHER
Asaad Images
407-221-3333
www.asaadimages.com

RESTAURANT/
CATERING
Tabla Bar And Grill
407-248-9400
www.tablabar.com

WEDDING PLANNER
EVENTRICS INC
863-683-3905
www.eventrics.com