Quotes of the Day: Prime Minister Modi's US Address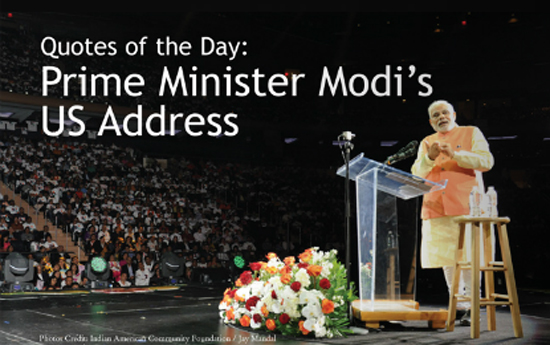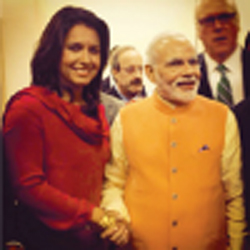 On Sunday, September 28, 2014, Prime Minister of India Narendra Modi addressed a crowd of nearly 20,000 Indians living in the United States as well as several US elected officials and prominent cities, at Madison Square Garden in Manhattan. Below are a few thoughts from officials and the crowd.
It was an honor to welcome India's Prime Minister Narendra Modi to the United States yesterday, and to hear his message of peace and friendship at his address to an energized crowd at New York's renowned Madison Square Garden. Mr. Modi's visit marks a significant positive step toward growing the relationship between the U.S. and India, which is a bond based on shared democratic values and a focus on mutual prosperity and security. I look forward to his visit to Washington, D.C. this week, where I expect he will continue to build the strong ties between our two great nations. I thank the Prime Minister for sharing his inspiring message of his vision for a brighter future, and I wish him well as he works to carry out his mission of service.
– Congresswoman Tulsi Gabbard, HI-2nd District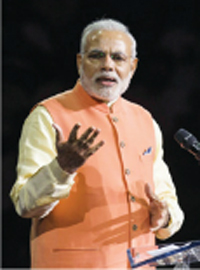 The prime minister's speech today was profoundly inspirational. Every Indian found new meaning to what it means to be Indian. Leaders like this come around once every few decades. Modi ji is the right person for the right time. The organizers did a fantastic job in putting this event together. They should be proud of themselves.
– Shabbir Q. Shehabuddin, Esq,
a representative of the Dawoodi Bohra (Muslim American) community
The scale of the event is a tribute to the Indian American community and their profound contributions. It is a day of pride for the Indian American community, but also for Americans.
– US Senator Cory Booker (NJ)
People across the diverse Indian American community waited in lines up to three blocks long to get in to Madison Square Garden. The Prime Minister's popularity crosses boundaries and should be a sign that the Indian American community wants to be heard in America and wants these two great democracies to work together for a long time to come.
– Anand Shah, IACF Spokesperson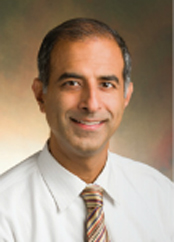 I really feel that this is a moment in Indian-American history that we haven't experienced before. The prime minister believes in prosperity that lifts all boats. This is a new concept to create, innovate. He has an economical ideology that reverberates with us. Indian Americans would not have left India if it was the India that Modi aspires to.
– Aseem Shukla, co-founder and board member of Hindu
American Foundation
I chose to volunteer behind the scenes for the Indian American Community Foundation's reception for the Prime Minister because I saw it as a once-in-a-lifetime opportunity and felt I could offer some of the know-how I have gained through my work at the Hindu American Foundation.  The past six weeks truly were much like a roller coaster ride — plenty of highs and lows, but luckily only one destination –one of hosting a historic reception for India's newly elected prime minister.
The event saw a first in Indian American community cooperation — 450 community organizations from across the United States and even Canada, representing a diversity of language, religion, age, and profession.  No other diasporic community has put on a program of this scale to welcome the leader of another country.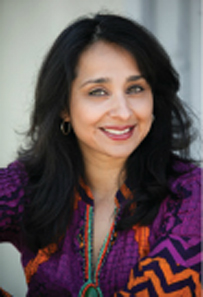 The most gratifying aspect, for many of us, was to see the breadth of talent, especially that of next generation leaders that this event brought together.  Unsung workers, who on top of their professional commitments and having young families, were working around the clock to ensure that every aspect of this event was thought about and executed well — from community participation and ticketing to programming, messaging, invitations, and media, next-gen leaders were instrumental in shaping the fresh, rock star outcome the world saw.
The event has also demonstrated that the Indian American community, when we work together towards a shared goal, is a force to be reckoned with.
Suhag A. Shukla, Esq.
Executive Director and
Legal Counsel
Hindu American Foundation
[The speech] was electrifying for the audience. He is putting India on the map for businesses interested in India. 
– Congressman Ed Royce, CA – 39th District, Chairman of Foreign Affairs Committee