Raja Krishnamoorthi honored with Ben Franklin Public Policy Award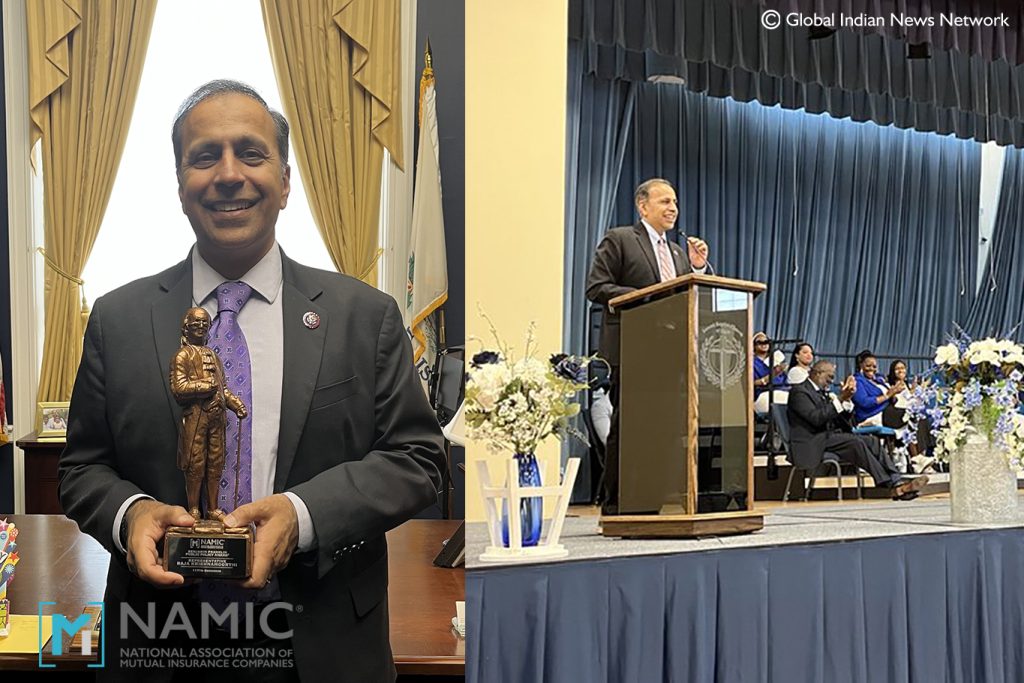 Congressman Raja Krishnamoorthi was recognized and honored with the prestigious Ben Franklin Public Policy Award by the National Association of Mutual Insurance Companies (NAMIC) for his exceptional legislative support and leadership in the United States insurance sector.
The award was presented to Krishnamoorthi during NAMIC's Congressional Contact Program at Capitol Hill in Washington, D.C. In response, he expressed his gratitude and pledged to continue supporting NAMIC's efforts throughout the country. On Twitter, he wrote, "Thankful to @NAMIC for presenting me with the Ben Franklin Public Policy Award! I look forward to continuing to work with them and their policyholders across the country."
Krishnamoorthi plays a crucial role as a member of various Congress Committees, Caucuses, and Task Forces. Notably, he serves as the ranking member of the Select Committee on the Strategic Competition between the United States and the Chinese Communist Party, making him the first South Asian American to lead a Congressional Committee.
Having a rich background as a seasoned politician and public policy expert, Krishnamoorthi's upbringing as the child of immigrants in Peoria, Illinois, shaped his path. He earned honors from Harvard Law School and gained legal experience by clerking for a federal judge before practicing law in Chicago.
The Ben Franklin Public Policy Award is presented to Congress Members who demonstrate their understanding of and support for the insurance industry. Their efforts in safeguarding the free and open market environment and fostering positive relationships between insurers and their insured are among the key considerations for this prestigious award.
NAMIC, an association that has served mutual insurance companies in the United States and Canada for over 120 years, distributes these awards every two years during their advocacy event on Capitol Hill to acknowledge and recognize lawmakers for their actions during the previous Congress.