Ranveer Singh and Rohit Shetty's Simmba gives audience a Mass Hero

Ranveer Singh and Rohit Shetty's Simmba gives audience a Mass Hero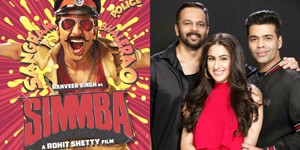 Rohit Shetty's Simmba is actually a mix of Dabangg and Singham to some extent, but what it leaves audiences with is a mass hero to love in form of Ranveer Singh. It is a remake of Telugu blockbuster Temper.
Ranveer Singh plays ACP Sangram Bhalerao aka Simmba, who is colorfully and happily corrupt. And the first half of the film is all about how he is happy to align himself with the antagonist, Durwa Ranade (Sonu Sood). The second half of the film takes a different turn as Simmba gets involved in a rape-revenge drama, thus making him explore the right side of the law.
The last Bollywood release of the year, Simmba got a lot of mixed reviews from the critics, who panned the story but praised Ranveer's approach to the character and its mass appeal. Speaking of the Box Office, Simmba got Ranveer the biggest opening of his career by raking Rs 20 crore and Rs 24 crore on its first two days respectively. Simmba has even surpassed opening day record of Ranveer's earlier film, Padmaavat.
Apart from Ranveer Singh, the film also stars Sara Ali Khan, Ashutosh Rana, and Ajay Devgan.