Remembering Ustad Nusrat Fateh Ali Khan
Some people are born great, some achieve greatness and some have greatness thrust upon them. With Nusrat Fateh Ali Khan it had only been the first two. This legendary singer was born on 13 October 1948 in Lyallpur (later renamed Faisalabad), Pakistan.Ustad Nusrat Fateh Ali Khan was one of the greatest Qawwals (Sufi singers) ever been on this earth. One of the most popular singers in the Indian sub-continent, Khan predominately sang Qawwali*, the music of devotional Sufism, but incorporated other forms including Khyal (traditional classical) to produce a unique style that appealed to followers of all religions. Nusrat Fateh Ali Khan was a genius singer of Qawwali. Like no other, Nusrat's performances transcend religious boundaries and his music caresses the soul with its passion.
Qawwali
Qawwali, a mystic style of music is one of the innovations of Hazrat Amir Khusru. Its primordial name was Sama'a. When Hazrat Moin-Ud-Din Chishtie came from Sanjar (a town of Iran) to Ajmer (India) to preach Islam, he thoroughly studied the Hindu style of preaching and found that they were very fond of music, and music was in all rites and rituals of the Hindus. The Brahmins used to sing Ashloks, Shabads and Bhajans with percussion and wind instruments. So, he adopted the same Hindu way of preaching among the new Muslims.
The evaluation of Qawwali versus Sama'a is centuries old. It came from Khorasan (Iran) where the nomad singers performed their songs with drumbeats and hand clapping. A leading singer used to sing the Persian rhymes and the other party men accompanied him with hand clapping. Hazrat Moin-Ud-Din Chishtie, being an Iranian, experimented the same style. This way of preaching got the name Qawwali in the era of Amir Khusru, the disciple of Khawaja Nizam-Ud-Din Aulia, in the 13th AD. Amir Khusru's innovation of Qawwali depicted with Qawwal, Qalbana, Rung, Naqsh, Gul, etc. The Qawwali was started from Qawwal Bachey clan of Delhi and it emphasized the musicians of the era to adopt, especially the Sufis (Mystics) were much lured and influenced by this style of singing Qawwali. When harmonium was invented, it became the part and parcel of a Qawwal party. The Qawwals of the yore had been using many instruments, i.e. Arani, Dilruba, Taoos, Rabab and Dholak as accompanying instruments. But in later years only tabla and harmonium became prominent due to its loudness.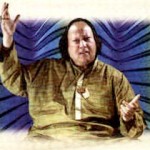 Ustad Nusrat Fateh Ali Khan belonged to the family of Qawwals. His family had been Qawwali singers for six centuries. He was the son of Ustad Fateh Ali Khan and the nephew of Ustad Mubarak Ali Khan. In the last five decades, Ustad Fateh Ali Khan and Ustad Mubarak Ali Khan were considered the post-master of the Qawwali. Both the brothers were great Ustads of classical music and their virtuosity in Qawwali is still acknowledged by everyone. Especially Ustad Fateh Ali Khan was a great musicologist, vocalist and instrumentalist.
Ustad Fateh Ali Khan (Ustad Nusrat's father) died in 1964. At that time his son Nusrat was in Matric. He was compelled to join the party (a group of highly trained Pakistani musicians, which included several family members) by his family members. Under the guidance of his paternal uncle Ustad Mubarak Ali Khan, he became the party's leader and the party started with the new title—Nusrat Fateh Ali Khan Mujahid Mubarak Ali Khan & Party. Within no time, Nusrat Fateh Ali Khan got hold on all the prominent Qawwal parties and his familiarity spread like the jungle's fire in the country. It was his dream to sing at the famous Muslim shrine of Hazrat Khawaja Moin-Ud-Din Chishtie in Ajmer, India. This dream became reality when he sang along with his party at the shrine.
Such was his popularity with the stars of the movies that in 1979, he was invited to sing at the wedding of Rishi Kapoor, son of actor/director & producer Raj Kapoor, in front of the most prominent members of the Bombay (later renamed Mumbai) film industry.
Nusrat Fateh Ali Khan got popularity around the world when the famous cricketer Imran Khan invited him to sing at a function at his home in front of the whole cricket team and the well known personalities of the world. Imran Khan was then the captain of Pakistan cricket team and was very popular for his heroic deeds in cricket, beautiful personality and playboy image around the globe. Imran liked his voice a lot, which was why he started to invite Nusrat time and again. "I get spiritual comfort whenever I listen to Nusrat." Imran stated. Then the friendship happened between these two legends of different fields. And this friendship continued till Nusrat Fateh Ali Khan's death. Though Nusrat's impressive music and his velvet fire voice were there but Imran Khan's friendship proved a certificate for Nusrat's success. And Nusrat got many assignments of singing and scoring music around the world.
Through the 70s and 80s Nusrat's music began to become increasingly synonymous with Bollywood and Pakistan film industry. And Nusrat started touring around the globe to do concerts. He gave a sophisticated touch to Qawwali that made him unique among his other fellows (Qawwals). He sang so many songs and scored music for Indian films. He was much popular among the people of Bollywood. Each and every producer/director wanted him to sing and score music for their films but due to heavy schedule and world tours to do singing and music assignments, he could not gather time to give all of them properly. So, he worked for a few films in Bollywood. One of his projects in Bollywood was the film Aur Pyar Ho Gya, in which he sang songs and scored music for. Javed Akhtar, a renowned lyricist and poet of Indian film industry, wrote lyrics for the movie. And the songs topped the chart. People liked his association with Javed Akhtar. They both recorded many albums, some of them are: Awargi, Salam, etc. Bollywood musicians simply worshiped him. And they still are copying his tunes. He also used his skills of singing and composing music for Lollywood (Pakistan film industry). Wherever he went in his lifetime, vanquished the flags of fame.
During his lifetime, he revitalised Qawwali, making it an internationally acclaimed art form. From Birmingham to Mumbai, Tokyo to Toronto his concerts and new recordings were eagerly awaited. Whether he was performing at music festivals, for world leaders or at the shrines of Sufi saints in his beloved Punjab, he transported listeners to the realms of sublime and ecstasy. Some critics accused him of corrupting the traditional Qawwali by introducing innovations in it. The reason was that he did not want to see the tradition as a dead thing instead he made it as a living thing before the world. "It is the responsibility of musicians to make music for the people of their time", Ustad Nusrat once said.
Artists as diverse as Massive Attack, Eddie Vedder and Peter Gabriel acknowledge Nusrat Fateh Ali Khan as one of the world's most inspired and inspiring singers.
Late Jeff Buckley described his first experience of hearing the voice of Nusrat, saying, " The first time I heard the voice of Nusrat Fateh Ali Khan was in Harlem in 1990. My roommate and I stood there blasting it in his room. We were all-awash in the thick undulating tide of dark Punjabi tabla rhythms, spiked with synchronized handclaps booming from above and below in hard, perfect time. I heard the clarion call of harmoniums dancing the antique melody around like giant, singing wooden spiders. Then, all of a sudden, the rising of one, then ten voices hovering over the tone like a flock of geese ascending into formation across the sky. Then came the voice of Nusrat Fateh Ali Khan. Part Buddha, part demon, part mad angel—-his voice is velvet fire, simply incomparable. Nusrat's blending of classical improvisations to the art of Qawwali, combined with his out and daredevil style and his sensitivity, outs him in a category all his own, above all others in his field. His very enunciation went straight into me. I knew not one word of Urdu, and somehow it still hooked me into story that he weaved with his wordless voice. I remember my senses fully froze in order to feel melody after melody crash upon each other in waves of improvisations; with each line being repeated by the men in chorus, restated again by the main soloists, and then Nusrat setting the whole bloody thing aflame with his rapid-fire scatting, turning classical Indian Solfeggio (Sa, Re, Ga, Ma, Pa, Dha, Nisa) into a chaotic/manic birdsong. The phrase burst into a climax somewhere, with Nusrat's upper register painting a melody that made my heart long to fly. The piece went on for fifteen minutes. I ate my heart out. I felt a rush of adrenaline in my chest, like I was on the edge of a cliff, wondering when I would jump and how will the ocean would catch me."
Nusrat Fateh Ali Khan was a true international sensation, fusing traditional Pakistani and Indian chants with Western pop and classical forms, bridging political divides in the process. Ustad Nusrat composed music for several films of international repute, including Martin Scorsese's Last Temptation of Christ, Oliver Stone's Natural Born Killers, Tim Robbins' Dead Man Walking (including two duets with Vedder) and Shekhar Kapoor's Bandit Queen (India's controversial Hindi film). He had worked with British ravers Massive Attack and had invited Joan Osborne to study with him in Pakistan. The singer had also announced plans to record an experimental album with Luciano Pavarotti. Besides, he was also invited to perform with Michael Jackson and Madonna, but health problems waylaid his all plans. Hailing from a family of Sufi chanters, Ustad Nusrat recorded some 120 albums during his 30 years of professional career. Along the way he collected lifetime achievement awards in France, Japan and Pakistan. He earned a Grammy nomination in 1997 in the traditional folk album category for his album Intoxicated Spirit. He signed to American Recordings in the U.S in 1996 and subsequently launched his first North American tour, playing to celebrity-packed houses along the way. It was during this tour that American audiences learned what international fans already knew. Ustad Nusrat's hypnotic performances, in which the imposing singer led a gaggle of droning instrumentalists, were transcendental, transporting listeners to that state Sufis call "ishq", or the harmonic coexistence of earthly passion and divine love—even though most listeners were unfamiliar with the Urdu lyrics.
The collaboration of Ustad Nusrat and Michael Brook produced Mustt Mustt (released in 1990, it was voted one of the decade's top 100 albums by Alternative Press) and Night Song. Ustad Nusrat worked with experimental composer Michael Brook to give his sound a Western orientation. However, while Mustt Mustt was the product of the artists' separated efforts, Night Song was written collaboratively.
Ustad Nusrat Fateh Ali Khan worked with the artists such as Real World Records founded by Peter Gabriel (The Last Temptation of Christ soundtrack) to Eddie Vedder (Dead Man Walking soundtrack). Real World also released an album of dance remixes of Nusrat's work. Peter Gabriel's admiration of Nusrat's singing led to him working with WOMAD on projects including a compilation album and many festival appearances. When Ustad Nusrat invited well-known Indian composer Bally Sagoo (The King of Remixes) to work with him on some songs. Initially Bally did not believe it but when Ustad Nusrat assured him to work together, Sagoo felt much honored.
In the sub-continent Muslims, Hindus and Sikhs alike appreciated Ustad Nusrat's music. In a world where differences are more and more being exploited to divide people, he used his unrivalled talent to unify audiences. Thirteenth century Sufi poet and musician Amir Khusru said that music was the fire that burnt heart and soul. In the twentieth century, Ustad Nusrat Fateh Ali Khan was the carrier of that fire.
Nusrat Fateh Ali Khan performed Hajj and observed Umra twicely. The Government of Pakistan, on his splendid services to represent Pakistan's culture in foreign countries, honored him with Pride of Performance in 1986. After his tour of America, the American Government got impressed by his style of Qawwali and songs, honored Nusrat to teach his music and give some lectures to the university students in America. He also used to sing Qawwali on the death anniversary of his father at Faisalabad every year.
He had been heading to the United States for a kidney transplant but stopped over for a few days in London, where his condition worsened. In the past, the singer had been plagued with numerous health problems, most linked to his tremendous girth. On 16 August 1997, Ustad Nusrat Fateh Ali Khan passed away at Cromwell Hospital in London due to liver and kidney failure. He died at the age of 49. Nusrat's body was flown back to Pakistan for burial. He was buried in Faisalabad (his birthplace), Pakistan. His passing was mourned all over the world.
Ustad Nusrat's contributions in Qawwali, classical music and compositions are marvelous. His name is a certificate in all the spheres of music. His luring personality won the hearts of his visitors. He was a thorough gentleman, hospitable and sympathetic.