Research Team led by Indian American Doctor Finds Cure for Brain Cancer
Meet Dr. Rahul Khupse, an Indian American, who is a medicinal chemistry professor at the University of Findlay (UF). Dr. Kapse along with a team of pharmacy students at the UF in Ohio, have made a breakthrough in the treatment for one of the deadliest forms of brain cancer, Glioblastoma.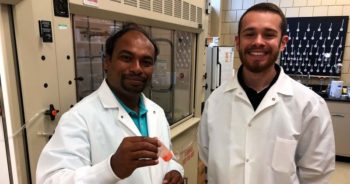 Glioblastoma is one of the most aggressive forms of brain cancer. It is a form of cancer that develops in the brain or spinal cord, and is nearly impossible to remove. This gives it just 10% survival rate in a 5-year period. As a part of their research, led by Dr. Khupse, the students at the UF have created a chemical compound that can be very beneficial in curing this form of brain cancer.
According to an article published on the UF newsroom website, the students used chemistry, physiology and pharmacology to find "an efficient way to direct medication to the brain." "If successful, this kind of medication could remove the need for risky medical procedures, which require physical access to the brain tissue. The research is in its infancy; years worth of study remain to determine the drug's efficacy," it added.
Talking about the associate professor Dr. Rahul Khupse's role in the project, the article read, "He has worked with students for four years, teaching them to perform the reactions, find compounds and choose the methodology." After a few trials, the research team created a compound named RK15, "which is very reactive, can kill cells, and create covalent bonds."
Talking about RK15, Dr. Khupse said, "Finding those compounds, we can not only get to the brain or get to the brain cancer but also spare the normal cells, the normal brain cells. This is very, very important for us." The groundbreaking and lifesaving compound will now on the testing phase with animals.
RK15
University of Findlay
Glioblastoma
brain cancer
Dr. Rahul Khupse
Indian American