Reshma weds Roshan Indian Wedding at Hyatt Regency Grand Cypress Photographed by Castaldo Studios
Hyatt Regency at Grand Cypress, Orlando
Eventrics Weddings
NJP Events and Design
Mahesh Gor
Mehendi night
Grand Cypress ballroom of Hyatt
Indian Wedding mandap
The beauty of life is that you never know how you might meet your life partner. Sometimes all you need is a right swipe, like Reshma Patel and Roshan Patel. The beautiful couples met through a dating app.
Indian couple
Indian wedding
Indian WEdding reception
After dating for a while, at a weekend getaway, Roshan found the perfect moment to propose Reshma. In front of a fountain, under beautiful oak trees, Roshan got down on one knee and asked Reshma to marry him.
Indian pre-wedding ceremonies
Vidhi ceremony
flowers and lanterns decoration.
Indian wedding ceremony
The couple chose Hyatt Regency at Grand Cypress, Orlando, Florida for the wedding; and the SUN 'n FUN International Fly-In Expo in Lakeland, Florida for the reception. Reshma's brother Neil, who owns his own event company, NJP Events and Design, along with Eventrics Weddings, planned the wedding.
floral bouquets
red and white roses
themed wedding reception
wedding décor
Reshma and Roshan had separate pre-wedding ceremonies in their hometowns. Roshan had a Vidhi ceremony in his family home. The bride's family hosted a Mehendi night and a Vidhi ceremony. For the Mehendi night, their family home's backyard was transformed into a mini Indian village, decorated with colorful flowers and lanterns. They also hung colorful torans to add a more traditional touch.
Indian wedding events
Indian Priest
Wedding Pandit
Volcanik Entertainment
The wedding ceremony was held in the Grand Cypress ballroom of Hyatt. Ganesha statues at the entrance welcomed the guests into a crimson red draped room, decorated with brass diyas and red and pink roses. The aisle was covered in parts, leaving an ombre effect as you went closer to the mandap. The first part had large fresh floral bouquets with red and white roses mixed with hydrangeas and lilies. The second part of the aisle was covered with fresh rose petals gradually fading into white.
Indian wedding Beautician
Indian wedding COSMETICIAN
Indian Disc jockey
The mandap was decorated with floating floral chandeliers with traditional brass bells hanging with white and green wisteria flowers. And the backdrop was a screen layered with candles, silver and gold candelabras, and gold elephants.
Their starry-night themed wedding reception was a black-tie event. The décor included fresh florals, mirrors, candelabras, candles, and a black and white dance floor. As all the other wedding events were colorful, they wanted a more classic and romantic vibe for their reception.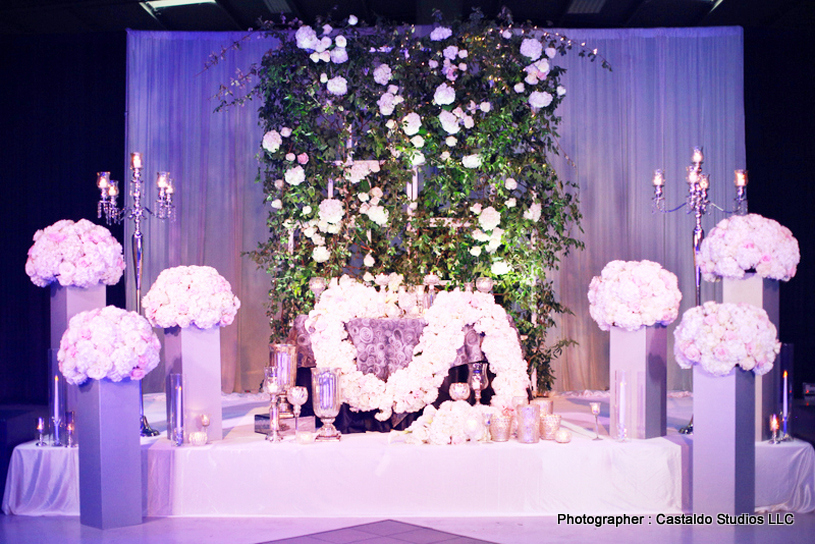 ---
BANQUET HALLS Hyatt Regency Grand Cypress 407-239-3933 | Sun N Fun International Fly In Expo 863-904-4061 | BEAUTICIANS / COSMETICIAN Style by Susmita 973-901-3316 | DECORATOR NJP Events and Design 321-474-4078 | DISC JOCKEY Volcanik Entertainment 201-240-9080 | EVENT PLANNER Eventrics Weddings 863-397-0547 | FLORIST Fairbanks Florist 321-695-5440 | HORSE AND CARRIAGE Downtown Horse & Carriage 561-723-4704 | MEHNDI Designs by Varsha 804-543-3400 | PHOTOGRAPHER/ VIDEOGRAPHY Castaldo Studios LLC 407-347-8926 | PRIEST Mahesh Gor 407-699-7966 | RESTAURANT/CATERING Mast Masala Caterers 407-312-6551 |
---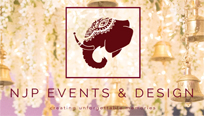 NJP Events & Design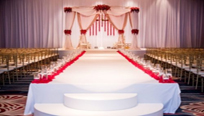 Eventrics Weddings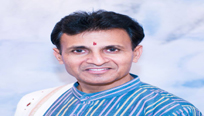 Mahesh Gor
For more information on how Preferred Vendors members are chosen, click here.
---