Rugters Roshni Rides Team Wins $1Million Hult Prize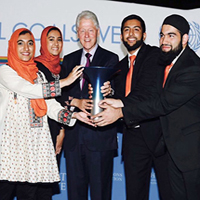 A Rutgers Business School team won the Hult Prize worth $1 million for social entrepreneurship last week. The team-of-four won the award for their entrepreneurial effort of 11 months and coming up with a convincing pitch about its rickshaw business – Roshni Rides, to improve the lives of refugees overseas.
The team comprised Gia Farooqi (student), new graduates Hasan Usmani and MoneebMian, and alumni Hanaa Lakhani, Rugters reports. They beat finalist teams from: Harvard University's Kennedy School, the InstitutoTecnológicoAutónomo de México, the University of Waterloo, the University of Calgary and York University.
Known as the Nobel Prize for students, the team made history with its win at the Hult regionals. They became the first team from Rutgers to become a finalist in the competition beating 50,000 participants from more than 100 countries.
They were presented the award by former US President, Bill Clinton as the Prize is a partnership between Hult International Business School and the Clinton Global Initiative (CGI). The 2017 Hult Prize Challenge topic was developing a business capable of restoring the dignity of one million refugees by 2022.
Clinton said Roshni Rides' card transaction system is modeled on the lines of the New York City subway's MetroCard. The start-up launched its pilot program in Orangi, Pakistan as a transportation network solution provider.
It offers accessible, affordable and reliable public transportation for urban refugees via a pre-loaded transaction card and encourages ride-sharing, employs existing rickshaw drivers. It helps refugees, facing the challenge of transportation to be self-reliant and travel with dignity.
The group of Americans of Pakistani origin wanted to make a difference in the lives of refugees in South Asia and started their venture.
"It will have a big impact," said Clinton, handing the Hult Prize to the winning team. The prize money will be used to build Roshni Rides and check for ways of using electricity rather than natural gas for rickshaws.