Rumi Jaffrey Knew of Sushant's Depression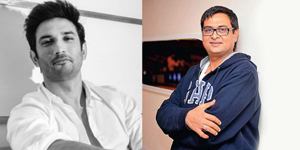 Director Rumi Jaffrey was summoned for questioning to Bandra Police Station on Thursday in relation to actor Sushant Singh Rajput's death more than a month ago.
In his statement, he told police that he learned of Rajput's depression from alleged girlfriend Rhea Chakraborty about six months ago and that Rhea was continuously supporting and taking care of Sushant during this phase in his life.
The director said he had held several meetings with Sushant and Rhea with whom he was going to make a film as the lead pair and the shooting was scheduled to begin in May in London. However, things were going a little slow because of the coronavirus lockdown.
Jaffrey explained that he did not know the cause behind Sushant's depression as they never spoke of personal matters during their film narration sessions. He said Sushant was very professional during their film meetings and spoke only about work.
Having said that, he also mentioned that in the last few months whenever he spoke with Rajput about the production of the film, he did exhibit clear signs of depression. Hence, he said, he never spoke with him on subjects of nepotism and about those films that were allegedly "snatched" from him.
In this connection, police have questioned other big names in Bollywood such as Aditya Chopra, Shekhar Kapur and Sanjay Leela Bhansali among others. A CBI probe has also been invoked by Rhea to understand the actual reason behind such drastic measure by Sushant.
Rumi Jaffrey
Bandra Police Station
Sushant Singh Rajput
Rhea Chakraborty
Sushant
Rhea
depression
Coronavirus
London
Bollywood
Aditya Chopra
Shekhar Kapur
Sanjay Leela Bhansali
CBI probe