Sa Ni Dha Pa Live – Sur Sangam in Your Living Room: A new music series that aims to brighten your day!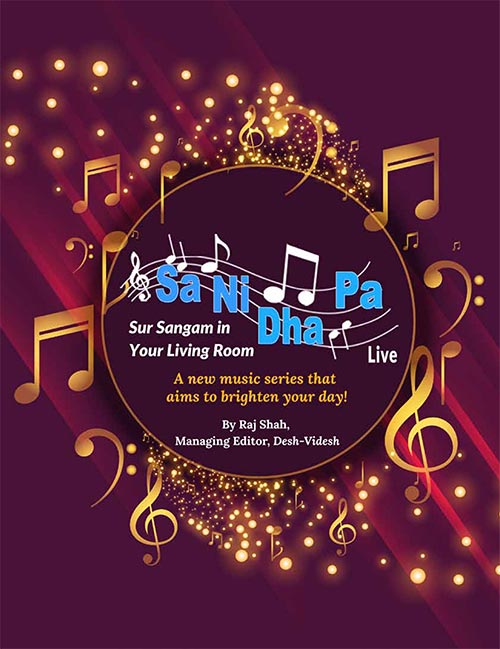 By Raj Shah, Managing Editor, Desh-Videsh
The COVID-19 pandemic has created a time of unprecedented uncertainty and anxiety for many. The lockdown has caused many of us to feel isolated and at a loss for ways to spend the time. To alleviate some of these pressures, Desh-Videsh Media Group and Florida Fine Arts have come together and launched a community project – Sa Ni Dha Pa Live – Sur Sangam in Your Living room, a web-based music series.
The weekly performances include diverse Indian music genres such as Hindustani Classical, Semi-Classical, Bhajans, Ghazal and Gurmat Sangeet. Each week, the episode will each feature a different musician or a group of musicians presenting their vocal, instrumental or percussion talent.
The first episode aired on April 18, 2020, and was a big success. Two additional episodes aired on April 25, 2020 and May 2, 2020. Music lovers from all over the world enjoyed these performances and suggested a series devoted to carnatic music. So on April 30, 2020, Sa Ni Dha Pa Carnatic Live launched.
By the time you read this issue of Desh-Videsh magazine, Sa Ni Dha Pa Live's three events showcased the talents of six artists, and Sa Ni Dha Pa Carnatic Live showcased three artists in one event. The artists ranged from vocalists to instrumentalists.
If you missed any of the episodes from either show, please visit www.SaNiDhaPaLive.org to watch past performances.
This entire project was put together in less than two weeks, and we are grateful to those who have volunteered their time and expertise.
Read below to learn more about the show founders and talented artists who have already performed.
---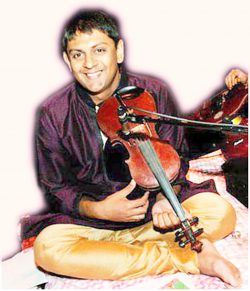 Sanjay Chandran
Creative Director and Violinist
Sanjay learnt Carnatic music from gurus Late Shri K. Shivakumar and Late Smt. T.R. Balamani and Hindustani music from guru Shri T.K. Patnaik in Mumbai, India. He has given many solo concerts in India as well as in the US and has accompanied eminent musicians such as T.V. Sankaranarayanan, Chitraveena Ravikiran and Bombay Jayashree. In addition, he has performed in several Jugalbandhi concerts with renowned instrumentalists such as Ronu Majumdar and Kedar Naphade. He has won the prestigious Sangeet Natak Academy award for the most promising violinist under the age of 21 as well as the music scholarship from CCRT, a Government of India entity.
In addition, Sanjay extensively performs an original blend of Indian classical music with contemporary jazz, Celtic, Middle Eastern and African music and has performed in several reputed venues all over the US.
Sanjay has a Bachelor's degree in Engineering from the prestigious Indian Institute of Technology, Bombay and a Masters degree in Engineering from Penn State University. He is currently the Chief Executive Officer of a medical devices company in South Florida.
---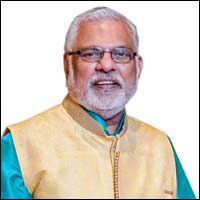 Raj Shah
Producer/CEO of Desh Videsh Media Group
A software engineer by profession, Indian culture enthusiast, ardent promoter of Hinduism, and a cancer survivor, Raj Shah is a managing editor of Desh-Videsh magazine and co-founder of Desh Videsh Media Group. Promoting the rich culture and heritage of India and Hinduism has been his motto ever since he arrived in the US. At 74, Raj thinks his second innings have just begun and during this time is getting involved in a community project in which helping members with their needs is his primary focus. In 2019, he organized an interdisciplinary and International Conference 150 Years of Celebrating Mahatma Gandhi in South Florida in collaboration with Florida Atlantic University. At this academic conference, he launched a book titled Gandhi's Life in Pictures: Porbandar to the Raj Ghat.To help the community through this time of unprecedented uncertainty and anxiety due to the invisible enemy, COVID-19, he began Sa Ni Dha Pa Live – Sur Sangam in Your Living Room to brighten everyone's day. This weekly show features musical video performances by incredibly talented Indian musicians from all over the world.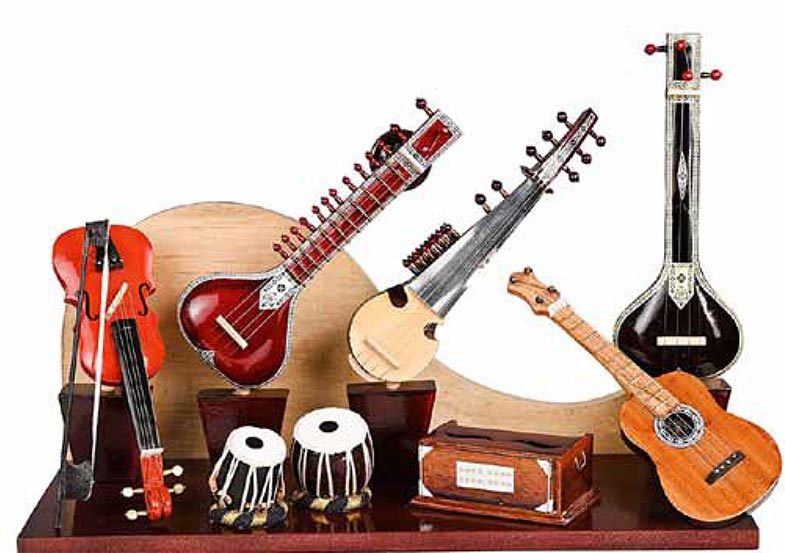 ---
ARTISTS
---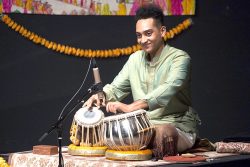 Rajesh Bhandari 
Tabla
Rajesh Bhandari first discovered the lyrical beauty of Indian classical music at a young age on a trip to Delhi, India. Bhandari and his father returned to the United States along with a harmonium and tabla beginning the young percussionist's musical journey.
While he began his musical journey studying classical Indian music, Bhandari began exploring Western styles, including Jazz and World music, in his teens and during his college years at Miami Dade College (MDC). From Bollywood to Ghazal, Bengali and Punjabi geet to World music and Jazz, Bhandari enjoys learning and experimenting.
---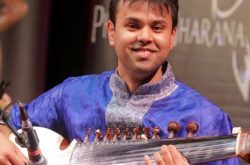 Souryadeep Bhattacharyya 
Sarod – Hindustani Classical/Semi-Classical
Souryadeep Bhattacharyya is a well-known name among the new generation of Indian classical sarod players. Souryadeep is a premier "Gandabandhan" disciple of the legendary sarod player Pt. Alok Lahiri and has a unique playing style encompassing different gharanas (styles) of sarod. Souryadeep has earned many awards and honors including the National Gold Medal in Instrumental Music from the Association of Indian Universities, Junior and Senior National Scholarship (Govt. of India), "Pt. Nikhil Banerjee Memorial Trophy for the Best Instrumental Performer" by the Dover Lane Music Conference, among others. He is a B-High Grade permanent artist affiliated with All India Radio and is also an IndianRaga Senior Fellow, Creative Director, and Judge. Souryadeep has performed in many prestigious concerts nationally and internationally that have been highly acclaimed by audiences and critics alike, including at the Lincoln Center in New York City and the Pt. Kashinath Bodas Music Festival in Phoenix, AZ. Souryadeep has been recently empaneled as a performing artist of the Indian Council for Cultural Relations (ICCR), Govt. of India and is honored to represent India as a musical ambassador.
---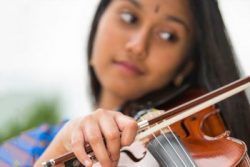 Sanjana Chandran
Violin – Hindustani Classical/Semi-Classical
Sanjana has been learning Indian Classical Music (both Carnatic and Hindustani styles) on the violin from her father, Mr. Sanjay Chandran for almost 12 years.
She has secured top honors at several leading music competitions organized by the Cleveland Aradhana, Carnatic Music Association of North America (CMANA) etc. She is also the recipient of the IndianRaga Fellowship. She is also an avid composer and has composed original music blending different genres of world music such as Indian Classical, Jazz, Pop, Celtic, African and Latin music.
---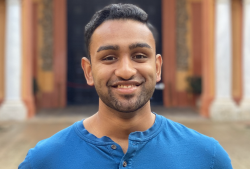 Rishabh Iyer 
Sitar – Hindustani Classical
Rishabh began playing sitar at the age of 8, under the instruction of Dr. Rajan Sachdeva in the style of the Etawah Gharana. He then continued on to receive instruction from Ustad Shahid Parvez and his son, Shri Shakir Khan. Currently he learns from Pandit Nayan Ghosh. In 2011, Rishabh won first place at the SwarGanga Crescendo national Indian classical music competition in Atlanta. In 2014, Rishabh became an IndianRaga fellow and participated in a weeklong workshop in New York City, where he met with other fellows and produced a series of music videos. He has given several performances in both Detroit and the San Francisco Bay Area; notably, at the Rasa Festival in Ann Arbor, Michigan and the Ustad Amir Khan Festival in Fremont, California. He also composed and recorded a musical score for a documentary film. Currently, he is a junior at Stanford University pursuing a B.S. in Computer Science.
---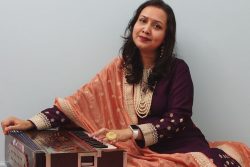 Madhuri Jadhav
Vocal – Hindustani Semi-Classical
Madhuri Jadhav is a well-known vocalist in the United States as well as in India. She currently lives in Atlanta and continues to perform actively. Madhuri holds a Masters degree in Indian Classical Music and is a Graded Artist at All India Radio. A disciple of Pandit Dr. Haribhau ji Khandare, Madhuri is also a Natya Sangeet Visharad & Visharad Gold Medalist.
Over the course of her musical journey, Madhuri has performed for multiple organizations across the US and India and alongside Sudhir Phadke, Anandji Bhai, Shri Arun Date, Kaushal Inamdar, and many others. Madhuri was also finalist in Zee TV's Marathi Sa Re Ga Ma Pa 2006, Zee TV's Sansui Antakshari, and Raag Ek Rang Anek. Her talent and expertise also lends her to being a judge for local and national programs such as singing competitions, Atlanta Idol, and Global Music Icon.
A proficient harmonium player and composer, Madhuri continues to perform actively in India and the USA.
---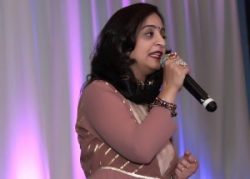 Purnima Mathur
Vocal – Bollywood Semi-Classical
Purnima Mathur is the founder and director of Malhaar Music Academy and is trying to spread happiness around with music. She has recorded albums in the regional language (Rajasthani) titled Panihari and Hathleva under the banner of Veena Cassettes. As a professional radio artist and singer for All India Radio, Purnima started her musical career by performing on various musical programs at All India Radio, Jaipur, India. With the special talent, the opportunities were endless and soon she started performing as a TV artist at Jaipur Doordarshan.
In pursuit of her musical dreams Purnima was fortunate to get associated with Zee TV by participating on popular programs such as Sa Re Ga Ma and Close Up Antakshari. After moving to the United States, she was fortunate to be associated with Saragam, Ekal Vidhyalaya, IACA, and many other organizations.
---
Anjali Kannan
Anjali Kannan is a 12-year-old violinist, who plays both the Indian Classical and western classical genres of music on the violin. She has been learning Carnatic music on the violin from her guru Sri Sanjay Chandran. She has also taken vocal lessons in Carnatic music. She regularly performs at community events and cultural festivals held at the Shiva Vishnu Temple of South Florida. In addition, she also learns and performs western classical music on the violin.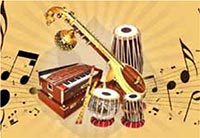 If you are a performing artist and would like to participate in an episode, please visit the website www.SaNiDhaPaLive.org and register as an artist to provide your contact information.
This is a 100% volunteer based project, and we welcome the help! To learn more about this project or read detailed biographies of the above and upcoming artists, please visit www.SaNiDhaPaLive.org.
Sur Sangam in Your Living Room
Sa Ni Dha Pa Live music series By Raj Shah, Managing Editor
Desh-Videsh COVID-19 pandemic
lockdown
Desh-Videsh Media Group
Florida Fine Arts
Hindustani Classical Semi-Classical
Bhajans
Ghazal
Gurmat Sangeet
vocal
Sa Ni Dha Pa Carnatic Live
carnatic music
Sa Ni Dha Pa Carnatic Live showcased
Sanjay Chandran
Creative Director and Violinist
Shri T.K. Patnaik
Smt. T.R. Balamani
Hindustani music Sankaranarayanan
Chitraveena Ravikiran
Bombay Jayashree
Jugalbandhi concerts Ronu Majumdar Kedar Naphade Sangeet Natak Academy award
Government of India
contemporary jazz
Middle Eastern
African music
Bollywood to Ghazal
Bengali Punjabi geet
the Dover Lane Music Conference
New York City
Pt. Kashinath Bodas
Music Festival Phoenix, AZ
Sanjana Chandran
Violin Carnatic Music Association of North America
Sitar – Hindustani Classical Swar
Ganga Crescendo national Indian classical music competition in Atlanta
Michigan
Ustad Amir Khan
Pandit Dr. Haribhau ji
Khandare Natya Sangeet Visharad
Visharad Gold Medalist
Zee TV's Sansui Antakshari
Raag Ek Rang Anek
Purnima Mathur
Vocal – Bollywood Semi-Classical Sa Re Ga Ma
Close Up Antakshari
Anjali Kannan