Sa Re Ga Ma Pa Challenge 2007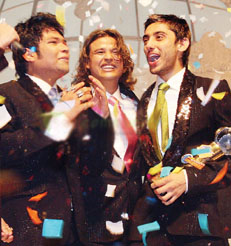 In a country as big and as populous as India, the citizens exhibit a multitude of talents in the arena of performing arts. However, it is always challenging to identify talent and bring it to the forefront. Whether in sports, arts and culture, or music, often the best of the artists fade away, only because they do not succeed in displaying their capabilities before the general public.
In the field of music, there are thousands of such instances, where boys and girls with incredible voice quality, who could have made it big, but were not able to garner a significant opportunity to prove their mettle and come into the spotlight.
Fortunately, the scenario has changed radically for the better after the so-called "media revolution" that took place in the 1990's in India. Given the existence of a number of entertainment channels, all vying for the coveted TRP (Television Rating Points), new programs pop up every day, and music talent hunts are the most conspicuous among them. Almost every television channel has its own version of a music talent hunt show. Sony TV's Indian Idol, Star Plus's Voice of India, and Zee TV's Sa Re Ga Ma Pa Challenge are the most prominent and popular of such television shows. No doubt, the latter surpasses the others in terms of viewership, popularity, and the craze it has generated all over the country.
Previously held in 2005, this year's Sa Re Ga Ma Pa Challenge 2007 Music Talent Hunt Show telecast began on May 4th, 2007, and it was aired on Zee TV every Friday and Saturday for the following six months. The concept of Sa Re Ga Ma Pa was indeed to discover singing talent, but for the first time, it was not only restricted to India, but had global coverage. This time around, the idea was to conduct auditions all over the world and select top singers from different regions who would then compete against each other on stage and in front of hundreds of thousands of television viewers.
The auditions began in March at various locations in India and also abroad. Overseas auditions were conducted in the United States, Dubai, Johannesburg, London, and Pakistan with renowned music maestros serving as judges. There were thousands of hopefuls who thronged to various audition venues in the expectation of an opportunity. The result of this process proved to be extremely chaotic at times. In the end, 32 contestants were selected for the final rounds, 22 from India and 10 from abroad.
The 32 contestants were grouped into four groups or Gharana and put under the tutelage of four mentors, individuals who are considered stalwarts of Indian music. They include Ismail Durbar (Yalgaar Gharana), Himmesh Reshammiya (Rock Gharana), Bappi Lahiri (Josh Gharana), and the Vishal-Sekhar duo (Hit Gharana). The teams of Ismail Durbar and Bappi Lahiri had seven contestants each, while the other two had nine each.
After a grueling competition in the initial rounds where the contestants' versitility and ability to sing different genres was determined, the final 14 contestants were selected after the 9th week. Among them, 12 were selected from the contest itself while two others, Aneek Dhar and Abhijeet Kosambi, were given direct entry to the finals as they were winners in the regional spin-offs, Sa Re Ga Ma Pa Bangla and Sa Re Ga Ma Pa Marathi. However, direct entry caused a controversy, the first of the many more to come in subsequent rounds.
The 14 selected included Aneek Dhar, Mussarat Abbas, Joy Chakraborty and Nirupama Dey from Rock Gharana, Poonam Yadav, Amanat Ali, and Rimi Dhar from Yalgaar Gharana, Sumedha Karmahe, Mauli Dave and Abhijeet Kosambi from Josh Gharana, Raja Hassan, Harpreet Deol, Apurva Shah, and Junaid Sheikh from Hit Gharana.
In subsequent weeks, these 14 contestants were given an opportunity to display their talents as they sang various songs belonging to different genres or of various given situations. The hopefuls were made to sing sad songs, club songs, Qawwali, old romantic songs, and patriotic songs on one hand while they also sang to favorites of the invited guest's, who included Salman Khan, Akshaye Kumar, Shahrukh Khan, and Kareena Kapoor. It is worthwhile to mention that during this phase, every week saw a high profile film or music personality being invited to the show as a "Special Guest." It included the four mentioned above as well as celebrities like Dia Mirza, Lara Dutta, Vidya Balan, Fardeen Khan, Daler Mehendi, Pandit Jasraj, Jagjit Singh, Deepike Padukone, and Adnan Sami. Kapil Dev and Lalu Prasad Yadav were also brought on as Special Guests by the show producers.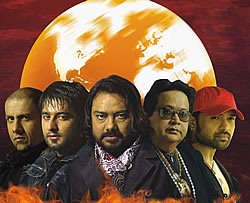 Each week, one by one a contestant was eliminated based on his or her performance as well as the points garnered. By the end of September, eleven of the fourteen contestants were out, which left three, Aneek Dhar, Amanat Ali, and Raja Hasan, to fight for the coveted championship. Aneek hailed from Rock Gharana, while Raja represented Hit Gharana and Amanat Yaalgar Gharana.
Aneek Dhar, age 18, is a resident of Kolkata. He is a keen singer since childhood and has won a number of singing competitions, such as the Telegraph award for talent in music, Sa Re Ga Ma Pa Bangla of Zee TV, and more. He also participated in and reached final rounds in several competitions such as Jatin-Lalit Talent Hunt of Tara-Bangla TV, Star of Kolkata by Taaza TV, Kolkata, Bhalobashi Tai Gai by Akaash Bangla TV, and Eto Noyshudhagaan by Tara Music Channel. An admirer of Shahrukh Khan, Aneek loves the singing style of Sonu Nigam.
Amanat Ali of Faisalabad, Pakistan, was the winner of Sa Re Ga Ma Pa Middle East – Pakistan Challenge 2007. Born in 1988, this talented singer once had the opportunity to sing with the legendary Nusrat Fateh Ali Khan and win his appreciation. Amanat has mastery over various genres and is an extremely talented singer.
Raja Hasan, on the other hand, has singing in his genes. He belongs to the family of royal singers of Jodhpur State and has naturally taken to singing. He has perfected the art of classical singing with the help of his father Rafik Sager and grandfather Allah Rakha Khan. Hailing from Bikaner, Rajasthan, Raja, age 26, has practiced classical singing for almost 18 years. His cool and composed singing style has made him very popular with the audience.
Final rounds took place on October 5th and 13th, with the 13th being the date for the grand finale. The winner of the championship was scheduled to be determined not only by the performances of the contestants and evaluation by the judges, but also by the number of sms-votes polled in favor of the three candidates. While, the sms-votes were a debatable issue, there were millions of sms' sent by audiences from all over. The frenzy and enthusiasm involving the sms poll reached a peak during the final rounds and was indeed unparallel in all respects.
On the day of the grand finale, the episode was broadcast live from the Andheri Sports Complex in Mumbai, India. A number of celebrity guests and personalities attended the finale, including Udit Narayan, Sudhesh Bhonsle, Akshay Kumar, Vidya Balan, and a number of previous years' contest winners.
During the program, all three contestants sang a number of solo and duet songs. Even the judges, guests, and celebrities lent their voices at various times to make the show truly musical and enjoyable.
Prior to the culmination of the grand finale, host and anchor Aditya Narayan mentioned that over 100,240,000 votes had been collected at the time of the announcement, both internationally and in India. Then, after much tension, anxiety, and anticipation, it was revealed that Aneek Dhar of Kolkata emerged as the winner of Sa Re Ga Ma Pa Challenge 2007 winning 3,65,89,134 votes, while Raja Hasan and Amanat Ali were the first and second runner-ups with 3,52,40,963 and 3,43,14,257 votes respectively. Aneek received the coveted trophy from the hands of actor Akshaye Kumar, and he was presented with a Chevrolet Spark car also. Among the others awarded were finalists Poonam Yadav as the "Spark of the Show", who won a Chevrolet Spark and a trophy; Mauli Dave was awarded with a trophy for being the "Best Performer;" and the Top 3 were given trophies and watches.
While the victory of Aneek Dhar was colored by some controversies, especially one coming from one of the judges who alleged that the voting was rigged, there is no doubt that the program had generated tremendous interest among the general audience. Viewers were glued to their television sets during the scheduled program time to see how their favorite singer would do that day.
Entertainment has been the mainstay of this talent hunt competition, but there is no doubt that this type of competition certainly brings out the hidden talents of a nation. The number of such contents will continue to grow, and we will continue to see new, talented singers and performers. However, we must also ensure that the future of these contest-winners are not limited to the contests they win, but will continue to perform well in real life, where competition can be cut-throat and professional life is certainly not a bed of roses! Good luck to the winner of this year's Sa Re Ga Ma Pa Challenge!