Sabeer Bhatia
This is the phenomenal success story of a magnetic personality – a 40-year-old Indian, a brainy but bewildered kid from Bangalore arrived at the Los Angeles Airport in September 1988 after a 22-hour flight, jetlagged, and starving. He was 19 at the time, had only $250 in his pocket, and didn't know a single person in America. Today, 20 years later, he's got it all a sprawling 3,000 sq ft, 10th-floor luxury apartment in one of the poshest neighborhoods of San Francisco and a lifstyle that allows him time on the golf course and to cruise the freeways.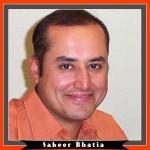 Sabeer Bhatia is the founder of the celebrated free e-mail service hotmail.com. Bhatia, the son of a senior Defense official and a banker, attended St. Joseph's Boys High School in Bangalore. He received his first bachelor's degree in engineering from Birla Institute of Technology and Science in Pilani. Bhatia obtained a transfer scholarship to complete his B.S. degree at the prestigious California Institute of Technology. Postgraduation, Sabeer pursued his M.S. in Electrical Engineering from Stanford University.
At Stanford, Sabeer attended many lectures by entrepreneurs such as Steve Jobs and Scott McNealy, and he eventuallydropped out of his Ph. D. course – first to join Apple Computer, Inc., where he stayed for one year, and then, the next two years with Firepower Systems, Inc. In 1994, Sabeer started working on new ideas for the internet, and he teamed up with Jack Smith, a colleague from Apple Computer, Inc. The two came up with the concept of a web-based e-mail system, named it Hotmail, and started knocking on the doors of venture capitalists to fund their project. After 19 doors slammed in their faces, Draper Fisher Ventures invested $300,000 in the project, and the service was launched on July 4, 1996.
The rest, as they say, is history. In the first hour, they had 100 subscribers, within six months, a million, and within two years, the company was signing up new users at the rate of 125,000,000 a day! The stupendous success of Hotmail caught the attention of Microsoft, and on the direct initiative of Chairman Bill Gates, an offer was made to Bhatia to purchase his venture.
After several rounds of rigorous negotiations, the then 28-year old Bhatia remained firm, and finally, the contract was signed on December 30, 1997, Bhatia's 29th birthday. The price was 2,768,148 Microsoft shares, which were worth $400 million at the time Sabeer Bhatia became a millionaire overnight. Today, with Microsoft, Hotmail is the world's largest email provider, is worth over $6 billion, and provides services to over 50 million registered users.
Not the one to rest for long, Bhatia worked for Microsoft for a year, and then in mid- 1999, he founded Arzoo.com. Arzoo.com was supposed to be a real-time marketplace for technology related solutions and support. Sabeer Bhatia's vision was to make Arzoo.com the world's largest human network of intellectual capital. In the end, Arzoo failed with the burst of the dot-com bubble. In 2006, Sabeer Bhatia relaunched Arzoo as a travel portal.
Among his other ventures includes BlogEverywhere, a website that capitalizes on the emerging blogosphere with cofounders Shiraz Kanga and Viraf Zack; an online office alternative to Microsoft Office, called Live Documents; and the very recent SabSeBolo.com, a free web-based teleconferencing system, which was launched in January 2008. Future plans for Bhatia include the development of a new city in India called Nanocity, which would replicate the vibrancy and ecosystem of innovation found in the Silicon Valley.
Sabeer Bhatia has won several honors and awards: "Entrepreneur of the Year," an award by Draper Fisher Jurvetson (1997), and the "TR100" award presented by MIT. He was named by TIME Magazine as one of the "People to Watch" in International Business (2002).
It is indeed a glorifying journey for the boy from Bangalore who once wanted to start a sandwich shop near a local college to being one of the most successful individuals to come out of the Silicon Valley. A man who seemed lost in the new world of the West to being one of many high-flying Non Resident Indians. For him, the West coast accent retains the singsong cadence of his native Hindi. His CD collection features Bollywood soundtracks and dance remixes of traditional Indian tunes, yet he wears his American success easily. He is comfortable with his wealth, yet unconsumed by it. Sabeer Bhatia is truly a person who deserves success.