Sachin Tendulkar A Great Indian Cricket Legend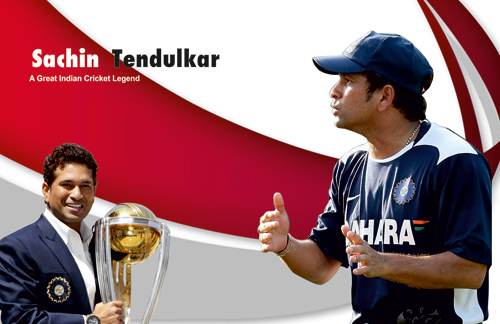 Sachin Tendulkar ended his inspiring career on November 16, 2013 after playing his ultimate Test match with West Indies at the Wankhede Stadium in Mumbai. The curtains came down on a scintillating career spanning nearly three decades and comprising a total of 664 international cricket fixtures. Tendulkar already bid farewell to other formats of the game-ODIs and Twenty 20 cricket in December 2012 and October 2013 respectively.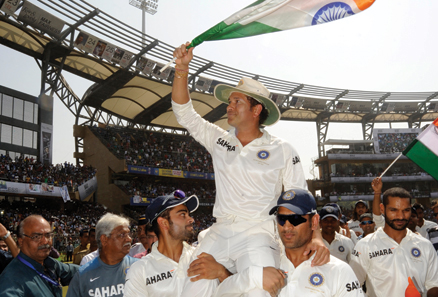 Within hours of his receiving a standing ovation from those who came to Wankhede Stadium to watch him pad up for the last time, he was conferred with the Bharat Ratna – India's most coveted civilian award given by the Indian government. Tendulkar unquestionably has been the most outstanding of all Indian cricketers in past or present and is a living marvel that has encouraged millions of budding cricketers and cricket enthusiasts all over the world. He is not only the face of India's success story in cricket, but also a global ambassador of the game.
There might come a day when a cricketer surpasses the almost unassailable records set by this legend, but it can be said with certainty that no batsmen or bowler will ever be able to match him in terms of his sportsmanship spirit and his dedication towards the game that has been nothing less than exemplary.
Born April 24, 1973, Sachin Ramesh Tendulkar took to cricket when he was all of eleven years old and within five years, he made it onto the Indian team that was visiting Pakistan in 1989 for a Test series. Since that first test match in Karachi, he had an uninterrupted run for nearly 24 years representing India in 200 tests. He is the lone cricketer to have 100 centuries to his credit and also the sole player to have scored over 30,000 runs. It goes without saying that winning awards and felicitations has been a way of life for Sachin Tendulkar. He is the most fêted of Indian sportsmen having won the Arjuna Award (1994), Rajiv Gandhi Khel Ratna Award (1997), Padma Shri (1999) and Padma Vibhushan (2008), and the Bharat Ratna (2013).
Tendulkar's debut at the age of 16 was an international Test match against Pakistan at Karachi in 1989. He notched up a total of 215 runs in the Test series and could not score a single run in the lone ODI that was played. He nevertheless created a record (his first and quite remarkable) by becoming the youngest Indian cricketer to play for India both in the test and ODI format.
He displayed his true mettle when he scored 119 runs in the second test match against England at Old Trafford in 1990 remaining unbeaten. He went on to demonstrate his class as a stylish and avant-garde batsman when he scored centuries in two successive tests against Australia in the 1991-92 tour. Since then, he went on from strength to strength and repeatedly exhibited his consummate batting prowess in almost every second match he played.
His meteoric rise continued when he became the highest run scorer in the 1996 World Cup played in India. Tendulkar's career peaked in the years 1994-1999. The year after the 1996 World Cup saw the onset of an immaculate batting form that reached a crescendo in 1998 when he scored three successive test centuries against Australia. Tendulkar also displayed uncanny talent as a bowler and on numerous occasions helped India coast to a win. His capturing five vital wickets in the ODI fixture against Australia in Kochi in 1998 was evidence of his competence as a bowler.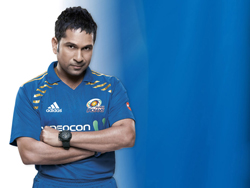 In contrast, Tendulkar's stints as captain of India's cricket team are nothing spectacular. When he led the Indian contingent to Australia in 1997, they were completely routed by the Aussies losing all three test matches. India yet again lost a home series against the South Africans under his captaincy.
Tendulkar's technique of playing the game has been unconventional to say the least. He's a right-hander with both the bat and bowl. He practiced diligently at the nets during his formative years to develop his unique batting poise. He was equally at home playing in the slow pitches in India and the bouncy pitches of Australia and South Africa. As a cricketer, he notched up more records overseas than he did in India. He will always be remembered for his square cuts and his spotless straight-drives. Sir Donald Bradman, regarded as a notable batsman, saw flashes of himself in Tendulkar. Sunil Gavaskar, another great Indian cricketer has also heaped encomiums on the master blaster.
Most fans of Tendulkar swear by his name and venerate him as the God of cricket. However, Tendulkar himself has responded to this veneration humbly, albeit fittingly, by remarking, "I am not God of cricket. I make mistakes. God doesn't'." Besides the fans, even many fellow cricketers have worshipped him as a hero. Tendulkar's phenomenal success as a cricketer has motivated many young individuals in India and in other cricket-playing nations to take up the game.
Tendulkar is not only a great cricketer, but also a philanthropist. Along with his mother-in-law Annabel Mehta, he regularly funds the studies of 200 disadvantaged children. He has also routinely lent a hand in raising funds for various social causes on behalf of charitable institutions. He holds his late father Ramesh Tendulkar and his coach Ramakant Achrekar in high esteem as they played an instrumental role in shaping up his cricketing career. Irrespective of what others have to say, he regards his marriage to wife Anjali as the most enduring partnership in his life.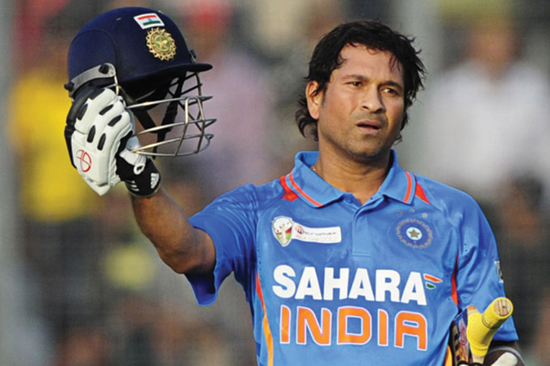 Sachin Tendulkar
Wankhede Stadium in Mumbai
Bharat Ratna Sachin Tendulkar
sportsmanship spirit
the Arjuna Award
Khel Ratna Award
Padma Shri
Padma Vibhushan
Sir Donald Bradman
Ramakant Achrekar