Sachin Tendulkar Retires from ODI's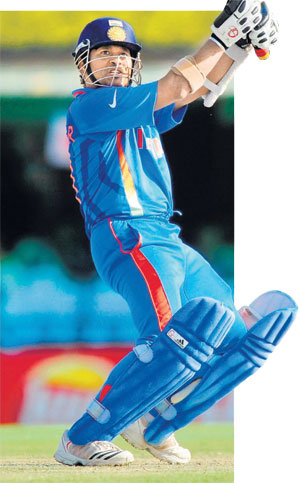 When one talks of one-day international cricket, nobody shines as brightly as the Indian batsman, Sachin Tendulkar. However, the master blaster today announced his retirement from ODI's, disappointing millions of his fans watching ODI's only in the anticipation of some brilliant shots from his bat.
Better known as the master blaster, this Indian batsman is way ahead of any run-of-the-mill batsmen, who make it in ODI's. Whether it is Sachin's runs, centuries, half-centuries or a combination of average and strike rate, the man has an impressive record. He raised the standard of cricket and hence, the weight of expectations of his newly set record of runs or centuries seems to fuel his desire for more and more.
It seems only yesterday, when the batsman, then a child prodigy, was introduced to play his first ODI against Pakistan, in the year 1989. He was only 17 then, but made a mark in his first ODI, before he went on to play a series of matches against Pakistan. His cricketing career, since then and until 1994, was marked by new heights. In 66 innings, he had 12 fifties and 13 sixes to his credit. Although, he did not have century, he outshone as a little bundle of talent and sparkling energy.
Since then, there has been no looking back. The batsman has broken his own records and people's expectations, and he has gone miles ahead of any comparison. He managed to set a new standard for himself and seems to strive and win against it.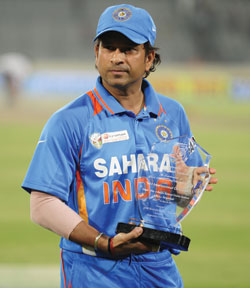 Due to this, he has managed to set a score of around 49 centuries and 96 half-centuries in one-day international cricket. In addition, he has a record of 18,426 runs and 463 one-dayers in ODI's. The latter were achieved at an average of 44.83. In fact, the batsman has a record for scoring the highest runs to date, in a calendar year, in ODI cricket.
Since the ODI format does not give much scope for the batsmen to score, especially since there are just 300 balls, a batsman gets special mention if he gets it a 1000 plus score. Sachin Tendulkar is the privileged one to score the highest record with 1,894 runs in 1998. Although he scored 1,611 runs in 1996, the record was beat by him in 1998. Saurav Ganguly and Rahul Dravid are two other Indian batsmen who find a mention in scoring a 1000 plus score in an ODI format in a calendar year.
Since the loft peak of run record in 1998, Sachin has managed to stay at his best in most of the ODI's. He also re-created magic when he held that 2011 World Cup in his hand and cried with pride and joy.
Now with his retirement plans, it is clearly evident that cricket fans will not see him in the 2015 World Cup. No matter what happens to the fate of cricket, one thing is for sure – there will be no other batsman quite like Sachin Tendulkar.