Seema Verma Takes Oath on Bhagavad Gita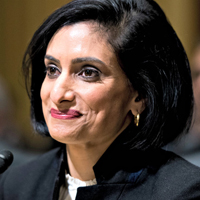 Seema Verma, newly appointed as US Administrator of the Centers of Medicare and Medicaid Services, was first nominated for this position by the President Donald Trump in the year 2016. She took her oath in the presence of US Vice President Mike Pence on March 14, 2017. During the swearing in, she placed her hand on the Bhagavad Gita, considered to be the Holy book of Hindus.
Verma earned her Bachelor's degree from University of Maryland in 1993. She graduated in Life Science and soon went to pursue her Master's degree from the prestigious John Hopkins School of Public Health in 1996. Her area of expertise included Public Health along with Health Policy and Management.
Verma began her illustrious career in Washington, DC, where she served as Vice President of Planning at the Health & Hospital Corporation of Marion County. In 2001, she founded the health policy consulting firm, SVC Inc., at which she served as CEO. Working to implement Obamacare, she also redesigned several Medicaid programs and is considered to be a reformist. Her company introduced several Medicaid reforms and worked in several states including Kentucky, Michigan, Ohio, Iowa, and Indiana. SVC Inc and Verma have also extended their support to global giants like HP, Maximus, and Electronic Data Systems.
Verma is considered to be a pioneer in the health policy programs and is one of the reformists and architects who designed the Healthy Indiana Plan for people with low to moderate income. She held two important portfolios at the same time; the first was the health care consultant and the other as HP employee for the Health Care division. For her tremendous contribution in the healthcare field, she was awarded the prestigious Sagamore of Wabash Award in 2016.
Verma's nomination as US Administrator of the Centers of Medicare and Medicaid Services was finally confirmed by the Senate with a vote of 55-43. She took oath in the presence of Vice President Pence and her family, including her husband, Sanjay, their two kids Maya and Sean, her mother, and her sister.
Verma assures citizens that she will work towards the development and improvement of the Medicaid program. The department will completely focus on lives served by the program. There were several positive reactions from the White House on her appointment. Sean Spicer, White House Press Secretary, said that Administrator Verma will continue to work on the reform measures required for the Health Care system.
Verma faces several challenges, the first and foremost being the replacement of Obamacare, which will result in approximately 14 million uninsured people uninsured by 2018.
After US Ambassador to the United Nations Nikki Haley, Verma is the second Indian-American to be appointed as a member of President Trump's administration.