Women's History Month Spotlight: Pramila Jayapal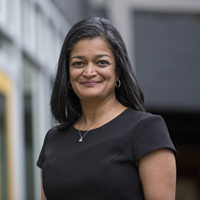 Pramila Jayapal was born on September 21, 1965 in Chennai, India; however, she was raised in many different countries including Singapore and Indonesia. She completed her education in US where she immigrated when she was 16 years-old. She completed her bachelor's degree and went on to pursue MBA from Northwestern University.
Jayapal is considered to be a reformist and can bring about change to the society. She was the founder of the Hate Free Zone, which was created after the September 11 attacks. The purpose of this organization was to bring in a change in the immigration laws and resolve related issues. She became popular because of her ideas and was soon recognized by the White House as a Champion of Change.
Jayapal began her political career in 2014 when she was initially a part of the Advisory Committee that was responsible for Seattle's Minimum Wage Act. The committee negotiated and fixed the amount at $15. She was also a part of the Police Chief Search Committee and appointed the first Women Police Chief in the city. In 2014, she entered the race for State Senator of Washington and won 51% of the votes. She primarily worked towards women's safety and criticized racism.
In 2016, she announced her candidature for the Congress. In August, she finished first in a top-two primary and then won the general election with 56% votes. When she assumed office in January 2017, Jayapal became the first Asian American to represent Washington in Congress. Jayapal became a US citizen in 2000, at which time she also launched her first book, Pilgrimage: One Woman's return to a Changing India.
Jayapal lives in Seattle with her husband, Steve, and their dog. Their son attends college in Massachusetts, and their stepson resides in Colorado.