Shakuntala Devi's Awaited Biopic Releases on Amazon Prime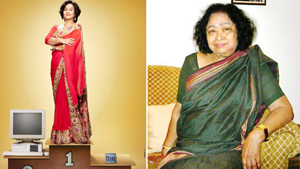 The genie of applied maths Shakuntala Devi is an international legend. She was often referred to as the human calculator. Such were her calculating powers and skills in mental mathematics that she earned a place of honor in the 1982 Guinness Book of World Records.
Besides Vidya Balan, who plays Shakuntala Devi herself, the movie has an interesting ensemble cast. There is Sanya Malhotra playing Shakuntala Devi's daughter with whom the mathematics legend had a strained, but powerful equation. Amit Sadh and Jisshu Sengupta play extraordinary roles in the movie. Ishita Moitra wrote the dialogue and the screenplay was written by Nayanika Mahtani and Anu Menon.
Shakuntala Devi has been picked up by the giant OTT streaming platform Amazon Prime. It will be released on July 31, 2020. This movie marks the trend of releasing big budget films on OTT platforms. Recently Shoojit Sircar's Gulabo Sitabo starring celebrities like Amitabh Bacchan and Ayushman Khurana, was also released on Amazon Prime. With theatres all across the country still in limbo due to the COVID Pandemic, online releases of movies seem to be the new order of the day!
Shakuntala Devi
human calculator
mental mathematics
Guinness Book of World Records
Vidya Balan
Sanya Malhotra
Amit Sadh
Jisshu Sengupta
Ishita Moitra
Nayanika Mahtani
Anu Menon
OTT streaming Amazon Prime
OTT platforms
Gulabo Sitabo
Amitabh Bacchan
Ayushman Khurana
COVID Pandemic