Kangana's Luxury Handbags from Dior to Hermes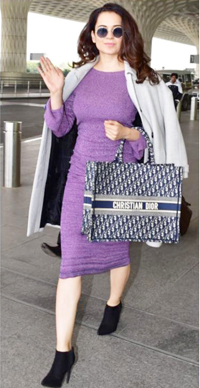 Actress Kangana Ranaut, known for her high fashion sense and her designer-wear for public appearances, also owns an enviable collection of handbags.
The actress shot to fame with her work in films like Fashion and later Queen and Panga has a love for luxury handbags that is evident in all her style picks that stretch from timeless classics to chic casuals. So besides her fancy clothes that range from kurtas, maxi-dresses and sarees, the actress likes to flaunt her taste in handbags.
The diva most often is seen showcasing her handbags while at the airport, and it is there that one can see an assortment from Hermes Birkin to Dior and Prada. Her favorite is a navy bag from Christian Dior that can be seen in many of her pre-flight clicks.
Another versatile bag that Kangana carries very often is a powdery pink Dior that is priced at a jaw dropping $4,900. In a hue of pale pink roses, the bag essentially is an all-purpose one that goes with several outfits including formal ones. Its quilted look with rose-gold clasps and buckles makes it look rather fetching. Although not very spacious, it defines elegance when she pairs it with her sarees.
Kangana has also been seen with Hermes Birkin handbags which she owns in not one, but three colors – black, brown and beige! Some of the bags are priced at a whopping $20,000. But, no woman ever said, "I have enough bags," right?
Kangana Ranaut
Fashion
Queen
Panga
luxury handbags
Hermes Birkin
Dior
Prada
Christian Dior