Sherni and Sardar Udham are shortlisted for consideration for India's Oscar entry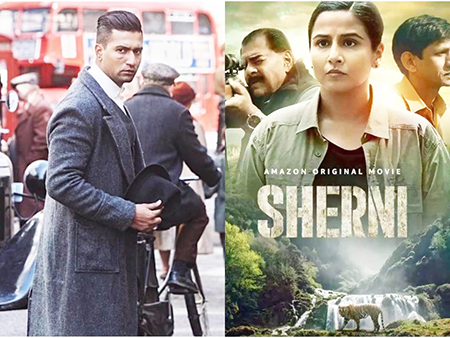 That time of the year has come – the time when the film that India will be officially entering into the Oscars is in the process of being selected. This year, there are 14 films on the shortlist. These include Sherni (starring Vidya Balan). and the recently released Sardar Udham (directed by Shoojit Sircar, and starring Vicky Kaushal in the lead role). Both have both been shortlisted for potential entry in the category of Best International Feature Film.
A 15-member jury will see the final selection as to which film is going to be India's official entry for the 94th Academy Awards in the Best International Feature Film category. Other shortlisted films include the Malayalam film Nayattu (directed by Martin Prakkat) and the Tamil film Mandela (written and directed by Madonne Ashwin). The head of the 15-member Jury Board is filmmaker Shaji N. Karun, who is the chairman of the board. The selection process is being undertaken at Kolkata.
Sherni is a film based on the courage and struggles of a forest ranger dedicated to solving the crisis of conflicts between human beings and animals in the forest regions. The film is directed by Amit Masurkar, and it was released on the OTT platform Amazon Prime Video.
Sardar Udham, also released in the Amazon Prime Video on October 16, 2021, is the story of the revolutionary figure Sardar Udham Singh. The film is directed by Shoojit Sircar, and the lead role is played by Vicky Kaushal.
The 94th Academy Awards, or Oscars, will be held on March 27, 2022, at the famous Dolby theater in Hollywood, California. India's entry for the 93rd Oscars (an entry which ultimately hadn't been able to make it to the final list) had been Lijo Jose Pellissery's Malayalam film Jalikattu.
Sherni
Vidya Balan
Sardar Udham
Vicky Kaushal
Oscar 2022
India's entry
shortlisted
Amazon Prime Video
Jury