Trailer drops for Meenakshi Sundareshwar, a New Age film about a long-distance marriage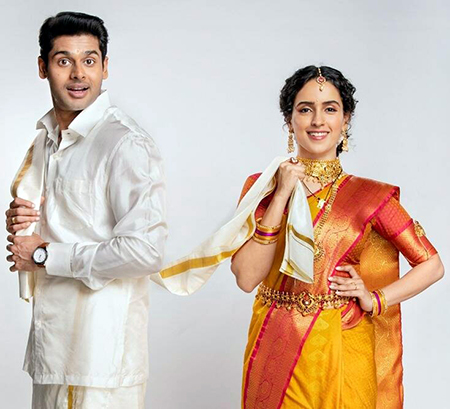 (film to be released on Netflix on 5 Nov.)
Karan Johar is offering another story about love and an interpersonal relationship in his upcoming film Meenakshi Sundareshwar. The trailer was released on October 20, 2021, while the film will release on November 5, 2021. The story is based on a Tamilian family in Madurai. The film centers around the story of a long-distance couple, their love for each other, and the problems of long-distance relationships.
Produced by Karan Johar's Dharmatic Entertainment and directed by Vivek Soni, Meenakshi Sundareshwar is a New Age film discussing an all-too-common situation: long-distance marriage. The trailer has received positive responses from its viewers. Sanya Malhotra has already done two films for Netflix – namely, Ludo and Pagglait. One of the lead actors has said that this film elicits the feeling of homecoming. This is the digital debut film both of actor Abhimanyu and of director Vivek Soni.
The trailer has already given glimpses of the twists and turns of the long-distance relationship to be depicted, where the guy goes to Bengaluru for his job and the gal stays back at Madurai with the in-laws. The content being contemporary and relatable for the younger generation, the film is expected to get a good response.
The trailer shows a bit of everything – including, love, togetherness, separation, long-distance relationships, and some tragedy and drama. This New Age drama is expected to appeal to viewers, especially to young couples facing a similar experience. Both Sanya and Abhimanyu look impressive in their respective roles.
Meenakshi Sundareshwar
Netflix
Sanya Malhotra
Abhimanyu Dassani
long-distance marriage
Vivek Soni
Karan Johar
Dharmatic Entertainment