Shooting starts for Pavitra Rishta 2, Shaheer Sheikh Replaces SSR
As shooting starts for a new season of popular TV soap Pavitra Rishta, fans miss the onscreen chemistry between the show's lead actors Ankita Lokhande and the late Sushant Singh Rajput.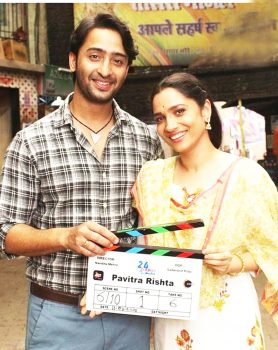 Rajput has been replaced by actor Shaheer Sheikh who will play the role of Manav Deshmukh while Ankita will continue to play her role as Archana.
Sushant Singh Rajput who was found dead under mysterious circumstances in his Mumbai apartment a year ago, had risen to fame playing the protagonist in this soap opera produced by Ekta Kapoor.
On Sunday, Ekta Kapoor's digital platform AltBalaji announced the return of the much loved show with a new season and shared some pictures of the cast including Ankita Lokhande, Shaheer Sheikh, Usha Nadkarni (who played Savita Deshmukh), Asheema Vardaan and Randeep Rai from the first day of Pavitra Rishta 2's shoot.
A caption on the ALTBalaji post read, "Sometimes in most ordinary lives, we find the most extraordinary love stories! Witness the extraordinary love story of Manav and Archana."
Ankita, who became a household name after the show was released 12 years ago, also shared a few pictures and videos on Instagram, one where she held the clapboard of "Pavitra Rishta". She posted a caption along with her picture that read, "12 Years!! Ohh, Yes Yes It's 12 Years Of Pavitra Rishta, Time Flies Really Quickly. With more than 66 Awards #Pavitrarishta remains to be one of the most loved shows on Indian Television. Here's to 12 glorious years of this iconic show. Which not only gave me Archana but love all across the globe and made me who I'm today"
Ankita Lokhande
Late Sushant Singh Rajput
Shaheer Sheikh
Manav Deshmukh
Archana
Ekta Kapoor
AltBalaji
Usha Nadkarni
Savita Deshmukh
Asheema Vardaan
Randeep Rai
Instagram
Indian Television