Shree Saini: The Winner with a Golden Heart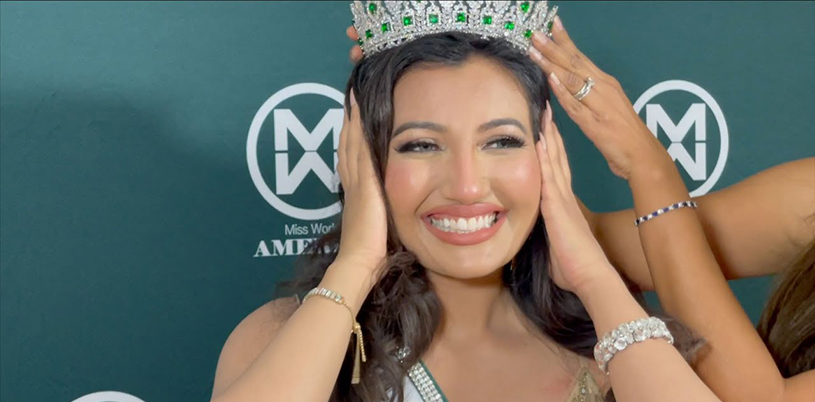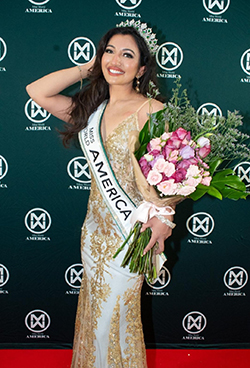 'Shree' means 'Goddess Lakshmi', the embodiment of wealth and prosperity. Shree also means 'beauty', 'grace', 'power', 'brilliance', and 'dignity'. Shree Saini, the first Indian-American to become Miss World America, stands for the qualities depicted in the name 'Shree'. Along with all these qualities, she possesses the outstanding and indomitable spirit of a fighter who never gives up; a fighter who rises above the hindrances that come her way, but who never overcomes them by taking advantage of other people. She has the tremendous ability not only to overcome enormous stumbling blocks but to cross them powerfully with strength, confidence, and dignity.
25-year-old Shree was born in Ludhiana Punjab and moved to America when she was a 5-year-old kid. A dancer by passion, she began her dancing lessons in early childhood. But fate had a different story for her. At the age of 12, she was diagnosed with heart disease and had to undergo open-heart surgery. A permanent pacemaker was implanted on her heart in order to ensure its proper functioning. Doctors strictly forbade her from dancing. In fact, normal life activities were also restricted for her. Yet, from the ashes of life as she had known it, the fighter in this little girl would rise. She courageously continued with her dance lessons and gradually became a trained ballerina.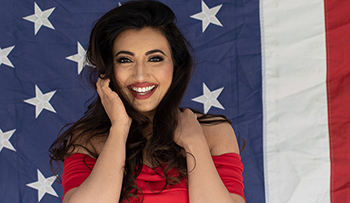 At the tender age of 19, Shree survived a fatal car accident that left marks on her face. She again bounced back to normal life within a month! The struggles of her life helped shape her into a person full of empathy and love. Facing a lot of bullying due to her heart condition and burn marks made her stronger and more resolute. Ashe had a dream of becoming Miss World and serving her community. That congenial spirit of service and benevolence prompted her to start her own nonprofit at the age of 15. Since then, she has written thousands of articles that have helped many nonprofits.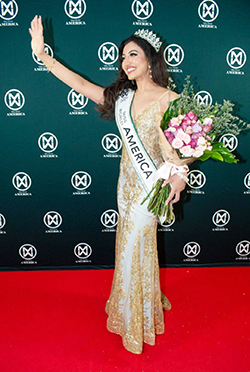 Apart from being a good writer, Shree is a great orator who has been invited to speak in over 8 countries and 30 states. She is a successful motivational speaker and a model. Her academics speak of her versatile talent. She earned a degree in Nonprofit Management from Harvard University, a degree in Performing Arts from Yale School of Drama, a degree in Social Entrepreneurship from Stanford University, and a degree in Journalism from the University of Washington. She can truly be called a 'beauty with brains'.
Upon achieving her childhood dream (which she viewed as a stepping stone to helping her community), she profusely thanked her family and friends (especially her mother) for having encouraged her. She emphasized 'America's inclusivity' and framed her victory as the victory of that inclusivity. She aspires to encourage the entire community of human beings with her story of struggles and pain so that everyone can be inspired to rise above their obstacles and limitations–and come out with flying colors.
This first Indian-American to win the pageant was awarded the crown of Miss World America on October 2, 2021, the birthday of the Father of the Indian Nation, Mahatma Gandhi. Shree is also a former Miss India United States of America 2017-2018 winner and Miss India Worldwide 2018-2019 winner. Her success and her extraordinary congenial nature of compassion and positivity are bound to inspire one and all. It is not just her beauty, but her charity and humanity that has been victorious–making both America (her nurturing land) and India (her motherland) proud of this exceptional daughter.     
Shree means Goddess Lakshmi
Shree also means Beauty
Brilliance and Dignity
first Indian-American to become Miss World America
Ludhiana Punjab
Miss World, Performing Arts at Yale School of Drama
Social Entrepreneurship at Stanford University
Journalism at the University of Washington
beauty with brains
inclusivityAmerica's
encourage the entire community of human beings
story of struggles
Father of the Indian Nation
Mahatma Gandhi
Miss India United States of America 2017-2018
Miss India Worldwide 2018-2019