Sonam Kapoor and Anand Ahuja Name their Son 'Vayu'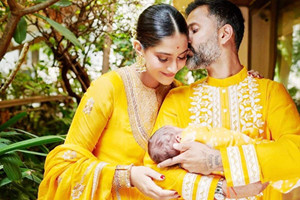 "Vayu Kapoor Ahuja" is the name of the son of actor Sonam Kapoor and Anand Ahuja. The couple was blessed with their son on August 20, 2022. After a month, on the 20th of September, they posted the first picture of the baby boy along with his parents on their social media handles and announced his name. Vayu meaning "air" is one of the five basic elements of life. It has a great significance in Hindu mythology as well as religion. Air being an important element is the source and sustaining force of life.
The couple described the arrival of their son as the spirit of force that created a new significance in their lives. They also paid respect to Bheem and Hanuman, the spiritual sons of Vayu according to Hindu Mythology, by choosing the name of their son. They further explained that Hindu mythology regards "Vayu" as the God of Breath who can give the breath of life to all and also destroy the evil forces with his power. The God Vayu is gallant, brave, and beautiful. These are primarily the reasons behind choosing the name "Vayu" for their son.
All three of them were dressed in ethnic outfits of saffron. They thanked all their followers and fans for their blessings and best wishes. Earlier, Sonam posted a photo of a cake with a "Boss Baby" theme to celebrate her son's first month birthday. The couple also thanked all the doctors, nurses, friends, and family for their support in the birth of their son on August 20, 2022.