South Florida Hindu Temple Celebrates with "Passage to India"
By Nishi Patel
(Nishi Patel is a high school student who has been attending the South Florida Hindu Temple's Bala Vihar Program since she was a young child.)
It is said that culture is something that is cherished and preserved, the greatest gift to any generation. However, it is not that easy to wrap up and keep from decaying. It is something that must be nurtured and practiced so it is not forgotten. Just because we live in another nation, doesn't mean that we have to keep from interacting with our roots. But sometimes the question is just how is that possible? I mean, we do live thousands of miles away from our home country, and it's not exactly conceivable to visit there every day. A temple located in South Florida seems to have initiated the answer. Instead of bringing us to India, we have to bring India to us!
A few weeks ago the South Florida Hindu Temple figured out a way to do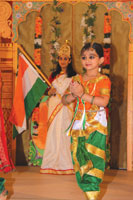 just that! The temple hosted a "Passage to India" event featuring nine individual regions each expressing a different cultural identity. Each region had a representing booth, foods from that state, and a dance that embodied the arts of the region. At the beginning of the event, the booths were on display to showcase information about the food, dances, life, culture and significance that the region had towards the whole of India. Eager parents and children alike, rushed to learn about the different areas of their country, and reinforced the various traditions, arts and music that each region held for them. The children, as a fun surprise, were given passports that they carried with them to each state, showing that they were "visiting" and building an experience in that state. The volunteers who supervised the booths stamped the children's passport, and once the kids had visited every state, they got a treat for completing their voyage around India!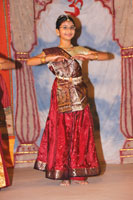 During the display of the booths, the food from the respective states was also dispersed along the back patio of the temple. The food had diners raving for more, as they enjoyed a feast composed of the delicacies coined from different regions. The Indian Chinese stir-fried in front of you, seemed to be a favorite as people could make their own plates of noodles composed of crisp sautéed vegetables and mouthwatering spices. The Pauv Bhaji, Khichu, Chole Bhatura, Idli sambar and other dishes also became great specialties. For many, who had never experienced such flavorful spices, each plate became a mouth-watering sensation, providing a most memorable lunch.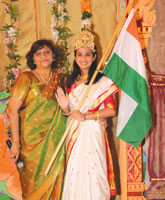 With satisfied stomachs and big smiles, the spectators headed into the temple for the cultural dance show. TV Asia, who wanted to show the world that even though we are living in a different country, we are closer than ever to the roots from where we come from, filmed the show. Though we live in a different place, it doesn't mean that we forget where we come from.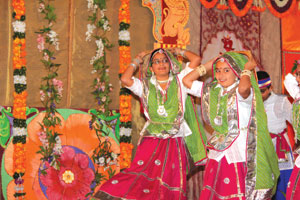 Over 130 participants took part in the different dances. All those who took part were children from the ages of three to sixteen. The participants were those who attend the South Florida Hindu Temple Bala vihar Program based on Chinmaya Mission Curriculum. The younger children performed remarkably and had the crowd going crazy as they reflected the culture that every parent wants to see in their child. The dances were choreographed by our very own parents and volunteers from the temple. Each choreographer did a simply stunning job in reflecting the arts and values of the region and the overall beauty as they found stirring songs that captured the crowd, organized costumes which were innate to the type of dance the children were performing, and designed and picked authentic moves that were performed by those who lived in the region. From Garba and Raas from Gujarat to Folk dances from Uttar Pradesh, Kashmir, Maharashtra, Panjab, Kerala, Kathak dance depicting Durga maa's aarti from Bengal and Bharat natyam dance style representing South India, each dance was lively and captivating, as it resonated the essence of the songs, and the values and cultures of the state.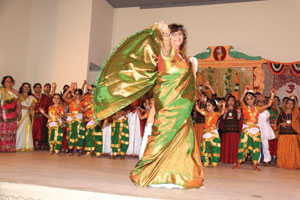 The Passage to India was a wonderful event, which combined a sanctity of values, morals and culture into a magnanimous afternoon, that won't be forgotten soon. The idea of showing people that India is so much more than the typical Bollywood cliche was brought out through this event in an educational yet exciting way.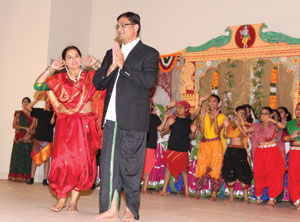 Though people are known to have a simple understanding of India, and realize that is important to know where they come from, many do not understand that just like the United States, India is composed of many nooks and crannies which have their own identity. All of these states come together to create one whole. Just like the country of India, all of us who live here have a duty to uphold our culture and resemble the places where we come from. Our roots are those that tie us together, ones that keep us grounded no matter where we are, who we are or where we come from. We all resemble a culture, no matter how great the individual.
GRATITUDE TO THE FOLLOWING PEOPLE
Smeeta Patel – Conceptualizing and coordinating the entire Passage to India Project
Parul Patel – Coordinating the Dances of India Project
Tejal Patel – For creating the beautiful passports , custom stamps and gifts for the children
Food Coordination:
Ranjan Patel, Sangita Patel,
Gita Patel.
Cooking and Serving:
Mumtaben Patel, Karan & Rachna Arora, Vivek & Nili Shah, Jatin Rajani, Kamal Jani, Kishore Bhakta, Radha Nersian, Sarita Ramanthan, Anil Patel, Sanjay Paharia, Kajal Patel, Nidhi Patel, Monaben Patel, Aakash Thakor, Gitaben Thakor, Lucky Singh, Ravi Bakhai, Simran Vyas, Simran Rajani, & Nitya Devanathan, Ashish Kumar.
Booths for all the States:
Bengal: Sheli Chakraborty, Abonida & Daliya Bhahi
Gujarat: Bijal Thakar, Ashka Thakor, Minal Saraswat & Himani Saraswat
Hariyana: Dr. Neha Shah, Rupal Talati, Purvi Chokshi, Rema Deo
Kashmir: Renuka Kaul, Alpna Raina, Priyanka Shaykher, Nina Shaykher
Kerala: Binny Joseph
Punjab: Shalu Verma, Vandana Shankar, Ananya Chandra, Shruti Chandra.
Maharashtra: Rutu Sawant & Sharan Kaur
Tamil Nadu: Ramya Reddy, Neha Aitharaju & Nitya Devanathan
Uttar Pradesh: Bhavna Baranwal
Choreographers for the dances:

Radhika Agrawal
Sheli Chakraborty (SFHT Kathak Teacher)
Ananya Chandra
Sharmistha Dutta
Renuka Kaul
Mira Merchant
Krishna Naik
Priyanka Shaykher
Nina Shaykher
Anisha Singh
Simran Vyas
Ranjana Warier
Kajal Patel
Alpna Raina
Dr. Neha Shah (SFHT Bharatnatyam Teacher)
South Florida Hindu Temple Celebrates with "Passage to India"