Subhash Ghai Tweets Noteworthy Fact About Dilip Kumar
Recently, ace filmmaker Subhash Ghai took to Twitter to write an interesting and largely unknown fact about veteran actor Dilip Kumar, who is now no more.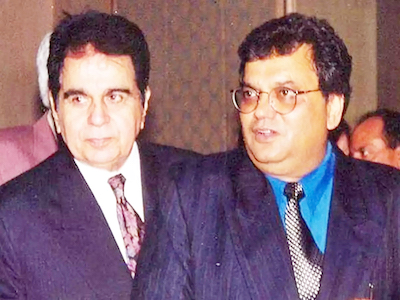 The Bollywood director who worked with Dilip Kumar in his film Karma revealed on social media that the late actor had not featured in a single endorsement in his entire life except one advertisement – for which he had not charged a penny.
Ghai also shared the endorsement, a pickle brand, which had the actor's photo on the label and which was even named after him. He wrote in the post about Kumar's early days as an actor, "Dilip Kumar stood by his friends always … in his entire career he never did any endorsements, the only exception being Baburao Patel, the editor of Film India magazine, who was also into naturopathy. He endorsed his product free of any charge[,] as [a] Friend."
The actor breathed his last a few days ago amid loving friends and family and left his fans with innumerable memories to cherish. He was 98.
Mentioning the actor's death, his close family friend Faisal Farooqui had tweeted on July 7 from the actor's official Twitter handle, "With a heavy heart and profound grief, I announce the passing away of our beloved Dilip Saab, a few minutes ago. We are from God [-] and to Him, we return. He was laid to rest with full state honors at Mumbai's Juhu cemetery."
Dilip Kumar had almost 65 films to his credit, some of which have been etched into the history of Indian cinema as iconic for his memorable roles in films such as Devdas, Naya Daur, Mughal-e-Azam, Ganga Jamuna, Kranti, and Karma.
Subhash Ghai
Dilip Kumar
Bollywood director
Faisal Farooqui
Baburao Patel
Film India Magazine
Indian cinema
Devdas
Naya Daur
Mughal-e-Azam
Ganga Jamuna
Kranti
Karma